UFAW Scholars Congratulations
Congratulations to the RVC recipients of Universities Federation for Animal Welfare (UFAW) Animal Welfare Student Scholarships 2015.
The students presented their research at the Animal Welfare Student Scholars' Meeting 2015, held on 16th December 2015, at Writtle College in Chelmsford.
This year RVC students obtained six of the 18 scholarships awarded, conducting a breadth of animal welfare research over the summer.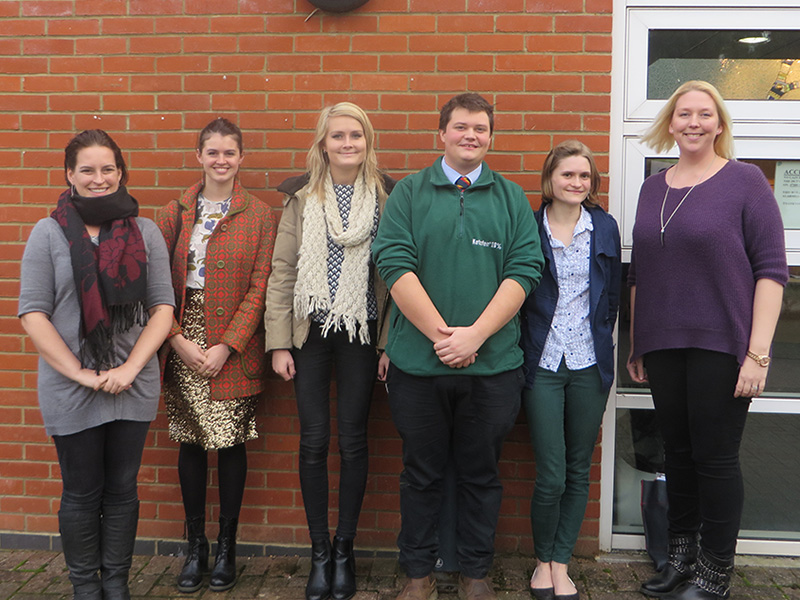 Chantal Villeneuve (BVetMed -year 2) presented her work with Dr Siobhan Abeyesinghe investigating evidence of jealousy in chickens.
Alice Barrett (MSc WAB) presented her work with Dr Charlotte Burn on how visitor numbers and noise affect Sulawesi crested macaques and how signs might mitigate this.
Helena Stokes (MSc WAB) spoke on her work with Dr Ayona Silva-Fletcher on nocturnal behaviour of orphaned elephant calves in Sri Lanka.
Emma King (BVetMed - year 5) presented her research with Dr Troy Gibson comparing effectiveness and humaneness of two different types of captive bolt stunners for turkeys.
Edward Fullick (BVetMed - year 5) who has also been working with Dr Troy Gibson on incidence and associated welfare impacts of lead shot in game bird carcasses, will be presenting at next years' conference.
Holly Asquith-Barnes (BVetMed -year 5) also spoke on her work with Dr Troy Gibson investigating the effectiveness of thermal imaging as a non-invasive tool for identifying and monitoring arthritis in non-human primates.
We are very grateful to UFAW and HSA for their support of our students' research in the important area of animal welfare.
All our students gave fantastic, professional and scientific talks and did RVC proud. Well done!
---
You may also be interested in:
The Royal Veterinary College (RVC) has signed a memorandum of understanding (MoU) with the Advanced …