Surrey miracle pet up for national award
A miracle pet survivor from Surrey has been selected as a finalist in PDSA's national Pet Survivor 2019 competition.
Custo, a crossbreed dog from Camberley who survived an aggressive cancer of the spleen, is now in the running for the coveted award.
He defied the odds by surviving risky surgeries, required intensive care and lengthy stays at specialist veterinary hospitals, followed by months of dedicated nursing and recovery from his owner. He will now go up against four other miracle pets, each with their own death-defying tales of survival, in a public vote.
The six pet finalists were selected from entrants from all over the UK by a judging panel which included TV presenter Michaela Strachan, vet and TV presenter Judy Puddifoot, and former Love Island star Kady McDermott.
PDSA Vet Nurse Nina Downing said: "All of this year's finalists represent exactly what our Pet Survivor competition is all about. Their incredible stories show what an important place our pets hold within our families. Everyone involved with their care have demonstrated true devotion to help support these pets fight for their lives."
Custo's story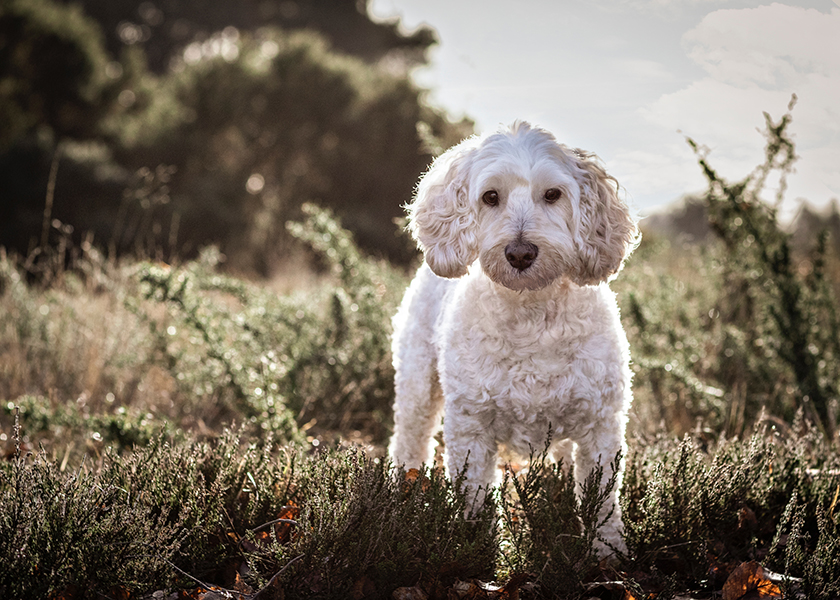 Ten-year-old crossbreed Custo is a much-loved member of the Day family in Camberley, particularly for Beth for whom he was a birthday present. But their world was turned upside-down when he was diagnosed with an aggressive cancerous mass on his spleen in September 2018.
The loveable 'Cockerchon' (Cocker Spaniel x Bichon Frise) needed urgent surgery, but the cancer had caused an autoimmune reaction causing his body to attack his red blood cells, meaning he was unlikely to survive the surgery.
Windlesham Vets in Surrey referred Custo to the Small Animal Hospital at the Royal Veterinary College in Hertfordshire, where tests revealed his red cell count was just 7%. Normal levels are 35%-50%, while anything below 10% is usually fatal. But the operation was his only chance of survival, so after a blood transfusion to give him the best possible chance, the risky surgery went ahead.
Thankfully, the operation was a success, but Custo was still at death's door. He needed five blood transfusions following surgery before his levels finally started improving. His owners were visiting him daily, but Custo's life still hung in the balance and he didn't seem to be responding to treatment.
After discussions with their vets, the family decided to bring him home for his final days. Owner Beth Day, said: "We had plenty of meds to keep him comfortable, and our local vets were on call to make one last home visit. It was heart-breaking, but we knew we could at least fill his remaining time with love."
But Custo had other ideas – being home gave him renewed hope. He wasn't expected to survive the weekend, but he did, and continued to fight for life over the coming weeks and months. His family had a rota to provide round-the-clock care for him and they were supported with regular checks, tests and advice from both their local vet and the RVC.
Gill Tose, Vet at Windlesham Vets said: "Custo was incredibly unwell and initially wasn't expected to survive. He then needed months of care and regular tests, but he always had a waggy tail when he came in to see us. I think he truly deserves the title of Pet Survivor."
Custo had good days and bad days, the family were never quite sure if he would make a full recovery. Finally, around Christmas time, came their first glimmer of hope – vets suggested starting to reduce his medications. By July of 2019 he was so full of energy people thought he was a different dog.
The type of cancer Custo had has a high chance of reoccurring within 12 months, but 13 months later Custo is still cancer-free.
Dr Dominic Barfield, RVC's senior lecturer in Emergency and Critical Care (ECC) and co-head of the ECC service commented: "We are delighted to see Custo's fighting spirit and his owners' devotion being recognised through this very special award nomination. Hearing Custo's story is an inspiration to our hospital team, our students, his local vet and other pet owners alike."
Pet Survivor judge Michaela Strachan said: "Custo's long recovery back to health is inspiring, as is his will to survive once he was taken home. It shows just how much a loving family can help a pet's fighting spirit."
Voting closes on Sunday 1 December at midnight* and the results will be announced before Christmas. The winner will receive a trophy, a luxury pet hamper worth £200 thanks to the competition sponsor, Petsurance by PDSA, and the coveted title of PDSA Pet Survivor 2019.
*The competition was open to pets treated for a life threatening illness or injury by a vet in the UK between 1 August 2018 and 31 August 2019. Only one vote per person is allowed.
---
About the RVC
The Royal Veterinary College (RVC) is the UK's largest and longest established independent veterinary school and is a Member Institution of the University of London.
The RVC is ranked as the world's number one veterinary school in the QS World University Rankings subject 2019.
The RVC offers undergraduate, postgraduate and CPD programmes in veterinary medicine, veterinary nursing and biological sciences.
RVC was the first veterinary school in the world to hold accreditation from AVMA, EAEVE, RCVS and AVBC. RVC currently holds accreditation from RCVS, AVBC and AVMA and conditional from EAEVE.
In 2017, the RVC received a Gold award from the Teaching Excellence Framework (TEF) – the highest rating a university can receive.
RVC is a research led institution with 79% of its research rated as internationally excellent or world class in the Research Excellence Framework 2014.
The RVC also provides animal owners and the veterinary profession with access to expert veterinary care and advice through its teaching hospitals; the Beaumont Sainsbury Animal Hospital (a first opinion teaching hospital) in central London, and the Queen Mother Hospital for Animals (Europe's largest small animal referral centre) and the Equine Referral Hospital, both located at the Hertfordshire campus.