Student Pioneers CT Scan Programme for Sea Turtles
Weymouth Sea Life Park and Royal Veterinary College collaborate to give sea turtles with severely damaged shells essential CT scans.
Dozens of sea turtles are taken in by a Florida rescue centre every year after collisions with boats in Florida Keys.
A few suffer chronic spinal injuries and lose their ability to dive without the aid of special weights.
Five victims were given a home six years ago at the Weymouth Sea Life Park, Dorset, whose consultant vet, Sue Thornton, from Yorkshire-based International Zoo Veterinary Group, organised a CT scan at the Royal Veterinary College (RVC) for one of the Florida turtles 'Ali.'
The scan confirmed she was suffering progressive and untreatable bone disease which unfortunately left no other option but to euthanize.
However, this visit led to a pioneering collaboration by alerting final year RVC veterinary student Jen Oraze, also a marine biology graduate from the University of California, Santa Cruz to the potential benefits of CT scans for other collision victims.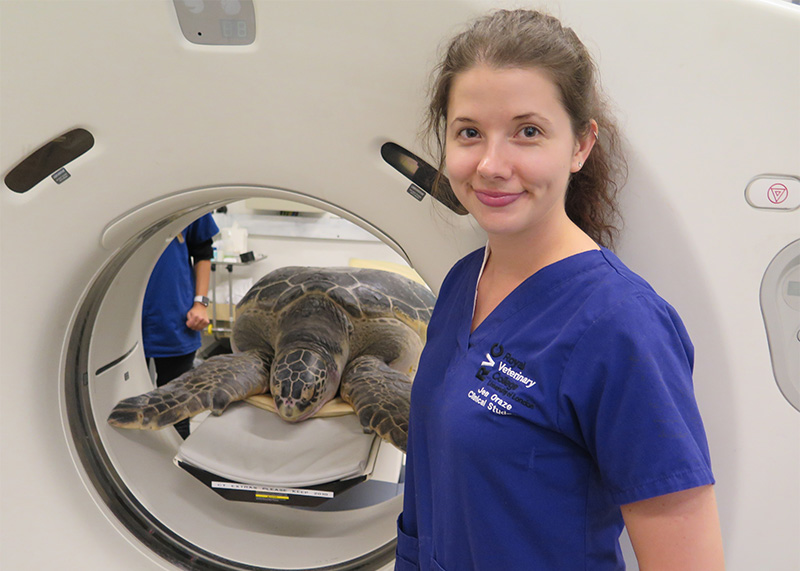 Keen to discover if the care of the other turtles could be improved, the Weymouth displays team, together with Jen, arranged visits to the RVC for similarly disabled green turtles Gumbo, Sharky, Josie and Cracker…the latter being scanned near his new home in Blankenberge Sea Life in Belgium – but analysed at the RVC.
Green turtle Gulliver, thought to be more than 70 years old, also made the trip from Brighton Sea Life and his scan was used for diagnostic purposes to examine a soft shell – and provided Jen with data on an animal without spinal damage for handy comparison.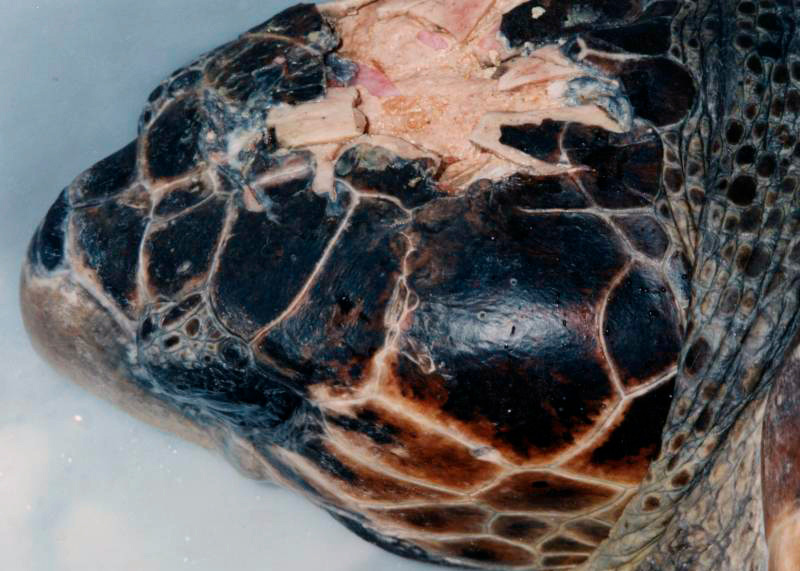 Finally, a turtle with suspected brain damage rather than spinal injury, loggerhead Antiopi who was left with a gaping head wound by either a boat propeller or fisherman's gaffe-hook more than 20 years ago, travelled from Scarborough Sea Life Centre.
Antiopi's carers were able to see the full extent of her head injury for the first time, and learned that she probably has little if any sensation down the right side of her body.
The spine-damaged turtles are the main focus of Jen's study, and she aims to report on her findings next month.
A marine-life enthusiast with a particular fondness for sea turtles sparked by wild encounters with them in the seas off Hawaii, she was thrilled to be able to work with these iconic sea creatures during her fifth and final year of training at the prestigious Royal Veterinary College.
Currently living in Potters Bar she is yet to decide whether to pursue her vet' career in the UK or back home in the US.
This was also made possible by a world leading imaging team at the RVC whose experience scanning all manner of exotic animals contributes to the care of animals throughout the UK and Europe.

31 year old Jen Oraze, originally from California, said: "The data gathered from the scans and neurological examinations will hopefully provide more insight into the nature and extent of these turtles' disabilities. What I learn should help Sea Life to improve the quality of care it provides, and may also enable the team in Florida to more accurately diagnose the problems that newly rescued collision victims will suffer."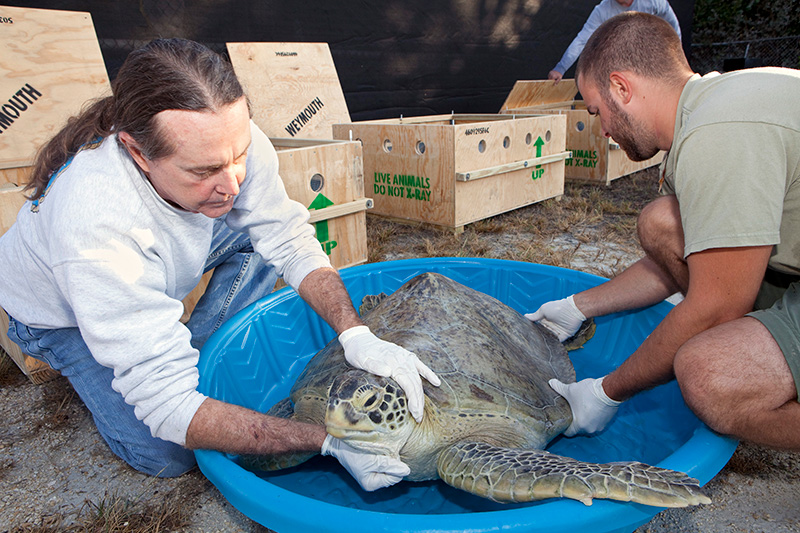 ---
Press Office Contact
Uche Graves / Zoe White
T: 0800 368 9520
E: uche.graves@plmr.co.uk / zoe.white@plmr.co.uk
Notes to Editors
The Royal Veterinary College (RVC) is the UK's largest and longest established independent veterinary school and is a constituent College of the University of London. The RVC offers undergraduate, postgraduate and CPD programmes in veterinary medicine, veterinary nursing and biological sciences, being ranked in the top 10 universities nationally for biosciences degrees. It is currently the only veterinary school in the world to hold full accreditation from AVMA, EAEVE, RCVS and AVBC.
A research-led institution, in the most recent Research Excellence Framework (REF2014) the RVC maintained its position as the top HEFCE funded veterinary focused research institution.
The RVC also provides animal owners and the veterinary profession with access to expert veterinary care and advice through its teaching hospitals; the Beaumont Sainsbury Animal Hospital in central London, the Queen Mother Hospital for Animals (Europe's largest small animal referral centre), the Equine Referral Hospital, and the Farm Animal Clinical Centre located at the Hertfordshire campus.
RVC Press Release 18 November 2016
See other Press Releases.
---
You may also be interested in:
The Royal Veterinary College (RVC) hosted the 2023 UK Fulbright Scholars induction at its Camden …