The RVC successfully renews Athena Swan Bronze award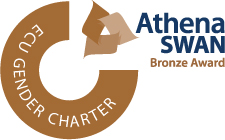 The Royal Veterinary College (RVC) is delighted to announce that it has successfully renewed its Athena Swan Bronze award, given by Advance HE in recognition of its commitment to promoting gender equality. The award is a framework used across the globe to support and transform gender equality within higher education (HE) and research.
Led by co-chairs Professor Nicola Menzies-Gow and Dr. Sharon Kendall, the RVC Self-Assessment Team (SAT) worked over a period of 15 months to consider and further develop the RVC's ongoing efforts in ensuring the continued improvement of the recruitment, retention, and promotion of female academic, research and professional services staff. This involved a reflection of progress made against the first Athena Swan action plan, a detailed survey of opinion across the organisation, a review of a number of policies affecting career development and progression, the analyses of data and the development of a renewed action plan that embeds the principles of the Athena Swan Charter in all aspects of life at the RVC.
Vice-Principal for Equality, Diversity and Inclusion, Dr. Christine Thuranira-McKeever was delighted with the achievement of the Bronze renewal. "I am very pleased that we have maintained our Bronze award status. It is heartening to have our progress in advancing gender equality acknowledged and our commitment to continuing our efforts in doing more to support progression and every aspect of gender equality, recognised. I thank the SAT for their wholehearted dedication to this work and look forward to building on this achievement and bringing our renewed action plan to life".
Professor Stuart Reid, the RVC President & Principal said. " Retaining our Athena SWAN bronze status is an immensely important achievement for the RVC. Promoting and enacting equality and diversity requires the whole organisation to engage and commit to making a difference.
I am enormously grateful to Professor Nicola Menzies-Gow and Dr. Sharon Kendall, and their team, who have worked assiduously in preparing our submission. In doing so, they have renewed our focus on sustaining change as we continue our journey towards being a place where all are welcome, valued and provided opportunity to develop".
---
You may also be interested in:
The Royal Veterinary College (RVC) has signed a memorandum of understanding (MoU) with the Advanced …