RVC's farm hosts over a thousand visitors for Open Farm Sunday
The Royal Veterinary College (RVC) hosted over 1,000 visitors on Sunday at Boltons Park Farm for LEAF Open Farm Sunday, where its students get hands-on farm experience.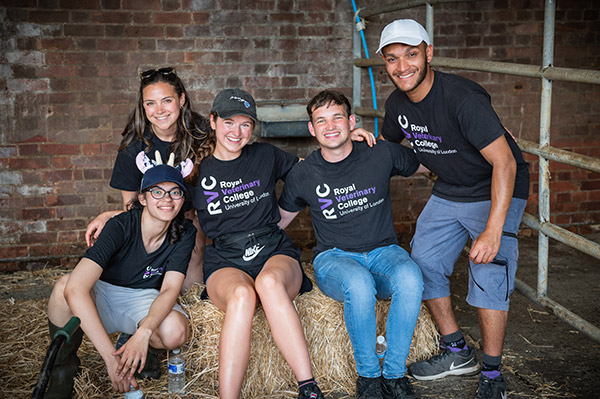 The visitors came from the local community as well as further afield to find out about the farm, which is located near Potters Bar in Hertfordshire along with the RVC's Hawkshead Campus.
Open Farm Sunday is a free annual event that showcases the inner-workings of a modern dairy and sheep farm. Visitors were able to learn about all of the activities on the working farm, including the onsite teaching RVC students receive within their degree programmes.
Visitors heard about the calving and milking cycle of the cows and got to try their hand at milking, using a life-size model of a cow. They found out about animal blood donation and how blood specimens are taken to aid diagnoses. They also learned how the sheep flock is managed, got to see a foot trimming demonstration on our dairy cows and were shown how to spin wool.
A number of RVC experts in veterinary medicine and science were present to meet with the visitors and explain how cutting-edge research enables good animal welfare and health. Our student ambassadors were at hand to talk about all aspects of life as a student at the RVC.
There was a bake sale to raise money for the Animal Care Trust – the RVC's registered charity – and visitors were able find out about RVC's exciting new bee keeping and honey production project.
There were visitors of all ages, who were able to see some of the farm's sheep, cows and chickens. A calf born on the day was named after the youngest visitor – a baby called Ophelia.
---
You may also be interested in:
The Royal Veterinary College (RVC) hosted the 2023 UK Fulbright Scholars induction at its Camden …