RVC receives esteemed re-accreditation from the Royal Society of Biology for leading degree pathways
The Royal Veterinary College (RVC) is pleased to announce the formal re-accreditation, from the Royal Society of Biology (RSB), for three of its Bachelor of Bioscience (Honours) degree programmes.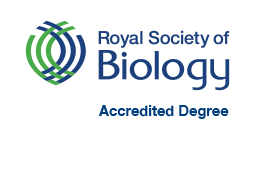 This includes Biological Sciences; Bioveterinary Sciences; and Animal Biology, Behaviour, Welfare and Ethics; as well as the accreditation of a new RVC degree pathway - Biological Sciences (Wildlife Health Sciences).
The RVC's commitment to science has played a key role in important advances in the history of animal welfare, disease control, evolution and human and animal medicine. These courses, which benefit from world-renowned experts and provide students with unrivalled research opportunities, will help shape the future of science.
The accreditation of each of these degree pathways with the RSB demonstrates the high quality of the RVC's biosciences programmes, which offer students the opportunity to be taught by leading experts at the cutting edge of their field. It also recognises the RVC's commitment to academic rigour and to developing key employability skills in its biosciences graduates.
In determining the outcome, the Accreditation Panel highlighted good practice in several areas, including the use of projects in each year of the programmes, the experience that students gain in oral communication and the use of interactive workshops. These efforts aim to develop subject specific and transferable skills that will be widely applicable in the diverse range of careers that graduates progress into.
Dr Charlotte Lawson, Course Director for BSc/MSci Biological Sciences and Bioveterinary Sciences Programmes and Associate Professor, Comparative Biomedical Sciences at the RVC, said:
"Accreditation from the Royal Society of Biology continues to be the gold standard for biosciences programmes in the UK and internationally and demonstrates that our programmes at the RVC provide graduates with the necessary knowledge and skills to be at the forefront of the next generation of scientists."
As part of the accreditation, students from each of the programmes will also receive one year of free membership with the RSB in the final year of their studies – facilitating valuable networking opportunities as they embark on their careers.
---
Notes to Editors
Each of these distinct courses provides students with the necessary foundation to go on to pursue rewarding further research and/or career, with programme features including:
For more information please contact:
About the RVC
The Royal Veterinary College (RVC) is the UK's largest and longest established independent veterinary school and is a Member Institution of the University of London. It was the first in the world to hold full accreditation from AVMA, EAEVE, RCVS and AVBC.
The RVC is the top veterinary school in the UK and Europe, and ranked as the world's second highest veterinary school in the QS World University Rankings by subject, 2020.
The RVC offers undergraduate and postgraduate programmes in veterinary medicine, veterinary nursing and biological sciences.
In 2017, the RVC received a Gold award from the Teaching Excellence Framework (TEF) – the highest rating a university can receive.
A research led institution with 79% of its research rated as internationally excellent or world class in the Research Excellence Framework 2014.
The RVC provides animal owners and the veterinary profession with access to expert veterinary care and advice through its teaching hospitals and first opinion practices in London and Hertfordshire