RVC Principal comments on tackling global antimicrobial resistance
Lord O'Neill has today published his report entitled Tackling Drug-Resistant Infections Globally: Final Report and Recommendations – The Review on Antimicrobial Resistance. The report estimates that 10 million lives will be at risk per year by 2050 due to the rise of drug resistance and recommends urgent action. The report concludes that significant changes are needed in the way that antibiotics are consumed and prescribed. This will contribute to both preserving the usefulness of existing products for longer and reducing the urgency of discovering new drugs. The reports also calls on governments and the key sectors that drive antibiotic consumption, from the pharmaceutical companies to the farming industry, to be held accountable on this goal to reduce the demand for antimicrobials.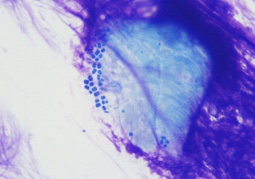 Professor Stuart Reid, the Principal of the Royal Veterinary College and an expert on antimicrobial resistance, comments on the release of this report: "I welcome Lord O'Neill's report into global antimicrobial resistance. Increasing resistance to antibiotics presents one of the most serious threats to public health faced by the developed and developing world. I encourage the Government to dedicate resources to this issue and afford it the prominence it deserves. "In addressing this issue, the Government should take into account the impact of the use of antibiotics on animal health and animal welfare, particularly in commercial farming, and recognise the importance of veterinary science and human medicine working together to tackle the threat that resistance presents. "This is a prime example of the need for a One Health approach – the interdisciplinary co-operation between human medicine and veterinary science, as well as an understanding of environmental, social and economic factors, in seeking a holistic solution to the crisis." The full report can be viewed at online Tackling Drug-Resistant Infections Globally
Press Office Contact
Uche Graves / Zoe White
T: 0800 368 9520
E: uche.graves@plmr.co.uk / zoe.white@plmr.co.uk
Notes to Editors
The Royal Veterinary College (RVC) is the UK's largest and longest established independent veterinary school and is a constituent College of the University of London. The RVC offers undergraduate, postgraduate and CPD programmes in veterinary medicine, veterinary nursing and biological sciences, being ranked in the top 10 universities nationally for biosciences degrees. It is currently the only veterinary school in the world to hold full accreditation from AVMA, EAEVE, RCVS and AVBC.
A research-led institution, in the most recent Research Excellence Framework (REF2014) the RVC maintained its position as the top HEFCE funded veterinary focused research institution.
The RVC also provides animal owners and the veterinary profession with access to expert veterinary care and advice through its teaching hospitals; the Beaumont Sainsbury Animal Hospital in central London, the Queen Mother Hospital for Animals (Europe's largest small animal referral centre), the Equine Referral Hospital, and the Farm Animal Clinical Centre located at the Hertfordshire campus.
---
You may also be interested in:
The Royal Veterinary College (RVC) has signed a memorandum of understanding (MoU) with the Advanced …