RVC launches revolutionary Pet Diabetes App
The Royal Veterinary College (RVC) is launching a revolutionary Pet Diabetes App which not only brings diabetes management in animals into the 21st century but also helps to aid continual research into the condition. The App was developed with the kind support of the Rumba Foundation.
The free App, designed by Dr Stijn Niessen, a Senior Lecturer in Internal Medicine and pet diabetes expert at the RVC, is being launched at the British Small Animal Veterinary Association (BSAVA) Annual Conference, and will help ensure that pets with diabetes enjoy a good quality of life.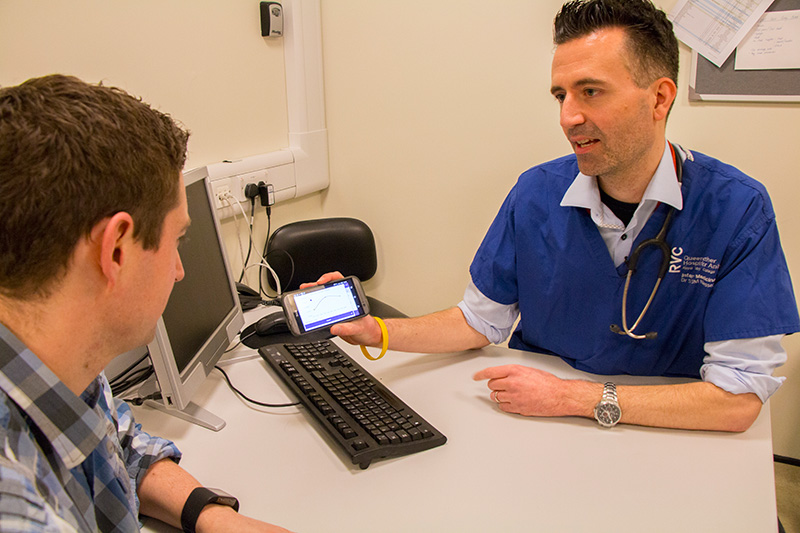 Owners can become part of their pet's veterinary care team and help control the diabetes of their pet by recording all factors that are important indicators of success or failure in diabetes treatment and control. Diabetes management can then be fine-tuned together with the veterinary care team on the basis of these, avoiding complications associated with low and high blood sugars, as well as the costs associated with such complications.
Dr Niessen has taken these factors into consideration and has created the App for two key reasons:
To provide diabetic pet owners with a convenient free tool to actively participate in the medical management of their beloved pet.

To enable the gathering of strictly anonymous data on diabetic pets and their management. This enables diabetic pet owners to actively participate in research and help develop better treatment options for pets with diabetes.
The Diabetes Log feature of the App allows users to record, and easily share with their veterinarian, all those parameters that are essential to monitor when it comes to pet diabetes management, including clinical signs like weight, appetite, thirst and urination changes, as well as urine and blood sugar values (for those owners who perform home blood or urine glucose testing).
The App also features the following:
a medication reminder function

a reminder to change the insulin injection sites (avoiding inflammation of areas too frequently used)

a scientifically validated tool which calculates and monitors quality of life

a scientifically validated tool to score your pet's clinical signs

a tool to calculate the number of calories your diabetic pet likely needs

a tool to calculate the exact amount of food your diabetic pet likely needs

plenty of space to save useful information (e.g. contact details of your veterinarian, important medical history, questions for your veterinarian, etc.)

visualisation of trends (using graphs), including changes in thirst, weight, fructosamine, average blood sugar values, urine ketones or sugar values, etc.

links to useful pet diabetes videos

an easy "export" function enabling the sharing of entered information and graphs with anyone interested, including your veterinarian.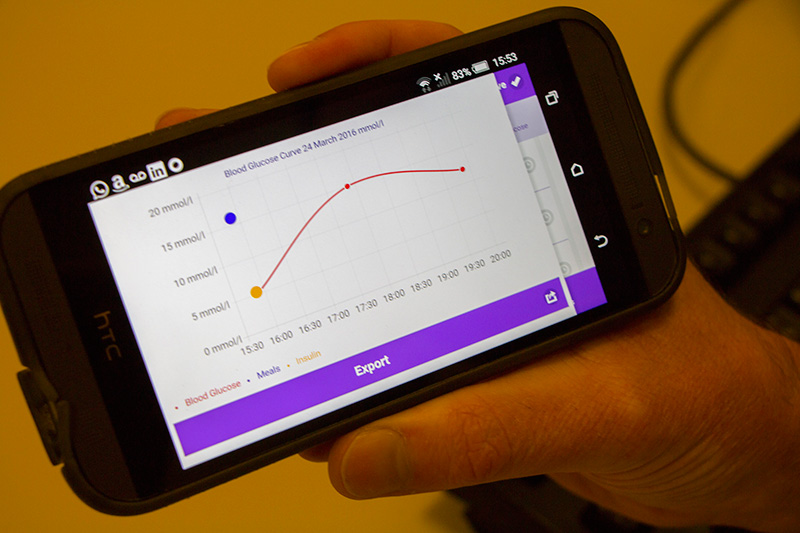 RVC Senior Lecturer in Internal Medicine, Dr Stijn Niessen, said: "Take control of your pet's diabetes and start logging entries into the Diabetes Log. This will maximise your chances to achieve the best possible result, together with your vet. Life is complicated enough, let the Royal Veterinary College Pet Diabetes App be your personal assistant to take extra good care of your furry member of the family, and automatically help pet diabetes research along the way!"
The App was developed with the support of the Rumba Foundation which helps pioneer clinical care for companion animals.
Founder and Trustee of the Rumba Foundation, Fiona Hindle, said: "The arrival of one small Burmese kitten into my home in 1988 led many years later to forming a charity that has recently funded the development of the Royal Veterinary College Pet Diabetes App. Called Rumba, the chocolate-coloured cat is the inspiration behind the Foundation which bears his name after he died from cancer at the age of nine. In more recent years, Rumba's two great nephews have both been diagnosed with diabetes, and one of them is still under the outstanding care of the RVC. We have first-hand experience of what it is like to care for and live with two diabetic cats and the stress and anxiety it causes. When we heard that the RVC were looking for funding to develop the App, it was immediately something we wanted to support. For the trustees of the Rumba Foundation, the inspirational work of Dr Stijn Niessen and his team at the Royal Veterinary College is in harmony with our mission to support specific projects that have a direct impact on companion animal health and particularly those that have the potential to benefit both animals and humans.
"If you would like to help the Rumba Foundation support this project, you can donate at www.justgiving.com/therumbafoundation"
The App is now available for free download onto smartphones and tablets, from Android (http://bit.ly/1q3jCV5) and iPhone App stores (http://apple.co/203OoK2).
Press Office Contact
Uche Graves / Zoe White
T: 0800 368 9520
E: uche.graves@plmr.co.uk / zoe.white@plmr.co.uk
Notes to Editors
The Royal Veterinary College (RVC) is the UK's largest and longest established independent veterinary school and is a constituent College of the University of London. The RVC offers undergraduate, postgraduate and CPD programmes in veterinary medicine, veterinary nursing and biological sciences, being ranked in the top 10 universities nationally for biosciences degrees. It is currently the only veterinary school in the world to hold full accreditation from AVMA, EAEVE, RCVS and AVBC.
A research-led institution, in the most recent Research Excellence Framework (REF2014) the RVC maintained its position as the top HEFCE funded veterinary focused research institution.
The RVC also provides animal owners and the veterinary profession with access to expert veterinary care and advice through its teaching hospitals; the Beaumont Sainsbury Animal Hospital in central London, the Queen Mother Hospital for Animals (Europe's largest small animal referral centre), the Equine Referral Hospital, and the Farm Animal Clinical Centre located at the Hertfordshire campus.
RVC Press Release 6 April 2016
See other Press Releases.