RVC and Purdue University Veterinary College agree to international cooperation
Dean Willie Reed from Purdue University College of Veterinary Medicine and Professor Stuart Reid, Principal of the RVC have signed a Letter of Intent for the purpose of fostering international cooperation in education and research.
The signing took place Wednesday, November 2, while Professor Reid was visiting Purdue to give presentations about antimicrobial resistance as part of the One Health Month events planned by the Purdue One Health Club.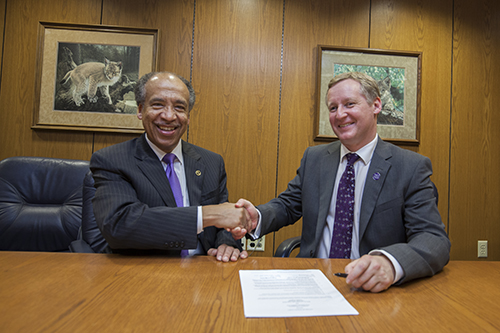 With the new agreement, Purdue Veterinary Medicine (PVM) and The Royal Veterinary College will promote activities that exchange materials in education and research, as well as publications and academic information. Joint research and meetings for education and research also will take place when the exchange of students, faculty, and research scholars between the two institutions can achieve shared goals and objectives.
The signed Letter of Intent marks the beginning of a fruitful partnership in which both colleges will promote and sustain international academic cooperation.
---
You may also be interested in:
The Royal Veterinary College (RVC) has signed a memorandum of understanding (MoU) with the Advanced …