RVC alumnus wins The BVA Young Vet of the Year award
Dr Henry Lamb MRCVS, a The Royal Veterinary College (RVC) Class of 2018 graduate, was awarded the prestigious Young Vet of the Year Award last night in recognition of his dedication and hard work in the poultry sector at a particularly testing time. His encouragement and support to other young vets and students to consider roles in the poultry sector was remarked on as being inspirational.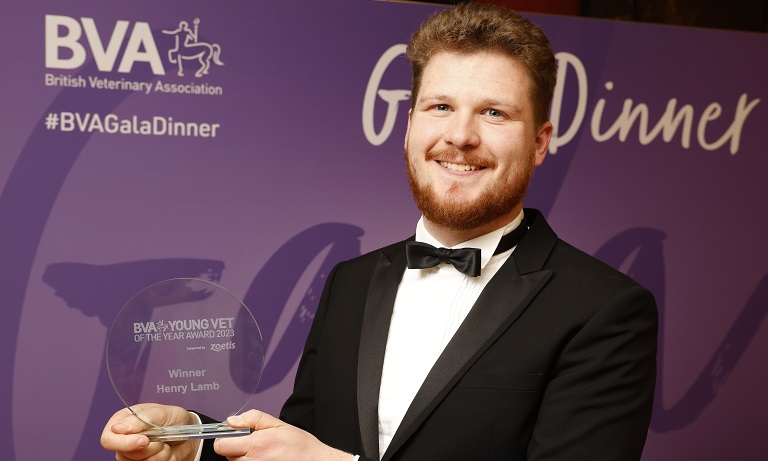 Henry, from Norfolk, earned recognition not only for his efforts combatting bird flu (avian influenza) but also for his proactive role in inspiring young veterinarians to join the poultry industry. After graduating he began working at Crowshall Veterinary Services in Norfolk. His role involves providing specialised consultancy and Official Veterinarian (OV) services to the poultry/gamebird sector across Great Britain and internationally. Amidst recent bird flu outbreaks and the associated changes due to Brexit, he has led multiple OV panels and navigated through export-related preparations.
Beyond his professional commitments, Henry serves as a mental health first aider and trustee for the regional rural mental health charity You Are Not Alone (YANA). Additionally, he holds positions as the deputy rotation lead for the new RVC poultry rotation, co-lead of his practice's green group (steering the practice to top Green accreditation for sustainability with Investors in the Environment), and is an external lecturer for the RVC, offering valuable insights into avian population medicine to aspiring veterinarians.
Expressing his gratitude upon receiving the award, Henry emphasised the significance of recognizing the poultry sector's relentless efforts during challenging times. He said,
"To be named BVA Young Vet of the Year is a huge honour and it means all the more having heard about the outstanding work, dedication and skills of the other two finalists. I'm delighted that after a challenging few years the poultry sector has been highlighted tonight, as all those involved have worked tirelessly to overcome the largest animal health outbreak the UK has experienced in recent times - I hope that winning this award will encourage more young vets to consider joining us in the poultry sector. It's extremely rewarding work."
BVA President Anna Judson said:
"Henry's dedication and hard work shines through in what is a particularly testing time for the poultry sector. His enthusiasm, not only for the work itself, but for encouraging and supporting other young vets and students to consider roles in the poultry sector, is inspirational. On behalf of all the judges, I wish Henry huge congratulations - he clearly has a bright future ahead."
The BVA Young Vet of the Year award in partnership with Zoetis garnered 140 nominations and highlights the outstanding work of young vets who are making a significant contribution whether in their workplace or the wider veterinary community. It aims to share and celebrate an exceptional young vet who leads, inspires, and goes above and beyond what is expected of them early on in their career.
---
You may also be interested in:
The Royal Veterinary College (RVC) has signed a memorandum of understanding (MoU) with the Advanced …