Royal Veterinary College technician recognised as one of the UK's best
The Royal Veterinary College's (RVC) Elaine Shervill has been recognised by a leading national institution for her expert delivery of technical support, which underpins the bioscience research and teaching conducted at the university.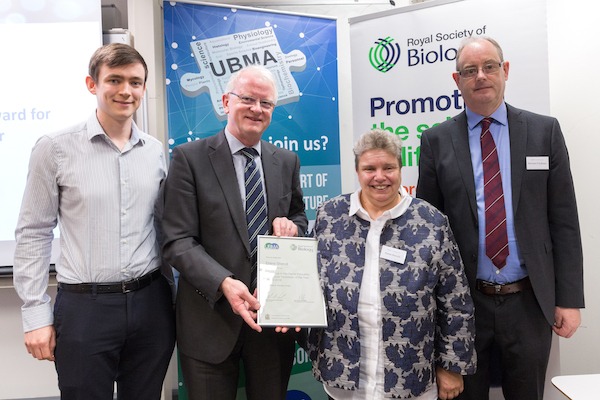 Elaine was awarded runner-up in the HE Bioscience Technician of the Year Award, developed jointly by the Royal Society of Biology (RSB) and the University Bioscience Manager's Association (UBMA). This award cements the RVC's position as a leading institution not just for academia, but also for technical excellence.
The HE Bioscience Technician of the Year Award seeks to recognise technical staff who are making a positive impact and inspiring others to thrive within the bioscience field. It also seeks to acknowledge technicians who deliver innovative ideas. Elaine was presented the award at the UBMA 35th Annual Conference at Imperial College London. Along with the prestigious award, Elaine was presented with a £200 prize and a year of free RSB membership.
Elaine Shervill, Multi-faculty Laboratory Manager at the RVC, said: "I am very humbled and honoured to receive such a great prize. I work with amazing colleagues, as well as students, so this reward also goes to them too. I have many teaching and research roles, teaching undergraduates, PhD students, post-doctoral researchers, other technicians and even academics in the RVC.
"It's a joy to get up every morning to go to work and see the students develop their skills throughout their courses, watching them grow from small fledglings into fully fledged young scientists. I'm so lucky in having a fantastic team of people around me who listen to my advice and ideas. Interacting with students and colleagues from diverse backgrounds is a pure joy, and I hope to continue in this marvellous job for many more years to come."
Professor Caroline Wheeler-Jones, Head of the Department of Comparative Biomedical Sciences, and Mr Michael Avella, Departmental Laboratory Manager, said: "We are delighted that Elaine's talents in teaching and research have been recognised by this award. Elaine enthusiastically supports our teaching, research and outreach missions at the RVC, and we are indebted to her for the dedicated and selfless manner in which she carries out her varied roles. Elaine is a talented technician and a true inspiration for students and academics alike."
Notes to Editors
For more information please contact: Uche Graves or Alex Cassells / Press Line: 0800 368 9520
About the Royal Veterinary College
The Royal Veterinary College (RVC) is the UK's largest and longest established independent veterinary school, and is a constituent College of the federation of the University of London.
The RVC offers undergraduate, postgraduate and CPD programmes in veterinary medicine, veterinary nursing and biological sciences, being ranked third worldwide for veterinary medicine and in the top 10 universities nationally for biosciences degrees.
It is currently the only veterinary school in the world to hold full accreditation from AVMA, EAEVE, RCVS and AVBC.
In 2017, the RVC received a Gold award from the Teaching Excellence Framework (TEF) – the highest rating a university can receive.
A research-led institution, in the most recent Research Excellence Framework (REF2014) the RVC was ranked as the top vet school in the Agriculture, Veterinary and Food Science unit of assessment, with 79% of submitted academics producing world-class or internationally excellent research.
The

RVC

also provides animal owners and the veterinary profession with access to expert veterinary care and advice through its teaching hospitals; the Beaumont Sainsbury Animal Hospital in central London, the Queen Mother Hospital for Animals (Europe's largest small animal referral centre), the Equine Referral Hospital, and the Farm Animal Clinical Centre located at the Hertfordshire campus.