Royal Veterinary College Honoured with Athena SWAN Charter Bronze Award
The Royal Veterinary College (RVC) is delighted to announce it has been awarded the Scientific Women's Academic Network (Athena SWAN) bronze award by the Equality Change Unit for its commitment to promoting gender equality. The award recognises excellence in advocating for women's employment within science, technology, engineering, maths and medicine (STEMM) in UK higher education.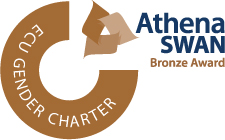 Dr Christine Thuranira-McKeever, led a team that has established a framework to ensure the university continues to improve the recruitment, retention and promotion of female academic and research staff. This has involved a detailed survey of opinion across the organisation, a review of a number of academic policies affecting career development and progression, the establishment of baseline statistics and the development of an action plan that embeds the principles of the Athena SWAN Charter in all aspects of life at the RVC.
Professor Stuart Reid, the Principal of the RVC said. "Achieving Athena SWAN bronze status is an immensely important milestone for the RVC. For a small and specialist organisation like ours, equality and diversity require everybody to engage and commit to making a difference. Dr Thuranira-McKeever and her team have brought about a real change in culture around gender related issues and their efforts are justly rewarded by this recognition. Of course, we realise that this a journey on which the Athena SWAN awards are only staging posts - there is no final destination and we will ensure that the RVC continues to evolve as a place where all are welcome, valued and provided opportunity to develop."
Notes to Editors
For more information please contact:
About the Royal Veterinary College
The Royal Veterinary College (RVC) is the UK's largest and longest established independent veterinary school and is a constituent College of the University of London.
The RVC offers undergraduate, postgraduate and CPD programmes in veterinary medicine, veterinary nursing and biological sciences, being ranked in the top 10 universities nationally for biosciences degrees.
It is currently the only veterinary school in the world to hold full accreditation from AVMA, EAEVE, RCVS and AVBC.
A research-led institution, in the most recent Research Excellence Framework (REF2014) the RVC maintained its position as the top HEFCE funded veterinary focused research institution.
The

RVC

also provides animal owners and the veterinary profession with access to expert veterinary care and advice through its teaching hospitals; the Beaumont Sainsbury Animal Hospital in central London, the Queen Mother Hospital for Animals (Europe's largest small animal referral centre), the Equine Referral Hospital, and the Farm Animal Clinical Centre located at the Hertfordshire campus.
---
You may also be interested in:
The Royal Veterinary College (RVC) has signed a memorandum of understanding (MoU) with the Advanced …