Royal Veterinary College continuing to fly the flag for LGBT+ History Month
The Royal Veterinary College has been celebrating LGBT History Month throughout February by flying the rainbow flag on both our campuses, holding special screenings of the film 'Beautiful Thing', and by arranging a flag raising ceremony at our Hertfordshire campus.
To mark the end of LGBT History Month, we again held photo shoots involving massive amounts of fabric. This year, the display had the added addition of the three colours of the Trans flag, bringing the total length of fabric used to 88 metres.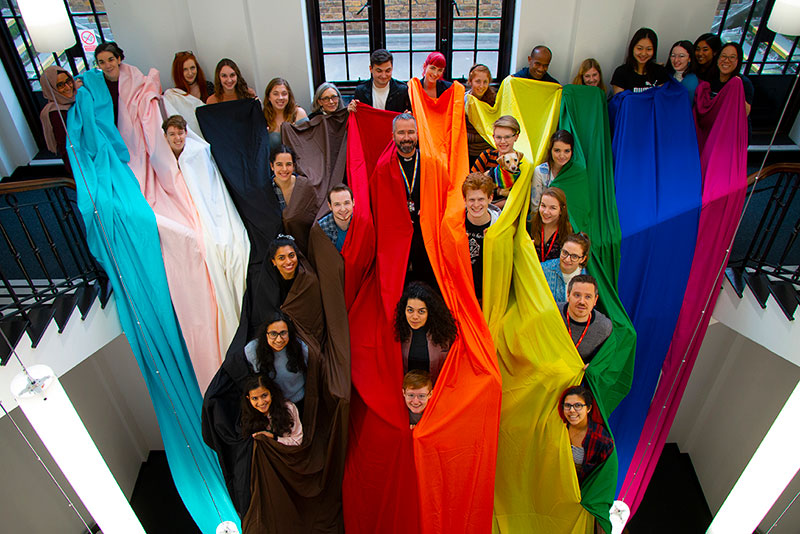 The photo shoot, organised by our Chaplain, the Revd. Andy Marshall and the RVC Students' Union, involved a number of staff and students who all came together to make a visible statement of inclusion and support for the LGBT+ community.
A Trans Non-Binary student had the following comment after one of the fabric installations: "It was so great to see both staff and students brought together by this event. I was surrounded by people who actively support the LGBTQ+ community within the RVC, whether they were queer themselves or not, which was uplifting and a good reminder that I am not alone. It was especially important to me to see that the Trans colours were included in the flag as I have not had such support at previous academic institutions."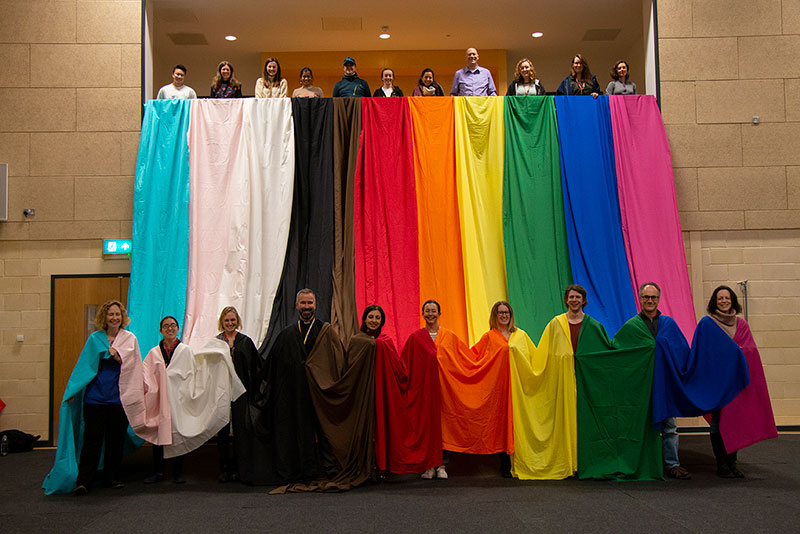 The Students' Union spokesperson added, "We are proud to be involved with this project, championing our LGBT+ students, as we all benefit from greater diversity. Visible representation is important in any organisation, and this is a fantastic way to show our LGBT+ students that they are an integral part of us and we are committed to their flourishing. We feel it is important to demonstrate to all of our students that no matter who you are you will be accepted and welcome here."
Andy Marshall, our Chaplain and Interfaith Advisor, said, "We know that people can carry many intersectional identities, which is why I feel it is important for me as a person of faith to both publicly identify as a gay person of faith, but also to publicly affirm the LGBT+ community as a person of faith. The fabric project is a fun, very visible way for the whole RVC community to share in this message of affirmation and support."
---
You may also be interested in:
The Royal Veterinary College (RVC) has signed a memorandum of understanding (MoU) with the Advanced …