Professor Stephen May elected RCVS Junior Vice-President
Royal Veterinary College (RVC) Deputy Principal Stephen May has been elected Junior Vice-President of the Royal College of Veterinary Surgeons (RCVS), the body which regulates the profession in the UK.
Prior to becoming RCVS Presidents, those selected spend a year as Junior Vice-President. After a year as President they then serve as Senior Vice-President for a year.
Professor May will take up the Junior Vice-President position at on July 15, having just also been re-elected as an RCVS Councillor. Chris Tufnell, the current Junior Vice-President, is set to become President in July.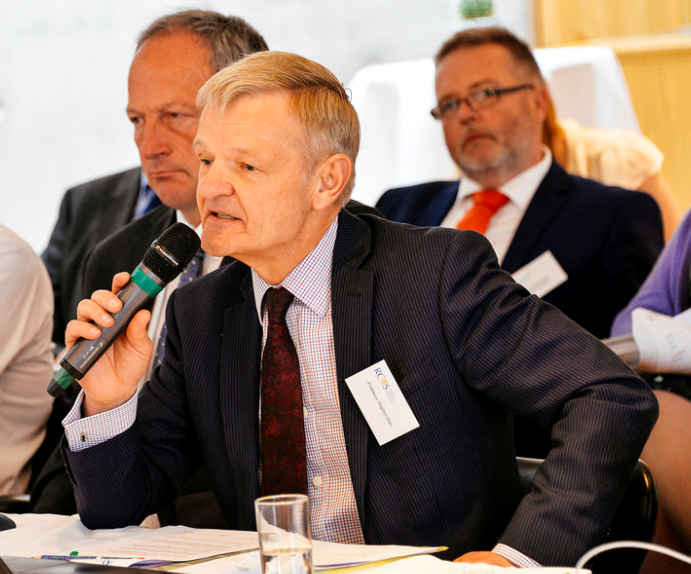 RCVS Council elections take place each year and those elected serve a four-year term. Therefore, as he was elected again this month, Professor May will be on the Council until 2020. He was previously a university appointed member of Council, representing the RVC from 2001 until 2010, and has been an elected member since 2012.
Professor May has worked at the RVC since 1993 in a variety of positions. These have included Head of the Farm Animal and Equine Clinical Department and Vice-Principal for Teaching.
Welcoming the Junior Vice-President role, Professor May said: "I was proud and humbled that my Council colleagues have seen fit to put me forward as Junior Vice-President, and future President, of RCVS. We all know that there are a number of challenges that, collectively, RCVS and the profession need to address. These include the Vet Futures vision for the societal contribution that we will make in future, and the way veterinary services will be delivered, addressing the stress and mental health issues affecting many of us, and the modernisation of RCVS governance processes.
"I am particularly passionate about the way we prepare new graduates for their role in general practice, still the majority occupation for most, and our shop window to the public. I feel we have neglected the 'scholarship of primary care' which has meant that some graduates initially have lacked the confidence to deal optimally with a first opinion case load, and judged themselves harshly in comparison to their hospital-based teacher role models."
He added: "I am keen, for the health of our profession as a whole and valued colleagues within it, that we better celebrate 'expert generalists', and the crucial roles they play in the health and welfare of our domesticated animals."
RVC graduates and faculty members who have been recent RCVS presidents
Professor Stuart Reid, RVC Principal, president from 2014 to 2015

RVC graduate Colonel Neil Smith, president from 2013 to 2014
Dr Jerry Davies, president from 2011 to 2012, was an undergraduate and postgraduate at the RVC and a senior lecturer at the College
RVC graduate Peter Jinman, president from 2010 to 2011
RVC graduate Stephen Ware, president from 2002 to 2003
RVC graduate Mr Roger Green, president 2001 to 2002
RVC graduate Roger Eddy from 2000 to 2001
RVC graduate Nigel Gibbens has been UK Chief Veterinary Officer since 2008.
Press Office Contact
Uche Graves / Zoe White
T: 0800 368 9520
E: uche.graves@plmr.co.uk / zoe.white@plmr.co.uk
Notes to Editors
The Royal Veterinary College (RVC) is the UK's largest and longest established independent veterinary school and is a constituent College of the University of London. The RVC offers undergraduate, postgraduate and CPD programmes in veterinary medicine, veterinary nursing and biological sciences, being ranked in the top 10 universities nationally for biosciences degrees. It is currently the only veterinary school in the world to hold full accreditation from AVMA, EAEVE, RCVS and AVBC.
A research-led institution, in the most recent Research Excellence Framework (REF2014) the RVC maintained its position as the top HEFCE funded veterinary focused research institution.
The RVC also provides animal owners and the veterinary profession with access to expert veterinary care and advice through its teaching hospitals; the Beaumont Sainsbury Animal Hospital in central London, the Queen Mother Hospital for Animals (Europe's largest small animal referral centre), the Equine Referral Hospital, and the Farm Animal Clinical Centre located at the Hertfordshire campus.
RVC Press Release 5 April 2016
See other Press Releases.
---
You may also be interested in:
The Royal Veterinary College (RVC) has signed a memorandum of understanding (MoU) with the Advanced …