Professor Fiona Tomley awarded honour of CBE for services to animal health
Professor Fiona Tomley, Professor of Experimental Parasitology at the Royal Veterinary College (RVC) and Director of the UKRI GCRF One Health Poultry Hub, has been awarded Commander of the Most Excellent Order of the British Empire (CBE) for services to animal health.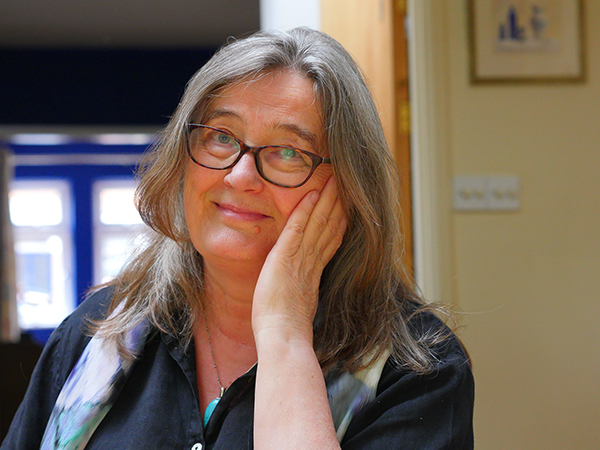 The award will be announced by the Central Chancery of the Orders of Knighthood on 12 June 2021.
Professor Tomley is a leading academic, studying bacteriology and virology at Manchester University where, in 1980, she also completed her PhD. After working as a virology postdoctoral researcher at Cambridge University, Fiona has consistently championed a One Health approach - a perspective of health that recognises the interconnection between people, animals, plants and the shared environment. As part of this, she was appointed Director of the One Health Poultry Hub in 2019, conducting research programmes that seek to understand, detect and reduce the risk of transmission of zoonotic diseases from chickens to humans.
Leading 27 partner institutions across 10 countries, as well as more than 200 researchers, Fiona's work focuses on ways in which safer and more sustainable chicken meat and egg production can be supported, particularly in South and Southeast Asia. These collaborative efforts – using disciplines spanning social, veterinary, medical, biological and computational sciences – enable the Hub team to track the movements of chicken and people, collect samples, generate knowledge on the behaviours and systems that are most risky for the emergence and spread of zoonotic diseases and antimicrobial resistance, and target intervention strategies that reduce the impact on people.
Throughout her career, Professor Tomley has secured more than £40m of grant funding for both the RVC and other partners and has published over 140 scientific papers, most recently including Communications Biology, International Journal of Parasitology, and Indian Journal of Medical Research.
In response to her honour, Professor Tomley, she said:
"I am both surprised and thrilled at this news. I always felt lucky to be born into a generation with access to state-supported University education, and to have parents who encouraged me to pursue a dream of 'doing science' when many women from a similar background were actively deterred from having careers. The past year has once again highlighted that understanding the root causes, detection, prevention and treatment of infectious disease is critically important. I hope this will stimulate the next generation of women, and men, to pursue the most exciting, challenging and rewarding of careers. Science may not be everything but as Rosalind Franklin said, 'Science, for me, gives a partial explanation for life. In so far as it goes, it is based on fact, experience and experiment'."
Professor Stuart Reid, Principal of the RVC, said:
"I am absolutely delighted that Professor Tomley has been recognised in the Queen's Birthday Honours. Her contribution to the sector has been, and continues to be, outstanding. I can think of no more fitting accolade or more deserving individual. As a researcher, mentor and leader, Fiona is role model for all young academics but particularly for women in science. It is a privilege to work with her and this award is great news for her discipline, for the RVC, but most of all, for Fiona and those closest to her."
---
Notes to Editors
For more information please contact:
About the RVC
The Royal Veterinary College (RVC) is the UK's largest and longest established independent veterinary school and is a Member Institution of the University of London. It was the first in the world to hold full accreditation from AVMA, EAEVE, RCVS and AVBC.
The RVC is ranked as the top veterinary school in the world in line with the QS World University Rankings by subject, 2021.
The RVC offers undergraduate and postgraduate programmes in veterinary medicine, veterinary nursing and biological sciences.
In 2017, the RVC received a Gold award from the Teaching Excellence Framework (TEF) – the highest rating a university can receive.
A research led institution with 79% of its research rated as internationally excellent or world class in the Research Excellence Framework 2014.
The RVC provides animal owners and the veterinary profession with access to expert veterinary care and advice through its teaching hospitals and first opinion practices in London and Hertfordshire.
About the UKRI GCRF One Heath Poultry Hub
The UKRI GCRF One Heath Poultry Hub, funded by the Global Challenges Research Fund (GCRF) of UK Research and Innovation (UKRI), is an interdisciplinary research project addressing the need to meet rising demand for poultry meat and eggs in developing countries, while minimising risk to international public health.
---
You may also be interested in:
The Royal Veterinary College (RVC) has signed a memorandum of understanding (MoU) with the Advanced …