New litter-picking initiative reinforces RVC's commitment to the environment and its community
Staff and students at the Royal Veterinary College (RVC) joined together this week to kick-start a new monthly litter picking initiative as part of the RVC's environmental stewardship role and ongoing commitment to support the local community.
Teaming up with the RVC Student's Union clubs the Student Animal Welfare Society (SAWS) and the Student American Veterinary Medicine Association (SAVMA), over 20 members of staff and students joined forces to clear up the campus as well as Hawkshead Lane and the surrounding areas to improve and enhance the local environment.
The first litter picking session commenced on Wednesday 11 March after SAVMA chose to use its grant for community outreach for a Hawkshead Campus 'clean-up'. Following the successful turn out, and the progress made already, the sessions will continue to take place each month.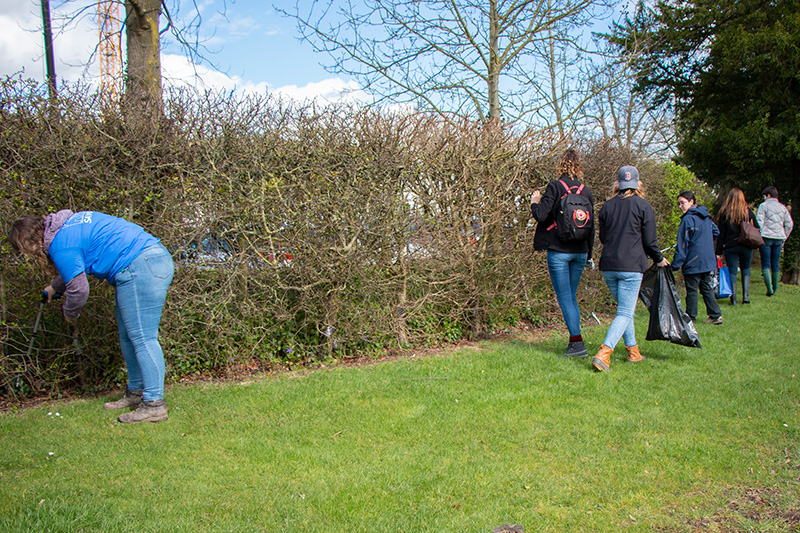 Sarah Ready, Director of External Relations at the RVC, said:"As landowners, we are very aware of the impact that litter has on our local environment. Positive stewardship of the land really matters to the RVC and this initiative, along with many others is part of our commitment to the wider community in helping to improve the environment and make a difference."
Jade Urquhart-Gilmore, RVC SU President, said: "Litter picking is a key part of a much wider effort in sustaining a healthy and positive environment at the RVC. We are incredibly supportive of the initiative and the turn-out of students and staff has been brilliant, demonstrating our dedication and support.
"It really is minimal input for maximum impact – working together, an hour of our time each month is just a small contribution yet will undoubtedly result in a much better environment and we look forward to building on this in the months to come."
---
Notes to Editors
For more information please contact:
About the RVC
The Royal Veterinary College (RVC) is the UK's largest and longest established independent veterinary school and is a Member Institution of the University of London. It was the first in the world to hold full accreditation from AVMA, EAEVE, RCVS and AVBC.
The RVC is the top veterinary school in the UK and Europe, and ranked as the world's second highest veterinary school in the QS World University Rankings by subject, 2020.
The RVC offers undergraduate and postgraduate programmes in veterinary medicine, veterinary nursing and biological sciences.
In 2017, the RVC received a Gold award from the Teaching Excellence Framework (TEF) – the highest rating a university can receive.
A research led institution with 79% of its research rated as internationally excellent or world class in the Research Excellence Framework 2014.
The RVC provides animal owners and the veterinary profession with access to expert veterinary care and advice through its teaching hospitals and first opinion practices in London and Hertfordshire.
---
You may also be interested in:
The Royal Veterinary College (RVC) has signed a memorandum of understanding (MoU) with the Advanced …