New editorial calls for more farrier research
A recently published editorial in the Equine Veterinary Journal, written by members of the Royal Veterinary College's Structure and Motion groups, highlights the need for further farriery research.
The paper explores farriery research to date and discusses reasons why there is a paucity of scientific publications compared to other fields of equine research, despite the huge importance farriery plays in addressing lameness problems. Research into this area is essential to guide vets and farriers in providing evidence based care of horses' feet in order to optimise their welfare and performance.
The article proposes that a lack of opportunities for farriers to gain research experience as the main factor limiting research in this area. In addition, research into farriery is a technically challenging process, which requires coordinated efforts between veterinary, farriery and engineering experts. It is also hard to secure funding for such research projects, despite their clinical significance.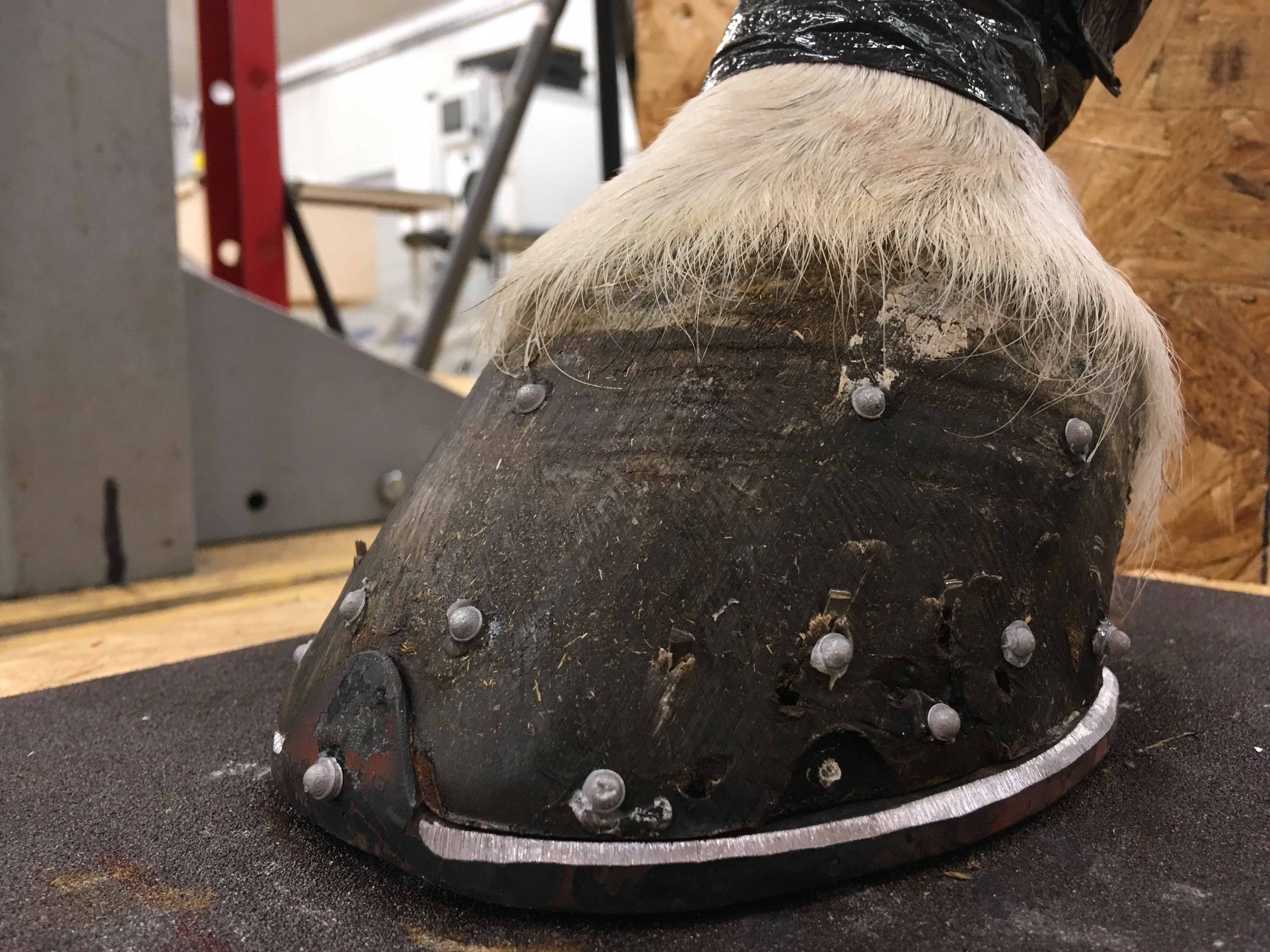 The RVC has been seeking to address this challenge by establishing a new course, the Graduate Diploma in Equine Locomotor Research, launched in 2017. This course works with farriers who wish to acquire the necessary skills and knowledge to carry out robust, clinically applied research. The programme currently has over 30 students enrolled from across the UK, Europe and the USA, who will who all share the common goal of increasing the scientific evidence behind farriery.
Renate Weller, Professor in Comparative Imaging and Biomechanics, Equine Clinical Science and Services at the RVC, commented: "Myself and the rest of our team are really excited about this course. It provides us with the opportunity to work closely with farriers who have a background in advanced practical farriery.
"By adding research skills to their tool kit they will be ideally positioned to produce robust, practically applicable research. I am positive that over time we will be able to produce an evidence base for how we deal with horses' feet comparable to other clinical areas."
---
Notes to Editors
Read the full article, 'Evidence‐based farriery – does it exist?' Equine Vet J. - Weller, R., Barstow, A., Price, H. and Pfau, T. (2018)
For more information please contact: Alex Cassells or Ploy Radford Press Line: 0800 368 9520
About the Royal Veterinary College
The Royal Veterinary College (RVC) is the UK's largest and longest established independent veterinary school and is a constituent College of the University of London.
The RVC offers undergraduate, postgraduate and CPD programmes in veterinary medicine, veterinary nursing and biological sciences.
It is currently the only veterinary school in the world to hold full accreditation from AVMA, EAEVE, RCVS and AVBC. In 2017, the RVC received a Gold award from the Teaching Excellence Framework (TEF) – the highest rating a university can receive.
A research-led institution, in the most recent Research Excellence Framework (REF2014) the RVC maintained its position as the top HEFCE funded veterinary focused research institution.
The RVC ranked as the top vet school in the Agriculture, Veterinary and Food Science unit of the most recent Research Assessment Exercise, with 55% of academics producing world-class and internationally excellent research.
The College also provides animal owners and the veterinary profession with access to expert veterinary care and advice through its teaching hospitals; the Beaumont Sainsbury Animal Hospital in central London, the Queen Mother Hospital for Animals (Europe's largest small animal referral centre), the Equine Referral Hospital, and the Farm Animal Clinical Centre located at the Hertfordshire campus.
---
You may also be interested in:
Ahead of Vet Nursing Awareness Month (VNAM) beginning the 1st May, the Royal Veterinary College ( …