International Canine Health Award for RVC PhD Student for canine diabetes genetic research
Alice Denyer, a PhD student from the Royal Veterinary College, has won an International Canine Health Award - the 2018 Postgraduate Student Inspiration Award. This is in recognition of her research into the genetic differences between individual dog breeds that are susceptible to pancreatic diseases such as diabetes. Understanding the genetic causes of different forms of diabetes and pancreatic tumours will have a profound impact on dog welfare by speeding up the development of new diagnostic and therapeutic methods.
Alice's project will investigate the differences between Samoyeds which have a high prevalence of diabetes, and Boxers which have a tendency to develop a specific type of tumour affecting the same cells as diabetes. In the future, Alice hopes she will also be able to look at the genes of other breeds including Tibetan and Cairn Terriers. It is hoped that Alice's project may pave the way for similar studies to be carried out for other diseases in dogs, through the creation and development of techniques used to investigate canine genetics.
Her work as a practicing vet sparked a particular interest in management of endocrine diseases in her canine patients, and ,most notably, diabetes. In September 2017, Alice began studying for her PhD at the Royal Veterinary College under the supervision of professors Brian Catchpole and Lucy Davison.
The £10,000 funding from these Awards will allow Alice to carry out a detailed analysis of the whole genome in her two selected dog breeds, the Samoyed and the Boxer. She hopes to extend the study to look at the genes that determine the risk of developing pancreatic disease in two other common breeds, the Tibetan and Cairn Terriers.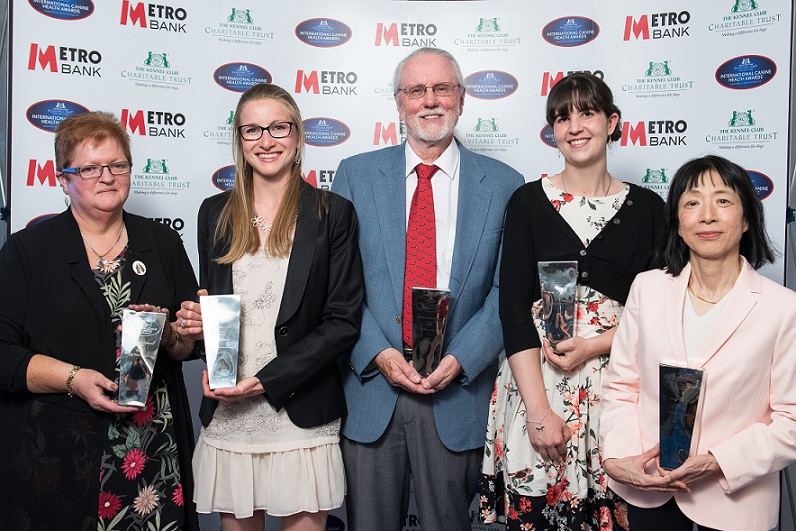 Alice pictured second from left
After winning the award, Alice commented: "It was very nerve-wracking receiving the award, but it was a great privilege to be up there accepting it. I'm in the early stages of my PhD at the moment but I'm really excited about the potential it has and am really enjoying it. The next step will be to analyse the genetic data, which will take a little bit of time, then depending on what we find we will be looking at some functional studies of those genes. It might be more lab work or collaborating with others, but it will depend on what we find.
"The funding from this award will allow us to include other breeds in the project – the genome sequencing which is involved in the project is quite expensive, so we have been quite limited in the number of dogs that can be involved in the study. Having the extra funding will enable more dog breeds to be included which is great."
Notes to Editors
For more information please contact: Uche Graves or Alex Cassells / Press Line: 0800 368 9520
About the Royal Veterinary College
The Royal Veterinary College (RVC) is the UK's largest and longest established independent veterinary school, and is a constituent College of the federation of the University of London.
The RVC offers undergraduate, postgraduate and CPD programmes in veterinary medicine, veterinary nursing and biological sciences, being ranked third worldwide for veterinary medicine and in the top 10 universities nationally for biosciences degrees.
It is currently the only veterinary school in the world to hold full accreditation from AVMA, EAEVE, RCVS and AVBC.
In 2017, the RVC received a Gold award from the Teaching Excellence Framework (TEF) – the highest rating a university can receive.
A research-led institution, in the most recent Research Excellence Framework (REF2014) the RVC was ranked as the top vet school in the Agriculture, Veterinary and Food Science unit of assessment, with 79% of submitted academics producing world-class or internationally excellent research.
The College also provides animal owners and the veterinary profession with access to expert veterinary care and advice through its teaching hospitals; the Beaumont Sainsbury Animal Hospital in central London, the Queen Mother Hospital for Animals (Europe's largest small animal referral centre), the Equine Referral Hospital, and the Farm Animal Clinical Centre located at the Hertfordshire campus.
www.rvc.ac.uk
---
You may also be interested in:
Ahead of Vet Nursing Awareness Month (VNAM) beginning the 1st May, the Royal Veterinary College ( …