Ground-breaking open-heart surgery - a world first at the RVC
RVC Press Release 16 March 2016
A three-year-old Labrador, Mabel, is recovering well after undergoing ground-breaking open-heart surgery at the Royal Veterinary College (RVC). This life-saving surgery was a world-first using cutting-edge technology to reverse Mabel's heart failure. Mabel has now returned home as is enjoying a new lease of life with her owners and their other dog.
Mabel had congenital tricuspid dysplasia which meant the tricuspid valve was found to be completely fused in the middle, with just two very small holes for her blood to flow through. She was referred to cardiology specialists at the RVC's small animal referral hospital as she was becoming increasingly fatigued after exercise, and was struggling to keep up with the other dog in her family. Mabel had developed heart failure and fluid had built up in her abdomen – a life threatening condition which needed urgent medical attention.
Surgery was carried out by Professor of Small Animal Surgery Dan Brockman at the Queen Mother Hospital for Animals, which is celebrating its 30th anniversary this year. He was assisted by a large team of RVC specialists to provide complete pre and post-operative care. Students at the RVC were also involved in Mabel's initial examinations, providing them with first hand insight into this ground-breaking procedure. These examinations included cardiac ultrasound using a new state-of-the-art ultrasound scanner, which was funded in part by the RVC's charity, the Animal Care Trust.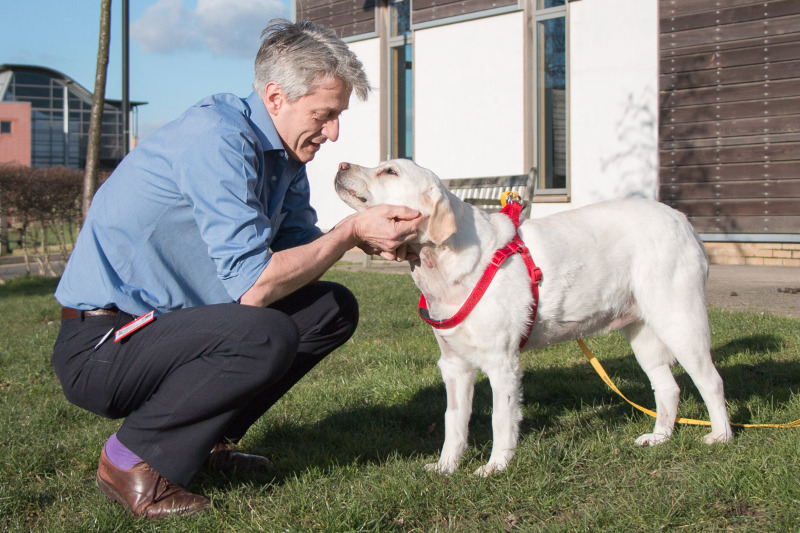 Mabel's owner Annabelle Meek, from Melton Mowbray, was aware that the procedure would be breaking new ground and accepted the risk of open-heart surgery. She is delighted that Mabel's surgery was a success, due to the incredible work of Professor Brockman and the team at RVC, and to welcome Mabel back home.
Speaking two weeks after the operation, Annabelle, said: "Mabel has just come back in from wandering around the perimeter of my garden for the first time since before the operation. It's more than half an acre and she has been ambling around happily following a scent.
"I would like to thank absolutely everybody. It's been an enormous team effort on all sides. Every single person I met at the RVC, from the man on the gate to all the hospital staff, was so friendly. After she came home Dan Brockman phoned me every day to see how she was doing. The RVC should be very proud of what they have done for Mabel"
Commenting on the risks involved with the procedure, Professor Brockman said: "The operation itself is risky, much worse than most other operations. In our hands, for this type of disease, we have about an 80% chance of getting them through the procedure. The owner has to gamble what life the dog has left against the promise of a more normal quality of life and life-span following the operation."
The ground-breaking success of Mabel's operation puts the RVC at the forefront of cardiac surgery and this will set a strong precedent for future cases across the UK, Europe and beyond.
Press Office Contact
Uche Graves / Zoe White
T: 0800 368 9520
E: uche.graves@plmr.co.uk / zoe.white@plmr.co.uk
Notes to Editors
The Royal Veterinary College (RVC) is the UK's largest and longest established independent veterinary school and is a constituent College of the University of London. The RVC offers undergraduate, postgraduate and CPD programmes in veterinary medicine, veterinary nursing and biological sciences, being ranked in the top 10 universities nationally for biosciences degrees. It is currently the only veterinary school in the world to hold full accreditation from AVMA, EAEVE, RCVS and AVBC.
A research-led institution, in the most recent Research Excellence Framework (REF2014) the RVC maintained its position as the top HEFCE funded veterinary focused research institution.
The RVC also provides animal owners and the veterinary profession with access to expert veterinary care and advice through its teaching hospitals; the Beaumont Sainsbury Animal Hospital in central London, the Queen Mother Hospital for Animals (Europe's largest small animal referral centre), the Equine Referral Hospital, and the Farm Animal Clinical Centre located at the Hertfordshire campus.
See other Press Releases.
---
You may also be interested in:
The Royal Veterinary College (RVC) is delighted to announce that, following an international search, …