A two-year old dog flown from the United Arab Emirates (UAE) to be treated by specialists at the Royal Veterinary College (RVC) as he was in heart failure, is enjoying the Christmas period with his family.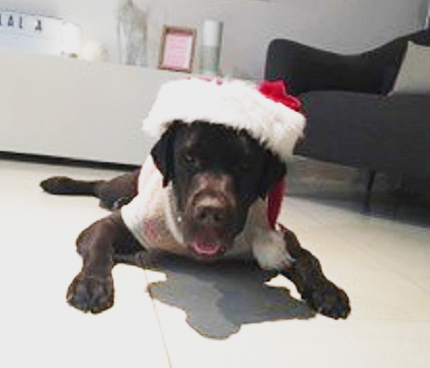 Henry, a Labrador retriever, was treated for a double-chamber right ventricle, a congenital heart defect that would have ended his life within six months if not treated. The condition restricted the flow of blood from his heart into his lungs, which reduced his strength and put extreme strain on his heart muscle.
He was referred to the RVC as the UAE lacks the appropriate veterinary surgical expertise. The owner, who is British, felt that because Henry was so badly affected and so young, they wanted to give him the best chance of an active life. She found out about the RVC's cardiology expertise online and so decided to ask their vet to refer him to RVC Small Animal Referrals.
He was flown to the UK in the hold and was extremely weak by the time he arrived at the RVC's Hertfordshire campus. On physical examination Henry had limited alertness, couldn't walk and his mucous membranes were pale. Listening to the heart (auscultation) revealed muffled heart sounds and there was ventral dullness in his chest, indicating a build-up of fluid. He appeared to be, as surgeon Dan Brockman put it, "at death's door".
The surgery for double-chamber right ventricle requires an open heart under conditions of cardiopulmonary bypass, which was particularly risky considering how weak he was, but the owner was keen he undergo an operation right away as it seemed a 'now or never' situation. Henry was given supportive care, which included inotropic support (drug therapy aimed to improve the function of the heart), chest drainage and fluid therapy, until surgery could be performed.
In surgery, Henry underwent resection of the stenotic membrane affecting his right ventricular outflow tract along with 'patching' using Gore-Tex, in an operation that lasted for three hours. The team included Professor Brockman, Fellow in Cardiothoracic Surgery Poppy Bristow, anaesthetists and surgery nurses.
Surgery went well and Henry was able to stand and eat the following day. A post-operative echocardiogram (echo) revealed a massive reduction in the mid-right ventricular pressure gradient and a corresponding reduction in his tricuspid valve regurgitation. He also appeared alert and in excellent spirits. He remained at RVC Small Animal Referrals for a week, where he was cared for by the critical care, cardiology and surgery teams.
Henry stayed in the UK for four weeks after discharge to be reviewed by the RVC team and have his sutures removed. During his last visit, on physical examination, except for a soft heart murmur and surgical scars, he appeared healthy and very lively. Echo revealed a pressure gradient of less than 16mmHg across the stenotic region and a small jet of tricuspid regurgitation, a considerable improvement on the high level of regurgitation prior to surgery. The owner was advised that he was well enough to travel back to the UAE and resume normal physical activity.
Commenting on the success of the procedure, Professor Brockman said: "The owners were aware that the surgery was make or break but it was successful and it turned him into a normal dog again. After the surgery Henry quickly got stronger and stronger. He actually became quite naughty. The owner had never known him healthy so was quite surprised with the change. Henry had also never seen grass before so when we took him out on the campus for a walk he didn't know whether to eat it or run away from it."
Henry has enjoyed more than six month's heath and fun with his human family since his operation. Commenting on Henry's predicament prior to coming to the UK, owner Fiona Miles said: "Our gorgeous Labrador, Henry, at only 18 months old was diagnosed with a congenital heart anomaly, and was already suffering from cardiac failure, a condition we were told was non-reversible."
In relation to his recovery, she added: "I am still absolutely bewildered and in awe of everything that has happened. It proves that when there is a will there is a way. Henry so deserved a second chance and his strength, courage and perseverance shone through all the way. It is quite a miracle that he is not only still here with us but is back to his normal happy and playful self."
---
You may also be interested in:
The Royal Veterinary College (RVC) has signed a memorandum of understanding (MoU) with the Advanced …