What is the RVC/ZSL Masters in Wild Animal Biology?
Wild animal health has become increasingly popular among non-veterinarians with a first degree in zoology and biology. Recognising this, the RVC, University of London, together with the Zoological Society of London, has developed a unique course aimed at non-veterinary biological science graduates and leading to the MSc in Wild Animal Biology.
The course will provide you with practical exposure to wild animal species and an understanding of their health and welfare, as well as providing training in research methods relevant to the study of wildlife.
You will benefit from working and studying alongside veterinary graduates taking the MSc in Wild Animal Health as well as learning from internationally renowned experts in their field.
Programme delivery
The programme is completed over one year full-time study and consists of three levels:
Postgraduate Certificate
Postgraduate Diploma
MSc
All three levels start at the same time, towards the end of September each year, and can be broken down broadly into three terms. The Certificate is completed by mid-January, the Diploma by mid-May, and the MSc also includes a research project, which is undertaken during the summer months, finishing in mid-September.
We deliver the course through two terms of lectures, seminars, tutorials and problem-based learning, with modular examinations. None of the levels are available as part-time or distance-learning courses.
To confirm the exact start date please email: admissions@rvc.uk.
What will I learn?
During the programme you will acquire:
A critical awareness of current problems in wildlife disease with implications for wildlife conservation and welfare·
A new insight into veterinary interventions for the management of captive and free-living wild animals·
A systematic understanding of the biological principles underpinning wild animal conservation and management, and the epidemiology, diagnosis and control of wildlife disease·
Basic competence in veterinary techniques and preventative medicine for wild animals·
A conceptual and practical understanding of how established techniques of research and enquiry are used to create knowledge in the field of wild animal health·
A comprehensive understanding of scientific skills, including critical review of the scientific literature, and design and analysis of laboratory or field studies.
Upon completion of the course, you will have gained the analytical skills, the understanding, the confidence and the language to progress your career within a wide range of organisations, such as zoos, national parks, universities and government departments worldwide.
Useful links
Here are some other useful and interesting veterinary and wildlife-related web sites: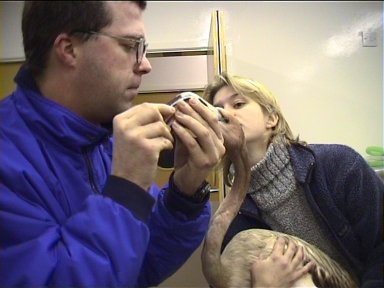 Academic qualifications
Applicants must have (or expect to receive) a university first or second class honours degree in Biology, Zoology, Animal Biology or the veterinary sciences.
We are particularly keen to see evidence of relevant work experience in a zoo, wild animal hospital or in wild animal research.
English language requirements
If English is not your first language you will need to provide evidence of proficiency in spoken and written English, including scientific usage and comprehension. You will be required to achieve an overall score of 7.0 in IELTS with a minimum of 6.5 in each sub-test.
See English Language Proficiency in our Guidelines on Applying.

What will I be able to do with my qualification?
Graduates of the MSc in Wild Animal Biology have gone on to pursue successful careers in wildlife management (with government agencies in both developing and developed countries), wildlife rehabilitation, wildlife-related research (at universities and zoological collections) and zoo management.
Some graduates continue to study towards a PhD with either the ZSL or RVC, or with other leading scientific research institutes.
See the ZSL website for detailed career profiles of some recent graduates.
Key academic staff
Mike Waters (RVC)
Mike Waters is a lecturer in Exotic, Zoo and Wildlife Pathology and is the RVC-based course director for this MSc course. He graduated from Sydney University and holds an MSc in Wild Animal Health from the Royal Veterinary College.
Dr Tony Sainsbury (IoZ)
Tony Sainsbury is the course director based at the Institute of Zoology. He is a Senior Lecturer in Wild Animal Health. Tony's interests lie in the epidemiology of infectious diseases and the surveillance of diseases in wild animal populations. He is a European Recognised Specialist in Zoological Medicine (Wildlife Population Health).
Professor Mark Fox (RVC)
Mark Fox qualified as a vet at the Royal Veterinary College in 1977 and, after a period in small animal practice, returned to study for a PhD in veterinary parasitology. He then went on to set up the MSc courses in Wild Animal Health (1994) and Wild Animal Biology (2003) with the Institute of Zoology (ZSL).
Professor Andrew Cunningham (I0Z)
Andrew Cunningham joined the Institute of Zoology in 1988 as Veterinary Pathologist for the ZSL. In 2001 he became head of Wildlife Epidemiology at the IoZ.
Fees
The fees shown below are for 2015/16.
| | | |
| --- | --- | --- |
| Wild Animal Biology — MSc | UK/EU £10,830 | Overseas £21,420 |
| Wild Animal Biology — Postgraduate Diploma | UK/EU £7,320 | Overseas £14,380 |
| Wild Animal Biology — Postgraduate Certificate | UK/EU £3,710 | Overseas £7,240 |
If you would like to know the fees for part-time study, please contact the Graduate School on admissions@rvc.ac.uk.
Funding
Commonwealth DFID Shared Scholarship Scheme
The Shared Scholarship Scheme is a joint initiative between the Commonwealth Scholarship Commission (with funding from DFID) and the RVC as part of the British aid programme to developing countries.
In 2014/15, three awards were available to applicants for the Masters in Wild Animal Health/Biology, One Health (Infectious Diseases) and Veterinary Epidemiology. Funding covers full costs of an award holder's study in the UK (fees) including airfares.
Student Bursaries
The RVC will be offering bursaries of £2000-£4000 to contribute towards living expenses to outstanding home/EU and international students undertaking a Masters in 2014/15. These will be allocated on a highly competitive basis to students applying for a full-time place on a Masters course.
The deadline for consideration of this award is the 10th April 2014 and all students who have applied and been offered a full-time place by this deadline will be considered.
Professional and Career Development Loans
A Professional and Career Development Loan could help you pay for learning that enhances your job skills or career prospects. It's a bank loan, so you'll have to pay it back once you've left your course. However, you don't pay interest for the period when you're in learning.
To be eligible, you'll need to be:
18 or over
'settled' in the UK, and have been ordinarily resident in the UK for at least the three years prior to the start of your learning programme
intending to work in the UK, the EU or the EEA when the course finishes.
'Settled' means having either indefinite leave to enter or remain or having the right of abode in the UK.
Further details are available from DirectGov.
International Students
The following sources of information may also prove useful to international students:
Contact your local ministry of education/education department. They may provide a scholarship scheme that supports study in the UK.
Visit the British Council. They will be able to advise you on British scholarship schemes and provide other information about studying in the UK.
The UK government and other UK and EU organisations offer a number of scholarships to enable international students to study in the UK.
Please also see:
Some students will be eligible to apply for commonwealth shared scholarship schemes. To see if you are eligible please see the below link:
For further information about CSFP and DFID please see the following links:
Funding for Canadian Students
The Royal Veterinary College is not involved in processing your application for a loan, however we can confirm your student status; please direct your queries to the Financialaidoffice@rvc.ac.uk
For an overview of the financial aid process for Canadian students, please visit the Campus Access website
Students should apply through their provincial student assistance office or website. When you apply for a loan, you are considered for funding by both the Provincial and Federal Government, meaning you only have to apply once for funding for the year. Federal loans are processed via the National Student Loans Service Centre and provincial loans through the provincial governments and student aid branches.
Funding for International Students
All international students need to ensure that they have secured sufficient funding for their fees and living costs before starting their programme.
There are a range of funding options available to international students studying in the UK. Depending on the country you are applying from, you could be eligible for loans, scholarships or bursaries from a variety of sources.
The RVC participates in the Direct Loan Program in which federal financial assistance is made available from the US Department of Education to US students studying at the RVC. The purpose of this page is to inform you about the process of applying for financial assistance.
The RVC College will originate Direct Stafford loans and Direct Graduate and Parent PLUS loans and full-time students from the USA who are attending at the RVC are normally eligible for funding. The RVC also participates in the VA Educational Benefits programme.