We have listed some resources under our Mental Wellbeing page but here are some additional self-help links that you may find useful.
If you are worried about yourself, another student, friend, housemate or family member and their mental health or other issues, please don't hesitate to talk to someone.
The Charlie Waller Memorial Trust (CWMT) aims to get people to understand and get talking about depression and to help young people maintain good mental health and wellbeing. They offer a wealth of information and free resources, including online training programmes.
Self Help Guides produced by Northumberland, Tyne and Wear NHS Foundation Trust. Titles cover a range of mental health issues.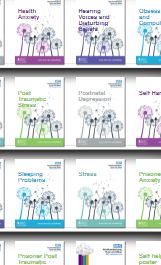 Vetlife provides independent, confidential and free help for everyone in the veterinary community including veterinary nurses and students. This charity provides a 24/7 phone and email helpline; professional mental health support; financial assistance; information and resources.
Vetsnet was created and designed to promote wellbeing amongst all members of the veterinary profession and to provide support and engagement with a variety of topics relevant to the community
Self Help Apps for Mental Health and Wellbeing
Mind in Brighton and Hove have listed a series of free and paid-for Apps that aim to help you build wellbeing and resilience. Be sure to check the suitability of each App, and if there are any cost implications or compatibility issues. While most of the apps listed are free to download, please be aware of potential in-app purchases. And be sure to consider your own online safety.
We also have a list of free mental health apps that have been approved by IAPT iCope clinicians. Many of our students have found these apps to be useful and practical. Please click here to Download.