The veterinarians, bioscientists and veterinary nurses at the RVC are involved in fascinating research and clinical practice. Every year we are part of many exciting science festivals and events which share news of our innovative veterinary science.
Upcoming Science Events


Night at the Vet College: DawnDinos
10 April 2019


We're back on 10th April and this time we will be celebrating National Biomechanics Day! It's all about animal movement, and we will be exploring locomotion in extinct dinosaurs and archosaurs as well as in living animals.There will be amazing science stalls, interactive activities, paleo-art, and the main event with John Hutchinson who is the Professor of Evolutionary Biomechanics at the RVC.You can find out more about the DawnDinos team at https://dawndinos.com/
The doors will open at 5:30pm and the event will finish at 10pm
FREE
Booking: Tickets

Book your free ticket here
We suggest booking in advance as places can fill up!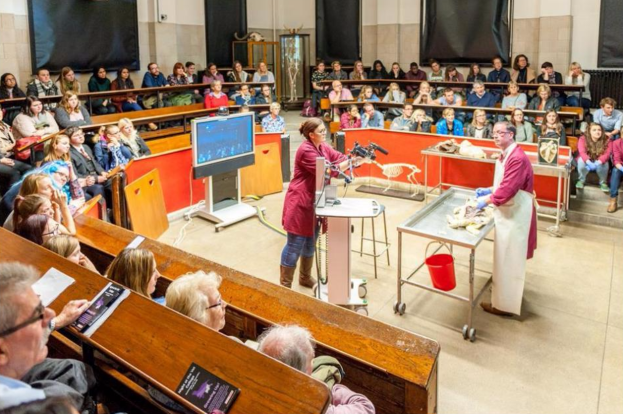 Recent Science Events


Animal CSI: Predator
20th March 2019

Animal CSI is back and this time, it's a predator. Dive into the world of veterinary science and get a glimpse behind the scenes, including hands-on veterinary pathology activities and a live-streamed dissection demonstration from the Royal Veterinary College's Anatomy Lecture Theatre. This event is recommended for ages 16+.

Book tickets here


Night at the Vet College
AWAKE: The rhythms that rule our lives
28 November 2018




It's something we barely think about, but affects our every waking moment. How do the cycles of light and dark affect us and the animals around us?
Visitors joined us to explore the world of day and night and learn from expert researchers how the simple turning of the planet affects everything from animals cells to their reproduction.
Sponsored by the Physiological Society


Night at the Vet College - Wellbeing
Visit our Camden Campus for an evening of activities including:
A big thank you to everyone who made Night at the Vet College such a fantastic evening - from visitors to RVC staff and students! We would also like to thank the Physiological Society for funding our event all about wellbeing in animals.
We welcomed over 750 guests to the Camden Campus, from those who have been to every single Night at the Vet College event to first timers.
View photos from the event here.
We hope that Night at the Vet College will be back again in Spring, so keep an eye out for further information.