Intensive Livestock Health and Production
Please note: We are no longer recruiting to the PG Cert and MSc versions of this course. For any enquiries, please contact ilhp@rvc.ac.uk.
What is the MSc in Intensive Livestock Health and Production?
The MSc in Intensive Livestock Health & Production is a part-time, online Distance Learning programme offered by the Royal Veterinary College, University of London. It has been devised with input from both academics and industry experts and draws on the College's expertise in veterinary medicine and business, animal health economics, agriculture, public health, animal welfare, and teaching and learning.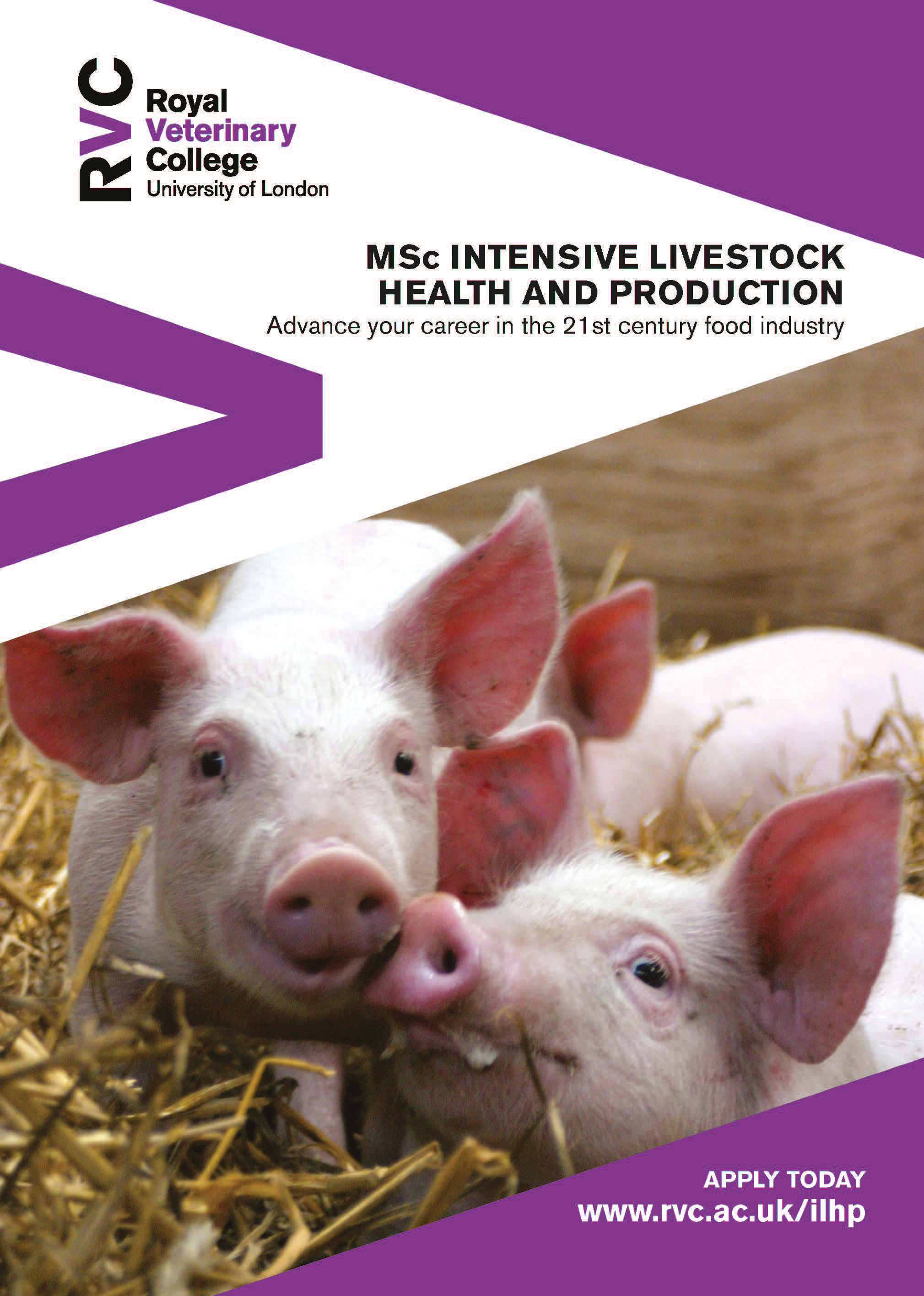 Download our course brochure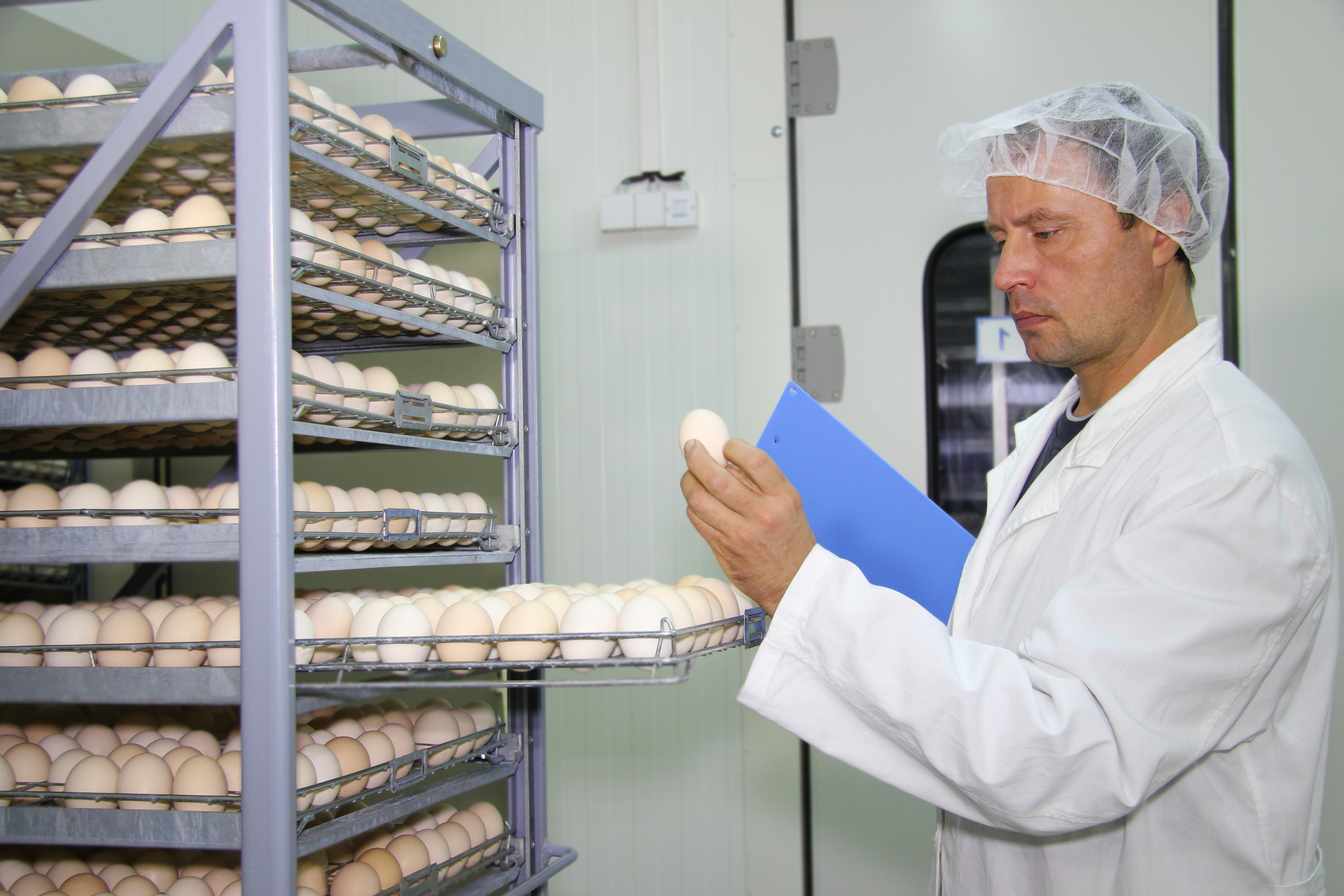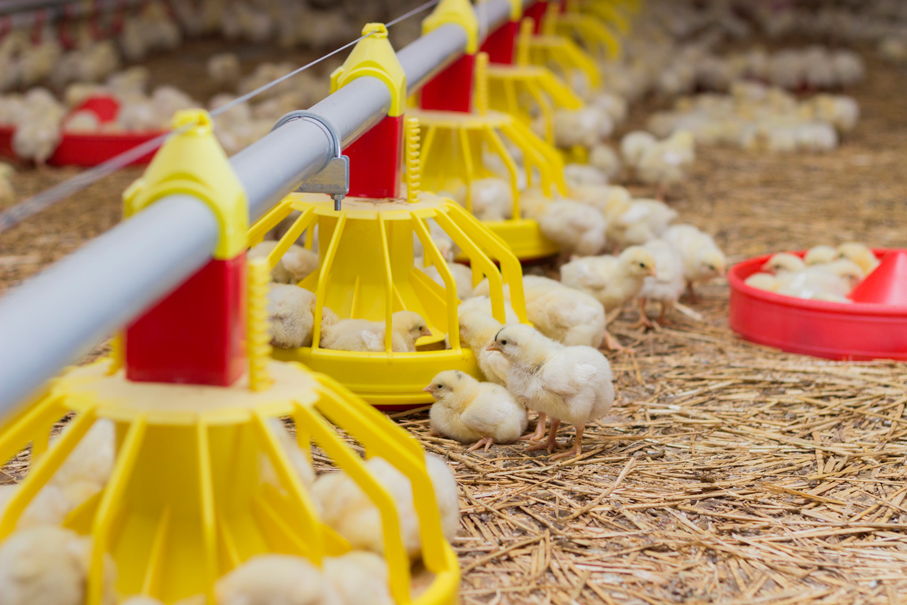 With global demand for farmed livestock and fish products continuing to grow, there are exciting opportunities for professionals working within these sectors. Improvements in productivity are required for the livestock and aquaculture industries to remain competitive, meet global demand, ensure food security and to reduce environmental impact. Our online courses are designed specifically to enable professional development and promote industry specific skills for individuals working with intensively farmed livestock. By addressing the challenges faced by those working in agricultural industries such as; pig production and poultry production, as well as aquaculture and food safety, our distance learning courses are helping to improve the standards of the intensive farming industries, while allowing individuals from across the globe to expand their knowledge and realise their career goals.
Who is this for?
Our distance learning courses are aimed at individuals working in the agri-food sector, including those working in animal production jobs and retail jobs. The programme is also suitable for animal scientists, veterinary surgeons and other veterinary para-professionals supporting intensive livestock health and production.
Why is it relevant?
The agriculture and food production sector worldwide is under pressure to remain competitive, meet demand, ensure food security and reduce environmental impact.
This programme addresses those needs and will equip students with the skills and knowledge to work as competent and reflective agri-food sector professionals in the veterinary, public health, farming and food production industries. The flexibility and global reach of this course enables an international dialogue from professionals working across the globe and allows them to study in their own time without putting their careers on hold.
What will I gain?
At the end of the course you will be able to:
Understand and evaluate theories, methods and practice of the agri-food system that can be applied to your area of the intensive livestock production industry
Demonstrate a critical awareness of current problems and new insights from across the intensive livestock production industry
Develop new processes/techniques to improve intensive livestock production, supporting animal health and welfar
Identify, critically assess and address the emerging needs of the intensive livestock sector
Adopt new techniques to improve skills development
Be a reflective, self-evaluative and self-managing professional
Critically appraise research and practices in livestock and related food production fields, and develop skills to undertake qualitative and quantitative research using appropriate methods
Continue to develop independent and lifelong learning skills to promote your own personal and professional development as producer, researcher and leader.
Programme Structure
There are three components to the programme:
| | | |
| --- | --- | --- |
| Postgraduate Certificate | 3 compulsory core modules | 60 credits total |
| Postgraduate Diploma | 4 elective modules | 60 credits total |
| MSc | 1 compulsory module | 15 credits |
| | plus a research project | 45 credits |
You may apply either for the full MSc or for the Postgraduate Certificate. On successful completion of the Postgraduate Certificate, students may then progress to the full MSc, subject to assessment results. Students failing to complete the final level of the MSc will be awarded the Postgraduate Diploma.
Each Postgraduate Diploma module is also available as a self-contained short course, this way we are able to offer part time courses covering subjects such as – epidemiology, genetics, infectious diseases within pig farming, infectious diseases within poultry farming, biosecurity, animal welfare, animal nutrition and more. These short online courses start at different times throughout the year. See the table below for dates
Programme delivery
Our part-time MSc and Postgraduate Certificate courses start in September each year. The delivery mode is part-time, online, distance-learning, using RVC LEARN (based on Moodle VLE) with online library access, discussion forums and multimedia resources. This delivery will allow you to study for your qualification at your own pace (over two to five years) and to fit your studies in alongside work and family responsibilities. However, you will be required to attend campus for induction and some assessments (Learners based overseas can also take assessments at their local exam centres).
ILHP course structure _ Click to enlarge
Standalone Modules
Each Postgraduate Diploma module can be completed in 11 weeks, including the in-course assessment and examination and can be CPD (continuing professional development) credited if taken independently, or used to collect credits towards a postgraduate qualification.
TO APPLY for the Post Graduate Certificate or the MSc in Intensive Livestock Health and Production Click here. The deadline for applications is 7th August 2016.
TO APPLY for a standalone module, please contact the Course Administrator at ilhp@rvc.ac.uk or telephone +44 (0)1707 666301. The deadline for applications is 6 weeks prior to the module start date.
The MSc in Intensive Livestock Health and Production is designed for those working within the agri-food sector. As a result many of the assignments are workplace targeted; therefore, if you are not currently working within the agri-food sector and wish to undertake the course, please contact the Programme Administrator at ilhp@rvc.ac.uk.
Academic requirements
To apply for the MSc you must have a university degree. We invite applications from candidates with an honours degree (first or second class) in biological sciences, animal sciences or livestock production as well as degrees in veterinary medicine.
Other experience may be deemed equivalent, and other degrees may be accepted at the discretion of the Course Directors. Please contact the Programme Administrator at ilhp@rvc.ac.uk for further information.
English language requirements
A good working knowledge of scientific English is essential in order to follow the course. All applicants must have an acceptable English Language qualification:
IELTS (Academic) score of 7.0 or above with minimum 6.5 in each component
For those without IELTS, please see our English Language Requirements page for a full list of qualifications we will accept as alternatives.
What will I be able to do with my qualification?
A masters degree from the Royal Veterinary College in the UK is highly regarded and recognised internationally. Through this programme, you will learn how to improve the economic competitiveness of the intensive livestock industries. You will acquire the skills and knowledge to introduce new methods, products and processes, utilising best practice in ethically appropriate ways, all with an understanding of economics and business efficiency. The course will also provide you with the potential to reduce the risks in the farming sector associated with major exotic disease (e.g. avian influenza, porcine influenza) and face new challenges from novel pathogens and toxins. You will gain a thorough understanding of current methods of husbandry, slaughter, processing and packaging in the industry. Equipped with the skills to refine these methods, you will be able to make a significant contribution to public health by reducing zoonotic disease in the target animal species and limiting the transfer of such pathogens in the retail food chain.
What the professionals say:
"These new training schemes are very welcome. Over the next 10 years we need 60,000 new people across the skills pyramid which exists within the agriculture and horticulture sectors. At the highest skill level, there is a significant number of people who require the specialist research and scientific expertise needed to drive forward productivity and sustainability of food production in the UK. This scheme will provide a vital mechanism to develop those skills within the sector."
Richard Longthorp, Chair of the AgriSkills Forum
"This is a great opportunity for the farming industry in the UK. We need all the advisers and technicians involved in agriculture and horticulture to be able to engage with cutting edge science, and these training programmes will support them to do so. It's also good to see the spread of skills that will be covered across BBSRC's Advanced Training Partnerships. It is vital that the UK retains the best people and enhances their skills in agronomy, soil management, animal welfare, and many other areas highly relevant to efficient, productive farming".
Dr Helen Ferrier, Chief Science and Regulatory Affairs Adviser, NFU
Fees
The tuition fees for 2015/16 and 2016/17 are as follows:
| | | | | |
| --- | --- | --- | --- | --- |
| Intensive Livestock Health and Production | UK/EU 2015/16 | International 2015/16 | UK/EU 2016/17 | International 2016/17 |
| Modules | £630 | £630 | £660 | £660 |
| Postgraduate Certificate | £2,060 | £2,060 | £2,160 | £2,160 |
| MSc (total fees) | £6,180 | £6,180 | £6,490 | £6,490 |
For further enquiries, please contact the Programme Administrator by email

ilhp@rvc.ac.uk
Funding - You may be able to acquire funding through the AgriFood Charities Partnership who offer assistance in finding other sources of funding.