Stem cell therapy is a relatively new area of treatment in pets, however the RVC pioneered stem cell therapy over 15 years ago for the treatment of equine tendon injuries.
Stem cells can have the potential to repair damaged tissues and settle down inflammation for long periods of time. There are a range of orthopaedic problems in dogs and cats which may benefit from stem cell therapy.
Your pet would be evaluated by leadings specialists in orthopaedics who will discuss with you the potential options for your pet and the opportunities of stem cell treatment. The stem cells would be collected from a small sample of fat under the skin and then the stem cells are selected and grown in the RVCs' onsite stem cell centre, one of only a handful of UK centres authorised by Veterinary Medicines Directorate (VMD) for the production and processing of stem cells. This gives significant peace of mind that for the quality and safety of the treatment.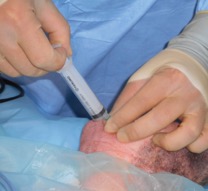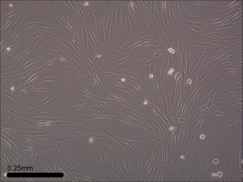 Stem cell therapy for osteoarthritis is relatively new and there is some early promising evidence that it can be an effective alternative to medical treatment. However, it is not clear how stem cells work to improve osteoarthritis in humans or in dogs. The assumption was the injected cells would form new tissues such as cartilage, however, they also have immunomodulatory effects on joint inflammation, and may active the native stem cells. More research is required, however although not guaranteed, many dogs have seen clinical improvements for long durations after treatment. Dogs enrolled in stem cell treatment at the RVC will be closely monitored so we can help develop unbiased evidence for stem cell treatment.
The source of the stem cells is usually adipose tissue, and the location of harvest varies depending on the individual circumstance of the dog. Once the fat has been aseptically harvested, there will be a small skin wound to heal, and exercise should be restricted for three weeks. During this time the stem cells are isolated from the fat, and then allowed to divide (expanded) to obtain sufficient numbers for treatment. The treatment is managed as a one-day outpatient procedure, requiring a short sedation to administer the cells into the joint.
If you are interested in referring a dog for stem cell therapy, please get in touch. The Stem Cell Clinic runs within the Queen Mother Hospital and is backed by key members Small Animal Orthopaedic Team that have backgrounds in stem cell biology or sports medicine and rehabilitation.