What is a pet passport?
A pet passport is a document which enables pets to enter (or re-enter) the UK from EU countries (and some other listed countries) without quarantine, providing they meet the requirements of the Pet Travel Scheme (PETS). With a passport, an owner can travel with their pet to other EU countries and return to the UK, for example on a holiday. A passport may also be accepted for travel to some non-EU countries, however many require different or additional documentation.
A Pet Passport is an official document which includes records of your pet's treatments. Pet passports can only be issued to domestic dogs, cats and ferrets.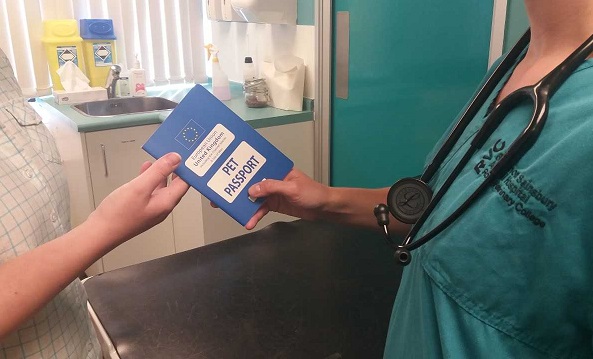 How do I get a pet passport?
A pet passport can only be issued by an Official Veterinarian (OV). An appointment for this can be arranged by contacting your veterinary practice. When you apply for a pet passport, you will need to take your pet, along with vaccination and other medical records, to the issuing vet. A pet passport can be issued for an animal which has been microchipped and vaccinated against rabies, and this can usually be done in the initial appointment if it has not been done already.

A pet passport normally includes details of:
Pet owner's details
Your pet's description
Rabies vaccination details
Rabies blood test (as required)
Canine tapeworm treatment (as required)
Which countries do I need a pet passport for?
You need a pet passport for your dog, cat or ferret if they'll be travelling from the UK to a listed or unlisted country and then returning to the UK. You can't do this after your pet's rabies vaccination has expired to the UK from an EU country, or another country the UK accepts pet passports from. If your pet is travelling from a non-listed country different requirements may apply (for example additional documentation or blood samples). Click here to see government guidelines on which countries this is applicable to www.gov.uk/take-pet-abroad
Why is a pet passport necessary?
A Pet Passport, along with any other official documentation, is a legal requirement in order to bring your pet into the UK or take it to mainland Europe without quarantine. The primary purpose is to keep the UK free from rabies, and other foreign diseases such as those transmitted by parasites that do not exist in the UK.
Who can issue a pet passport?
A pet passport can only be issued by a vet who has been authorised by the government (an Official Veterinarian).
Who can apply for a pet passport?
The owner, as named in the passport, must be aged over 16. Pets must be accompanied either by their owner (as named in the passport) or by a person authorised in writing by the owner.
How much does a pet passport cost?
A Pet Passport costs £80.95 – this remains valid until all of the vaccination record spaces full. A microchip is £16.28 and will only need to be implanted once. A Rabies vaccination costs £50.40 – this will need to be repeated every three years to allow continual travel under the Pet Travel Scheme.
How long does it take to process a pet passport?
A pet passport can usually be issued within one week of your initial appointment if no further tests are required (for example in pets travelling between the UK and the EU). Please bear in mind that travel to some countries require blood tests and additional treatments, and in these cases, passports or travel certification can take significantly longer to prepare and issue. You should always contact us as soon as possible if you are planning to travel. Specific requirements for individual countries can be found by contacting the Animal Plant and Health Agency on 0370 241 1710.
How long is the pet passport valid for?
Pet passports are valid for life and your pet can continue to travel as long as the rabies vaccine is kept up to date. A new passport will need to be issued if all of the rabies vaccine spaces are filled.
How old does my pet have to be to get their pet passport?
The EU Regulation requires pets to be at least 12 weeks old when vaccinated. Whilst some EU countries will allow young, unvaccinated pets to travel (subject to certain conditions) the UK does not permit this. This means no pet can enter the UK unless they are 15 weeks old (12 weeks and 21-day wait).
How many pets can one person apply for pet passports for?
The owner or authorised person can only be accompanied by a maximum of five pets.
Where do I need to go to for my pet passport application appointment?
You can come to the RVC Beaumont Sainsbury vet practice in Camden. All pet passport appointments must be booked in advance by calling us on 020 7387 8134
Where can I get pet travel advice from?
You can contact the friendly team at the Beaumont Sainsbury Animal Hospital where we will be happy to help with any questions you may have about travelling with your pet.
You can read more about Pet Passports and pet travel at www.gov.uk/take-pet-abroad