Academic researchers within the RVC work in a variety of areas, from cell biology to animal locomotion; based across both campuses, Camden and Hawkshead, and are at the college for a relatively short time, often 1-5 years.
The Researcher Association (RA) represents contract researchers across the RVC, within the Research Concordat Working Group, and provides training and social opportunities as well as a means for short term staff to interact with the wider college.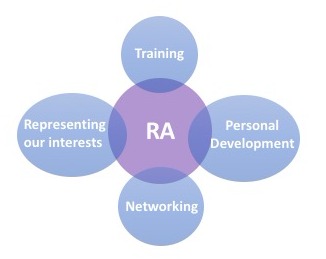 The current RA team are: Dr Abbe Crawford (Hawkshead; CSS), Dr Melanie Hay (Boltons Park; PPS), Dr Virginia Hernandez (Hawkshead; PPS), Dr John Hildyard (Hawkshead; CSS), Dr Sarah Hill (Hawkshead; PPS), Dr Neil Marr (Camden; CBS)
Contact us at researcherassoc@rvc.ac.uk and follow us on our Twitter account @RVC_RA.
As further support to contract researchers, two expert scientists within each department are happy to give advice on their scientific career and how to utilise the RVC's training and development programmes to their full potential: