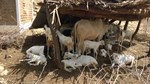 People: Polly Compston, Barbara Haesler
The economic impact and control incentives for FMD are poorly understood and likely to vary across livestock systems. FMD vaccines are commonly used for disease control but the success of campaigns depends largely on farmers' willingness to participate and pay for the vaccine. This project will use quantitative and qualitative methods to understand motivations and barriers for accepting disease control policies, including vaccination.
People: David Brodbelt, David Church, Kristien Verheyen, Dan O'Neill, Richard Booth, Ana Mateus, Camilla Pegram, Imogen Schofield, Collette Taylor, Noel Kennedy, Rowena Packer
Veterinary Companion Animal Surveillance System: VetCompass is the RVC's companion animal disease surveillance initiative which analyses clinical data from first-opinion small animal and equine veterinary practices, in order to better understand the conditions affecting the nation's pets. VetCompass studies are specifically designed to contribute towards long-term improvements in companion animal health and welfare.