Investigation of potential disease transmission between wild boar and livestock in Great Britain
People: Sonny Bacigalupo, Julian Drewe
Adam Kucharski, Linda Dixon, Simon Gubbins
Wild boar once roamed the ancient forests of Great Britain but were hunted to extinction in the 13th century. Populations of wild boar have recently become re-established in several areas across Britain following farm escapes1. These populations are thriving due to the prolific nature of farmed wild boar, their adaptability, and a lack of natural predators2. Although the re-establishment of wild boar has many positives, this species has the potential to harbour and spread infectious diseases to livestock and people.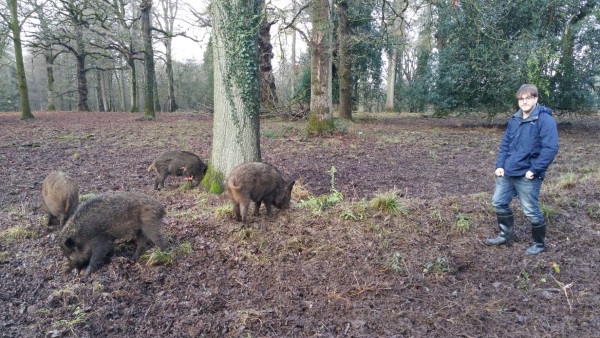 The role of wild boar in disease outbreaks is widely documented in Europe, but the potential for wild boar to spread infections to livestock or humans in Great Britain is, as yet, unquantified. Further, it is not clear what the most effective mitigation strategy might be in the case of a notifiable disease outbreak.
This research focuses on one of the largest free-living wild boar populations in Great Britain: The Forest of Dean in southwest England, where there are reports that wild boar visit farms3. The aim of our research is to assess the potential role of wild boar in future disease outbreaks.
To achieve this aim, we are looking to address the following questions:
What is the frequency and nature of wild boar contact with farmland, livestock and people/public spaces?
What is the current disease status of wild boar in the Forest of Dean, and how is it changing over time?
What is the potential role of wild boar in future disease outbreaks?
How would different mitigation strategies affect disease transmission?
The data collected as part of this project will be used alongside existing knowledge to inform the development of mathematical models to help us better understand and manage potential disease transmission between wild boar and livestock. The effects of a range of potential mitigation strategies will be incorporated into the model to establish their impact on the likelihood of disease transmission. The findings are likely to be of use to policymakers such as Defra to help with disease contingency planning and outbreak management.
The PhD is part of an interdisciplinary collaboration between the Royal Veterinary College (RVC), the London School of Hygiene and Tropical Medicine (LSHTM) and the Pirbright Institute. We are grateful for advice and technical support from the Forestry Commission.
This project is funded by The Bloomsbury Colleges.
References
Defra (2008) Feral wild boar in England: An action plan. http://www.britishpigs.org.uk/feralwildboar.pdf. Accessed 10th January 2018
Gill, R. and Waeber, K. (2017) Feral Wild Boar and Deer in the Forest of Dean: Population Survey in the Public Forest Estate 2017. Forest Research report. Available online: www.forestry.gov.uk/forestry/infd-9fyfc5 (accessed 15 January 2018).
Dutton, J.S., Clayton, H.T.&Evans, S.M. (2015). The social aspects of wild boar in the Forest Of Dean. Unpublished report for the Forestry Commission by the University of Worcester. Available online: https://www.worcester.ac.uk/documents/FCProjectFinalReport2.pdf (Accessed 15 January 2018)