People: Dirk Pfeiffer, Guillaume Fournié
The trade of live birds, a common practice in Bangladesh, provides smallholders with an important source of income and can provide a route out of poverty. However, it can also play a major role in the transmission of zoonotic pathogens, such as avian influenza viruses.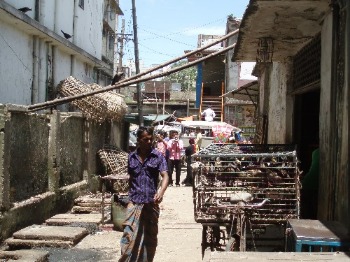 The structure of the network shaped by the movements of live bird traders influences the potential of a pathogen to invade the poultry population, the scale of the epidemic, and the level of human exposure. In the face of disease outbreaks in poultry, farmers and traders worry about economic loss.
They may change their practices in order to reduce such loss, altering the structure of the trade networks. These changes may, in turn, modify the way disease spreads, and even prolong and strengthen the epidemic.
Our four year project will study the behaviour of people working in the Bangladeshi poultry farming and trading system. It aims to identify the socioeconomic, cultural, and epidemiological factors that shape the structure of live bird trade networks in Bangladesh, and the types of changes in the network structure which could facilitate the emergence of zoonotic pathogens and influence their maintenance and dissemination.
Based on this understanding of the underlying system behaviour, BALZAC seeks to develop control and surveillance strategies tailored to the evolving characteristics of live bird trade networks. Employing an inter-disciplinary perspective, the project will involve a combination of traditional ethnographic techniques, such as observations and semi-structured interviews, innovative techniques using methods developed in experimental economics, biological sampling from both humans and poultry, and the development of joint epidemiological and socioeconomic models.
Avian influenza viruses, and in particular H5N1, will be used as a model to study the traders' and farmers' responses to disease risk. The approaches we will adopt in this research will produce both specific local knowledge and more general knowledge which will be useful for understanding influenza outbreaks and even some aspects of other animal and human infectious disease outbreaks and pandemics in other parts of the world.
BALZAC is one of 11 programmes funded under ZELS (Zoonoses and Emerging Livestock Systems), a joint research initiative between Biotechnology and Biological Sciences Research Council (BBSRC), Defence Science and Technology Laboratory (DSTL), Department for International Development (DFID), Economic and Social Sciences Research Council (ESRC), Medical Research Council (MRC) and Natural Environment Research Council (NERC).
Collaborators
Bangladesh:
Bangladesh Livestock Research Institute
Chittagong Veterinary and Animal Sciences University
Department of Livestock Services
Food and Agriculture Organization of the United Nations
Institute of Epidemiology, Disease Control and Research
The UK:
London School of Hygiene and Tropical Medicine
The Chatham House
Australia: