British Council Newton Fund Institutional Links on HPAI H5N1 (Avian Influenza)
People: Dirk Pfeiffer
Despite vaccination, highly pathogenic avian influenza (HPAI) H5N1 continues to circulate in poultry throughout Vietnam, threatening public health, livelihoods and food security. Due to the high density of swine, ducks, poultry and people combined with low biosecurity and production standards in many places throughout the country, Vietnam is a prime location for virus evolution, emergence and spread. Moving free-grazing ducks (mFGD), which may be transported across districts, provinces or even across countries to feed on harvested rice paddies, may facilitate viral persistence in Vietnam and cross-border transmission. Surprisingly, little is known about the mFGD production system (particularly in the North of the country), about how mFGD flocks interact with each other and with other animals, about the value chain of the production type and about the risk it poses in terms of HPAI H5N1 maintenance.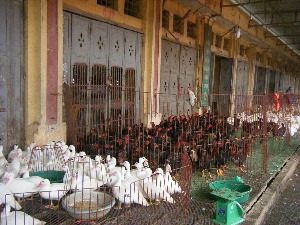 The overall aim of this project is to contribute to the understanding of the drivers of the endemic HPAI H5N1 virus circulation in Vietnam by focusing on the mFGD populations. Our objectives are to:
characterise the contact pattern between mFGD flocks in different parts of Vietnam

analyse the trade network in the mFGD production system and to determine how they are integrated within the wider poultry trade network

assess the level of circulation of influenza A viruses along the mFGD value chain
generate recommendations to mitigate the risk of HPAI H5N1 in Vietnam.
This project is a collaboration between the Royal Veterinary College (RVC) London and the National Institute of Animal Science (NIAS) of the Ministry of Agriculture and Rural Development (MARD) in Hanoi, Vietnam. The project partners will be supported in Vietnam by the Department of Animal Health (DAH) of MARD and the United Nation's Food and Agriculture Organization (FAO).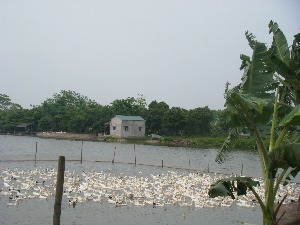 The Newton Fund is part of the UK's official development assistance programme. The fund is £75 million each year from 2014 for five years. Through the Newton Fund, the UK will use its strength in research and innovation to promote economic development and social welfare of partner countries. By working together on research and innovation projects, the UK will build strong and sustainable relationships with partner countries. This will support the continued excellence of UK research and innovation to unlock opportunities for wider collaboration and trade.