Tripedal locomotion in canine amputees
People: Zoe Self Davies
Dr Zoe Davies is currently investigating the gaits used by canine amputees. The research aims to look at the coping strategies adopted by three-legged dogs and the biomechanical consequences of life as a tripawd.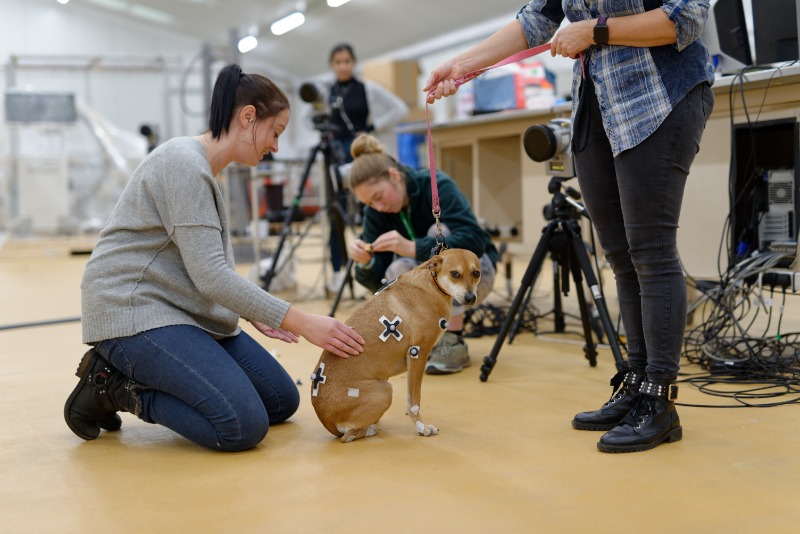 The work makes use of the Structure and Motion Lab's Qualisys motion capture system and built-in Kistler force plate array to take detailed measurements of both fore- and hindlimb amputees moving at different speeds. Zoe is interested to see whether the gaits used by three-legged dogs are the same across individuals and whether they can be distinctly categorised like the walk, trot and gallop of four-legged dogs. The force plate data should also reveal the change in loading across the limbs following amputation.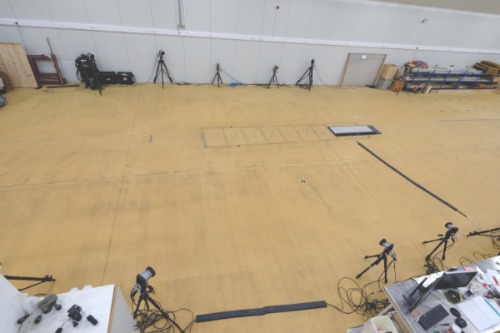 Work like this can be used to influence rehabilitation practice by working out what is 'normal' when it comes to tripedalism in dogs, as well as feeding into our broader understanding of biomechanics which has further reaching implications for the design of new prosthetics and legged robots.
We are still recruiting for this study so please get in touch, by emailing Zoe at zself@rvc.ac.uk, if you think you might be able to help. The work is taking place at our Hawkshead Campus near to Potters Bar in Hertfordshire.
The data collection process is non-invasive and involves some sticky markers being placed on the dog, for this reason, short-coated dogs are much easier for us to work with! The experiments would involve you leading your dog along an instrumented runway, flush to the floor, at a range of comfortable speeds for the dog.
In order for dogs to take part, we ask that they are free from any musculoskeletal problems (other than an amputation), this allows us to be sure that everything we see is a result of the amputation and, from a welfare point of view, we do not want to be asking dogs to move around if they have any pain.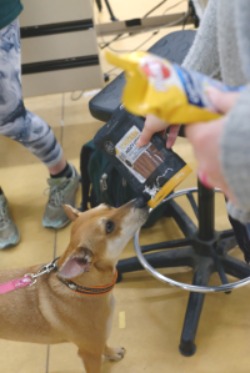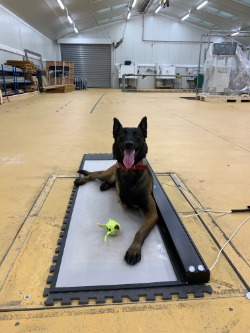 We are unable to offer payment for participation in the study but hope that both owner and dog will enjoy their time spent with us.
This project began in November 2019 and data collection is still taking place. The work is being carried out by Dr Zoe Davies under Professor Jim Usherwood's Wellcome Trust funded work.
Contact us
If you would like to get involved and think your dog might be suitable for this project please contact Zoe at zself@rvc.ac.uk.