People: Alan Wilson, Steve Amos, John Lowe, Anna Wilson
Following the success of our modified research aircraft in our LOCATE project, the ERC-funded AIRSCAN project allows us to commercialise and make available the modifications developed for a modular, single-operator aerial survey and data acquisition platform: the Trail ADAP.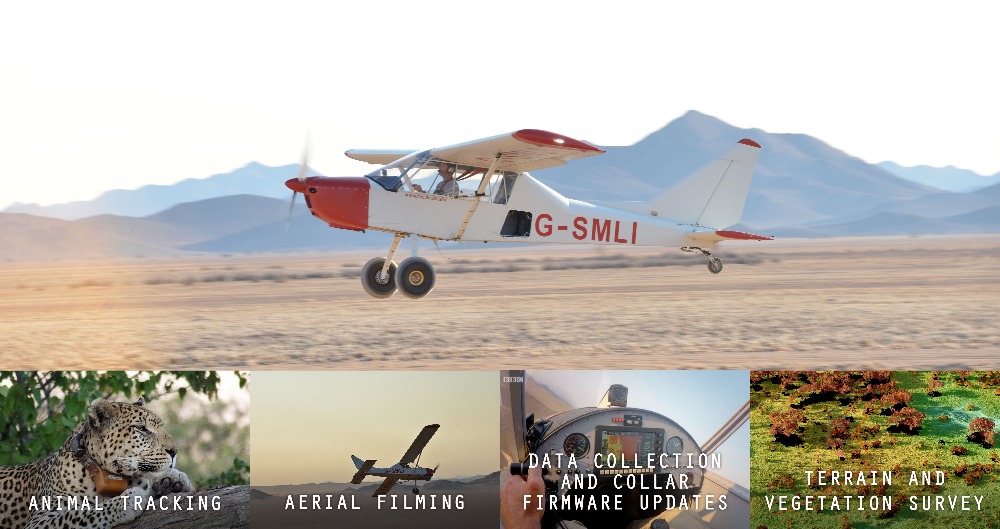 During its first deployment in the LOCATE project, the aircraft allowed us to understand more about behaviour and locomotion in wild, free-ranging animals in southern Africa. The on-board technology helped reveal new insights into how animals interact with their natural environment, which will aid conservation and land management. The potential users for this technologically-advanced yet undemanding aerial data acquisition platform include government, NGOs, companies and individuals, with applications ranging from mapping, survey data collection, conservation, academic research and many more.
What makes the Trail ADAP unlike any other aircraft in the world?
Our plane carries a suite of technologies for animal tracking, aerial filming and terrain and vegetation survey, fully integrated into the aircraft systems and controlled by the pilot via a standard cockpit interface. Its rugged construction allows for easy maintenance in low-infrastructure environments, and it has extremely low fuel consumption, using ordinary unleaded petrol or Avgas.
The low cost, integrated package gives us a highly innovative and unique aerial platform to collect data in unparalleled quantity and quality. There is nothing like it available on the open market or operating in a research capacity anywhere in the world. There is no comparable for-hire service or ready-made product that can perform as broad a range of tasks or operate at such low costs.
The airplane in our LOCATE research project
The modified aircraft was originally built for studying large African carnivores and their prey in the savannah of northern Botswana. We have developed new ways of recording the detailed movements of these animals without disturbing them using our wildlife tracking collars. From the air, we can film hunts using high speed video cameras which 'lock on' to the collars, thus capturing in detail the manoeuvring of the hunt that would be impossible using a hand held camera or from the ground. Find out more about the LOCATE project.
Our subject animals are wild and free-ranging, meaning that they move and are distributed over a massive study area. Our plane saves us driving all over the savannah to locate and get close enough to the animals to download collar data, and benefits them as well because we can fly within 200-300 metres of them to pick up biomechanics data and upload new collar firmware without interfering in their natural behaviour.
To examine how the animals interact with their natural environment and potentially utilise land features, the plane carries a LiDAR system and medium-format survey camera to perform aerial surveys. The scan data is reconstructed as a 3D point cloud and creates a detailed map of the ground, showing the vegetation, areas of water, tracks on the ground, and terrain features such as dips and hollows, termite mounds and mud flats. Collar data from a hunt can be overlaid on these scans to visualise where and at what speed predator or prey moved over the terrain during a chase, and how the animal may have utilised land features to its advantage.
Why did we choose the Groppo Trail as a base aircraft?
The plane is a Groppo Trail, bought as a kit and built by us specifically for our research. We chose this model for several reasons, including:
It is a small aircraft of low running cost and conventional design -

meaning that the aircraft is easily modified to equip with camera equipment and aerial LiDAR.

The tandem seating arrangement and high wings allow good visibility of the ground.
The benign handling and low stall speed are ideal for wildlife tracking.
Folding wings make it easy to store, trailer and ship in a 20 foot shipping container to Botswana and back.
The UK supplier, Graham Smith, has an excellent reputation for supporting self-builders as he is a very experienced aircraft builder and pilot.

Our aircraft is equipped with the following technologies
For survey work:

Cutout for sideways-pointing gimbal-mounted 6K-resolution cine camera (Red Dragon) for oblique photography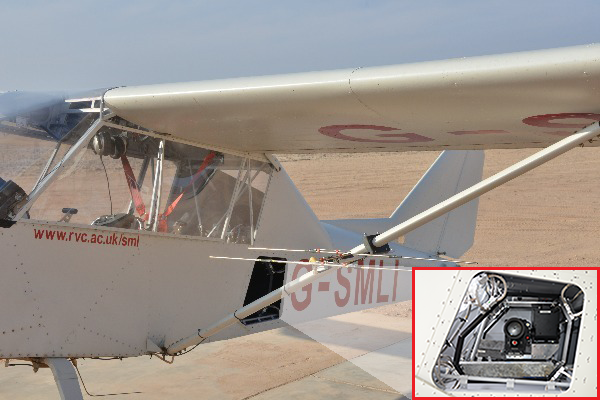 Radio systems for animal tracking and GPS collar management:
VHF (148 MHz) Direction Finding antenna and receiver
868 MHz LoRa receiver system for long-range position telemetry positions from GPS-IMU collars
2.4 GHz transceiver system built into wing-tip for downloading nearby collar data and uploading collar configurations and firmware to collars.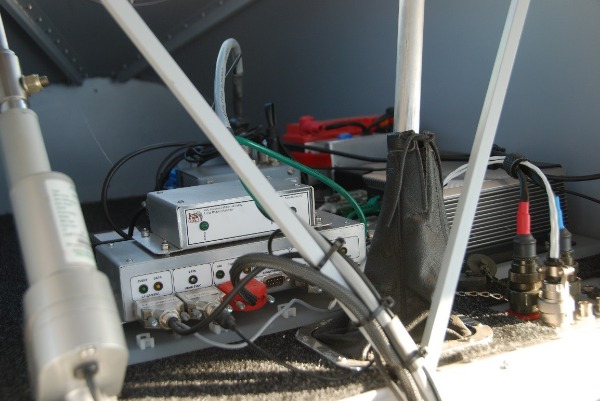 Supplier Links:
Building our own aircraft
Why build when you can buy?
Commercially manufactured aircraft are expensive and must adhere to a myriad of national and international regulations. Virtually all such aircraft operate on a full "Certificate of Airworthiness", and each of the extensive modifications required to make a plane suitable for our research would need to be analysed and cleared directly by the Civil Aviation Authority exactly as they would be for an airliner such as the Dreamliner. The cost of this would be prohibitive, coupled with the higher cost of buying a factory-built aircraft. Additionally, it would be more difficult to retro-fit our modifications and equipment to an already finished "factory" aircraft.
Building a kit plane ourselves allowed us to build in much of the supporting infrastructure for our equipment (wiring and operator displays, etc) during construction. Different regulations apply for "home-built" aircraft vs a commercial airliner, allowing our modifications to be analysed and cleared by the Light Aircraft Association, an independent not-for-profit body, at very significant cost saving.
Another advantage was that we could choose, from the huge range of kit aircraft available, an aircraft type that was ideally suited to the operating environment and type of flying we envisaged, rather than being restricted to the more limited range of commercial types available.
Construction of G-SMLI
Construction of G-SMLI, undertaken by Alan Wilson, Graham Smith, Steve Amos and John Lowe, began in 2012 and was completed in July 2013. The modifications necessary for our research were completed in 2015, and the aircraft was shipped out to Botswana and performed its first aerial survey in July of 2016. The G-SMLI remains deployed in Botswana and has surveyed over 100 suspected cheetah hunt sites.
Testing modifications: G-SMLZ
Our UK-based aircraft G-SMLZ has been built for the purpose of testing modifications domestically whilst the G-SMLI operates in Botswana.