Fly-by-Feel: The neural representation of aeroelasticity
People: Richard Bomphrey, Masateru Maeda
Professor Richard Bomphrey's group has embarked on a project in collaboration with Dr Huai-Ti Lin's lab at Imperial College London to elucidate how insects sense wing deformation in flight when they are bent and twisted by aerodynamic and inertial loads. The researchers are particularly interested in how insects use that information to control their flight.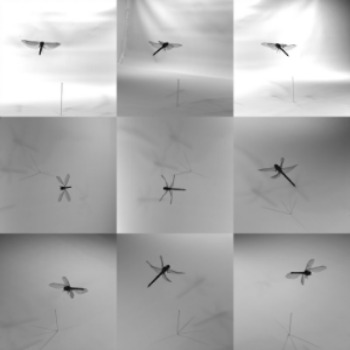 By using high-speed video cameras to film dragonflies exploring the lab and micro-CT to capture the detailed wing architecture, the group will produce a comprehensive picture of where the sensors are on the wing and predict how they might be perceiving wing bending during flight. In vivo electrophysiological experiments will give the researchers insight into the mechanosensory signals occurring with each stroke of the wings to see how forces are detected and processed by the insect. The results of this research could ultimately inform wing design and flight control in modern unmanned aerial systems.
The project began in the spring of 2018, and the group is currently gathering and processing the data.
This research is being undertaken by Professor Richard Bomphrey and Dr Masateru Maeda at RVC, in collaboration with Dr Huai-Ti Lin, Dr Joseph Fabian and Dr María José Fernández at Imperial College London, Dr Simon Walker at Leeds University, and Dr Ben Price at the Natural History Museum.
This project is funded by the BBSRC.