People: Charlotte Burn, Siobhan Abeyesinghe, Troy Gibson, Christine Nicol, Frederick Daw
UK Horses
Freddie Daw is undertaking a PhD to investigate 'A formal analysis of behavioural structure as a tool to assess the impact of chronic equine disease' funded by the Horse Trust, with Christine Nicol, Charlotte Burn, Ruby Chang. The impact of chronic conditions such as sweet itch and gastric ulceration on equine welfare will be assessed using subtle behavioural analysis. Is the horse sleeping normally? Is the behaviour fragmented? Are some activities delayed to prioritise shorter-term needs?
Horses, Donkeys and Mules in Developing Countries
Charlotte Burn's post-doctoral work on working equine welfare in developing countries, at Bristol University, was led by Becky Whay. It was funded by The Brooke Hospital for Animals.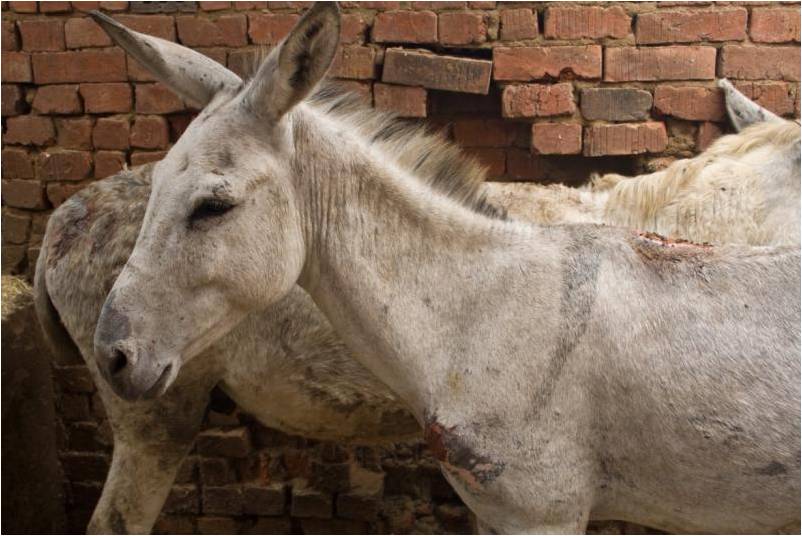 Peer-reviewed publications
Broster, C.E., Burn, C.C., Pritchard, J.C., Barr, A.R.S., & Whay, H.R. (in press) The range and prevalence of clinical signs and conformation associated with lameness in working draught donkeys in Pakistan.

Equine Veterinary Journal.
Burn C. C., Dennison T. L. & Whay H. R. (2010). Relationships between behaviour and health in working horses, donkeys, and mules in developing countries. Applied Animal Behaviour Science 126: 109-118
Burn C. C., Dennison T. L. & Whay H. R. (2010). Environmental and demographic risk factors for poor welfare in working horses, donkeys and mules in developing countries. The Veterinary Journal 186: 385-392
Pritchard J. C., Burn C. C. & Whay H. R. (2009). Haematological and serum biochemical reference values for apparently healthy working horses in Pakistan. Research in Veterinary Science 87: 389-395
Burn C. C., Pritchard J. C. & Whay H. R. (2009). Observer reliability for working equine welfare assessment: Problems with high prevalences of certain results. Animal Welfare 18: 177-187
Broster C. E., Burn C. C., Barr A. R. S. & Whay H. R. (2009). The range and prevalence of pathological abnormalities associated with lameness in working horses from developing countries. Equine Veterinary Journal 41: 474-481
Pritchard J. C., Burn C. C., Barr A. R. S. & Whay H. R. (2008). Validity of indicators of dehydration in working horses: a longitudinal study of changes in skin tent duration, mucous membrane dryness and drinking behaviour Equine Veterinary Journal 40: 558-564
Burn C. C., Pritchard J. C., Farajat M., Twaissi A. A. M. & Whay H. R. (2008). Risk factors for strap-related lesions in working donkeys at the World Heritage site of Petra in Jordan. The Veterinary Journal 178: 261–269
Pickles, K.J., Gibson, T.J., Johnson, C.B., Walsh, V., Murrell, J.C., Madigan, J.E. (2011). Preliminary investigation of somatosensory evoked potentials in equine headshaking. Veterinary Record. 168.
Yvette, B., Gibson, T.J., Gregory, N.G. (2013). Procurement of equines for the horsemeat trade in Great Britain. Veterinary Record. http://veterinaryrecord.bmj.com/content/early/2013/06/24/vr.101636.full.pdf+html
Conference presentations
Crowther L., Burn C. C., Abeyesinghe S. & Wathes C. M. (2012). Development of a tool to assess equine welfare: Selection of welfare indicators. UFAW symposium, York

Burn C. C., Dennison, T. L., Pritchard J. C., & Whay H. R. (2008). Downcast donkeys and haggard horses: behavioural field indicators of poor welfare in working equids. 42nd Congress of the International Society of Applied Ethology, Dublin

Burn C. C., Pritchard J. C., & Whay H. R. (2008). Effects of prevalence on observer agreement: a subjective assessment of working donkey behaviour as an example. Measuring Behaviour, Maastricht