Dogs - Breeding for Good Welfare
People: Charlotte Burn, Rowena Packer, Anke Hendricks, Holger Volk, Natalie Chancellor
Following the BBC documentary, Pedigree Dogs Exposed, the health and welfare of pedigree dogs was thrust into the limelight. Some of their problems are unintended consequences of inbreeding, when recessive or linked genes result in unexpected problems for a breed. But our research is concerned with conditions that have arisen as more direct consequences of artificially selecting for dogs with extreme appearances, whether a pedigree or a cross-breed.
How extreme is too extreme?
During Rowena Packer's PhD (supervised by Charlotte Burn and Anke Hendricks), she quantified the relationship between body shape and three conditions suspected to be caused by extreme morphology:
Shortness of the muzzle (degree of 'brachycephaly') as a predictor of the respiratory disease, Brachycephalic Obstructive Airway Syndrome (BOAS)
Prominence of the eyes and presence of the over-nose wrinkle as predictors of eye ulceration, and
Length of the back relative to the legs as a predictor of a certain kind of slipped disc.
The aim was to be able to define safe limits to protect dogs from almost inevitable suffering as a result of their appearance, asking, for example, "how short a muzzle is 'too short'?".
Rowena's work was supported by a BBSRC/RVC studentship and research funding from UFAW and Dogs Trust, and she completed her thesis in 2013. We continue to work with stakeholders to ensure that the findings will feed into improving the breeding and treatment of dogs with potentially extreme conformations.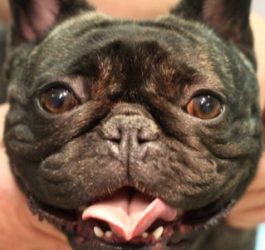 Biomarkers for breathing difficulties
The aforementioned respiratory syndrome, BOAS, is difficult to diagnose with certainty, partly because it's different for each dog and partly because examination of the airways needs to be done under general anaesthetic, so a non-invasive biomarker could really help. Also BOAS is a continuum ranging from mild to severe, so biomarkers could reveal the point at which BOAS really starts to affect dog physiology and quality of life. Our previous research showed that BOAS is often dismissed as 'normal for the breed'.
Sara Cibellis (supervised by Charlotte Burn and Anke Hendricks) undertook an MSc project to determine whether there were physiological markers that could help diagnose the respiratory severity of BOAS.
Sara investigated two potential Biomarkers:
The variation in the size of red blood cells, know to be affected by cardiorespiratory conditions in humans, and
Arterial haemoglobin saturation - to take an extreme, just as humans 'go blue' when starved of oxygen, so do other animals, and we refined a technique to enable measurement of whether this was happening to a subtle degree in future affected dogs.
Peer-reviewed publications
Packer, R.M.A., Hendricks, A., Shihab, N., Volk, H. & Burn, C.C. (2013) How long and low can you go? Effect of conformation on the risk of thoracolumbar intervertebral disc extrusion in domestic dogs.

PLOS ONE 8

: e69650

Packer R. M. A., Hendricks A. & Burn C. C. (2012) Do dog owners recognise clinical signs related to a conformational inherited disorder that is 'normal for the breed'? A potential constraint to improving canine welfare.

Animal Welfare

21

(S1): 81-93

Packer RMA, Hendricks A, Burn CC (2015) Impact of Facial Conformation on Canine Health: Corneal Ulceration. PLoS ONE 10(5): e0123827. doi:10.1371/journal.pone.0123827

(2015)

Impact of Facial Conformation on Canine Health: Brachycephalic Obstructive Airway Syndrome.

PLoS ONE

10(10):

e0137496.

doi: 10.1371/journal.pone.0137496
Conference presentations
Cibellis S., Burn C. C. & Hendricks A.(2014). Just noisy or struggling for oxygen? Identifying brachycephalic dogs with breathing problems. Canine Science Forum. Lincoln

Packer R., Hendricks A. & Burn C. C. (2013) Short muzzle; short of breath? An investigation of the effect of conformation on the risk of Brachycephalic Obstructive Airway Syndrome (BOAS) in domestic dogs. UFAW Symposium, Barcelona

Packer R., Hendricks A. & Burn C. C. (2013) All the better to see you with? An investigation of the effect of craniofacial and palpebral conformation on the risk of corneal ulcers in domestic dogs. 57th BSAVA Congress, Birmingham

Packer R., Hendricks A. & Burn C. C. (2012) How long and low can you go? A preliminary investigation of exaggeration of back length and reduction in leg length as a risk factor for intervertebral disc herniation (IVDH) in domestic dogs. UFAW symposium, York
Packer, R., & Burn C. C. (2011). Preliminary indications of a lack of owner recognition of clinical signs related to a conformational inherited disorder - a potential constraint to improving breeding practices in pedigree dogs. UFAW Symposium, Portsmouth
Reports