People: Charlotte Burn, Jackie Cardwell, Troy Gibson, Natalie Chancellor, Nicola Blackie
With much veterinary and welfare expertise on dairy cows at the Royal Veterinary College, team members have worked to improve some major issues for these animals, including lameness, fertility and husbandry procedures such as dehorning and veterinary/farmer perspectives on analgesia use.
Currently - Nicola Blackie has secured funding to investigate different types of calf housing, looking most closely at the differences between single housed and paired house calfs (picture below) pre-weaning. Nicola is also using rumen temperature boluses and pedometers at our Boltons Park Farm to investigate methods of early detection of disease in adult cows.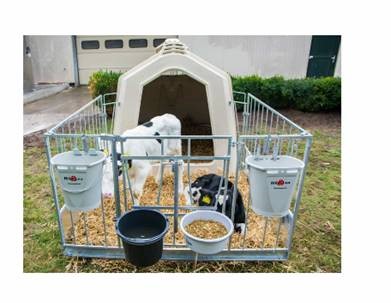 The projects below are examples of our previous research that relates most closely to cow welfare, whereas health and productivity issues may be covered on other RVC research pages.
Caring for Calves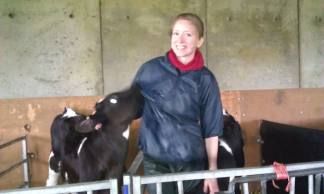 Too many calves currently fail to grow optimally and even die on farms, and much of this is due to quite easily preventable and/or treatable diseases: mainly diarrhoea and pneumonia. Dr. Kate Johnson has completed her PhD on risk factors for calf mortality and morbidity. Her work is revealing several possible management factors that could help keep calves healthy, including good hygiene and ensuring they receive sufficient milk or milk replacer to enable growth and resilience. Kate was supervised by Claire Wathes, Charlotte Burn and Christopher Wathes and was funded by a Volac - BBSRC CASE studentship.
Understanding Cow Welfare
Properly being able to evaluate the well being of adult dairy cows is also essential if we are to ensure that they are kept as we would all hope, but it can be a difficult task. Dr. Sophie Collins has completed her PhD within RVC AWSE on dairy cow welfare assessment, she was supervised by Nick Bell, Charlotte Burn, Christopher Wathes and Jackie Cardwell. Sophie's work aims to understand and refine the welfare assessment protocol, taking into account the role and view of the farmer. This was funded by Dairy Co.
Peer-reviewed publications
Johnson KF, Chancellor N, Burn CC, Wathes DC. (2017). Analysis of pre-weaning feeding policies and other commercial rick factors influencing growth rates in calves on 11 commercial dairy farms. Animal. 2017 Nov 23:1-11. doi: 10.1017/S1751731117003160
Johnson KF, Chancellor N, Burn CC, Wathes DC. (2017). Prospective cohort study to assess rates of contagious disease in pre-weaned UK dairy heifers: management practices, passive transfer of immunity and associated calf health. Veterinary Record Open 2017;4:e000226. doi:10.1136/ vetreco-2017-000226
Hambleton, S.Y.N., and Gibson, T.J. (2017). A study investigating the attitudes and opinions of cattle farmers and veterinarians in the United Kingdom on the use of Non-Steroidal Anti-Inflammatory Drugs (NSAIDs) for post-disbudding analgesia of calves. 26, 323-334. Animal Welfare. https://doi.org/10.7120/09627286.26.3.323

Johnson K., Burn C. C. & Wathes D. C. (2011) Rates and risk factors for contagious disease and mortality in young dairy heifers.

CAB Reviews

6

: 1-10

Gibson, T.J

., Johnson, C.B., Stafford, K.J., Mitchinson, S.L., and Mellor, D.J. (2007). Validation of the Acute Electroencephalographic Responses of Calves to Noxious Stimulus with Scoop Dehorning. New Zealand Veterinary Journal. 55, 152-157

Bell, NJ; Main, DCJ; Whay, HR; Knowles, TG; Bell, MJ; Webster, AJF (2009).

The development, implementation and testing of a lameness-control programme based on HACCP principles and designed for heifers on dairy farms

. The Veterinary Journal

180: 178-188
Conference presentations
Collins, S., Gammon, D., Gibbons, J., Burn, C.C., Cardwell, J.M., Vecqueray, R. & Bell, N.J. (2015) A cross-sectional study of lying behaviour on 23 UK dairy farms: investigating within and between herd variation and the impact of individual cow and farm environment factors on lying. 2nd DairyCare Conference, Corboda

Johnson K. F., Burn C. C. & Wathes D. C. (2014) Effects of feeding heifer calves once daily from 28 days of age. British Society of Animal Science, Nottingham

Johnson K. F., Burn C. C., Wathes C. M. & Wathes D. C. (2013) Determining risk factors for poor growth, contagious disease and mortality in a cohort of UK dairy heifer calves. International Conference on Production Diseases, Uppsala

Collins, S., Bell, N.J., Burn, C.C. & Wathes, C.M. (2012). Assessing the welfare of dairy cows: A questionnaire survey of UK dairy farmers, dairy stockmen and cattle vets. Dairy Cattle Welfare Symposium, Guelph

Johnson K. F., Burn C. C., Wathes C. M., Mouncey J. S. & Wathes D. C. (2011) Measuring passive transfer in dairy heifers: comparing total protein and radial immunodiffusion methods. British Cattle Veterinary Medicine Congress, Southport