COVID 19 - the impact of isolation on pets and their owners
People: Jon Bowen
Dr Jon Bowen, a veterinary behaviourist from the Royal Veterinary College (RVC), has teamed up with associates from the Affinity Foundation for Animals and Health (University of Barcelona) and the University of Pisa, to conduct a study on what impact the COVID-19 lockdown is having on people and their pets.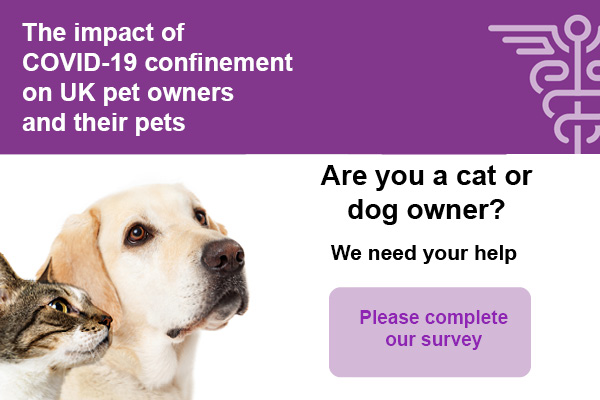 Who should take part in the COVID 19 isolation pet study?
To gain more insight into the effects of the confinement in the UK, the RVC is calling for cat and dog owners to take part in this survey.
To access the UK survey, visit : www.rvc.uk.com/pet-covid-survey
Why is the study being conducted?
This study started after pet owners sharing their experiences with veterinary behaviourists, Dr Jon Bowen and Dr Jaume Fatjó. It became apparent that the effet of the confinement on pets and their owners needed investigation. This survey has been designed to investigate the impact of the COVID-19 lockdown on cat and dog owners, the relationship they have with their pets, as well as the quality of life for pets and their behaviour.
Where is the study being conducted?
This international survey is being conducted in
Spain
Italy
France (coming soon)
USA (coming soon)
As each country has responded to the pandemic differently, the study will provide an interesting insight into the different reactions of both the pets and their owners.
If you are a pet owner in the UK, please access the UK survey here
If you are a pet owner in Spain, please access the Spanish survey here
If you are a pet owner in Italy, please access the Italian survey here
How is the data collected from the survey being used?
The survey is not being conducted in person – it is an online survey only.The survey is anonymous and the data will not be shared with third parties. The findings from the survey will be communicated to the public and published in open access journals so that they are available to everyone.
Is the study a one-off assessment of the situation?
No. The plan is to track how people and pets respond as the different elements of lockdown restrictions change.
When will the results of the research be released?
The first research results will be from the Spanish part of the study in the near future; with the other countries to follow. We will release a summary of the relevant findings for people to access.
How can pet owners help the RVC with the study?
The research team hopes that as many pet owners as possible will participate so to enable better understanding of COVID-19 lockdown on pets and owners.
UK SURVEY LINK : www.rvc.uk.com/pet-covid-survey