What is the BVDFree scheme?
BVDFree is a National scheme that was launched on 1 July 2016 in England.
hrough this scheme we will achieve the elimination of the BVD virus from all cattle herds in the country by 2022.
The BVDFree scheme is based on achieving the elimination of BVD through identification and removal of animals persistently infected with the BVD virus. BVDFree will be run on a voluntary basis until most of the cattle industry is covered by the Scheme. BVDFree will then look to work with Government to introduce compulsory measures.
Why do we need to eradicate BVD from England?
BVD is a viral disease of cattle. It's one of the biggest disease issues facing the UK cattle industry.
Why do we need BVDFree England?
BVDFree England is an industry-led scheme. By taking a coordinated approach across the cattle industry, this scheme will make BVD elimination possible.
It can be done
Other countries have already taken action to eradicate BVD because they recognise that BVD is one of the biggest disease issues for the cattle industry.
The Scandinavian countries Norway, Sweden, Finland and Denmark have already eradicated BVD from their national herds.
It's time to take action
Ireland, Scotland and Northern Ireland are already taking action to eradicate BVD virus from their cattle herds through national schemes.
BVDFree England will be the first national scheme in England
BVDFree will develop a national database, that will store individual and herd test results for those that have joined the scheme
BVDFree England will work in cooperation with the cattle industries in Scotland, Wales, Ireland and Northern Ireland to eradicate BVD from the islands of Great Britain and Ireland.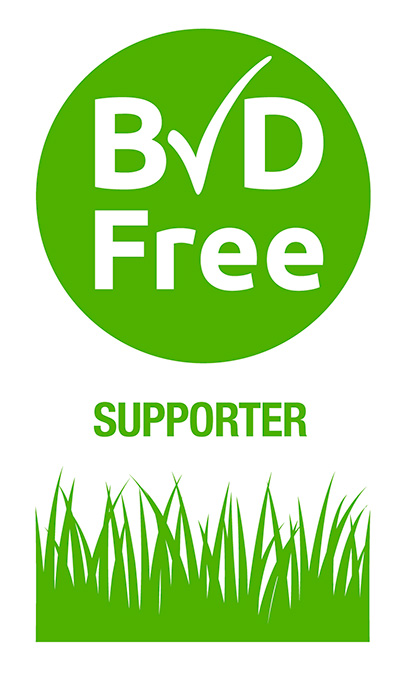 What do I need to do?
By joining the scheme, you agree to
Actively engage in BVD control in order to eradicate BVD from your herd
Report all BVD testing results from your herd to the BVDFree database
Allow herd status/individual animal status to be openly accessible through the BVDFree database
Not to move persistently infected (PI) animals other than directly to slaughter (or through a dedicated red meat slaughter market)
How will BVDFree help me?
Don't buy in problems - keep BVD out
BVDFree is committed to developing market drivers for the trade of BVD free cattle
You will be able to check the BVD status of animals you are buying so you don't bring BVD back to infect or re-infect your herd
Stand out from the crowd
Joining the scheme and working to achieve BVD free status means your herd will be recognised as BVD Free – a great way to differentiate yourself in the marketplace
More money in your pocket
An end to the costs associated with BVD infection and disease – both direct and indirect