Animal Health and Welfare Wales
Animal Health and Welfare Wales is a collaboration between The Royal Veterinary College and Coleg Sir Gar in Wales. It is led by Dr Neil Paton of the Royal Veterinary College and John Griffiths of Coleg Sir Gar and aims to create and deliver disease control and eradication plans for the Welsh livestock industry.
The Beginning
In 2012 the Animal Health and welfare framework group of Wales chaired by Peredur Hughes decided that a number of issues should be a priority for Wales including:
In order to make progress a number of subgroups were created at the Royal Welsh Agricultural Show including a BVD subgroup of which John Griffiths was elected chair.
In order to explain the disease to the subgroup Dr Neil Paton was invited to give a talk to the subgroup and subsequently co-opted onto the working group. In collaboration with John Griffiths, Both farming unions, Farmers union of Wales and the National farmers union (Wales), the levy boards, Hybu Cig Cymru, and AHDB Cymru and Welsh Government a proposed plan for the eradication of BVD from Wales was submitted and approved by all parties.
Funding
In order to eradicate BVD it was identified that funding to drive the programme would be required and this task was taken on by Dr Neil Paton and John Griffiths on behalf of the cattle industry in wales. It was decided that the best option was the European Rural Development fund (2014-2020) and the application process was duly started.
In July 2017 Dr Neil Paton and John Griffiths were successful in gaining a £10 Million pound grant in order to deliver a BVD eradication grant from the ERDP (Wales) programme.
Launch
The programme was official announced at the Royal Welsh Agricultural Show in 2017 by the Cabinet Secretary for Rural affairs Lesley Griffiths and the Chief Veterinary Officer Christianne Glossop.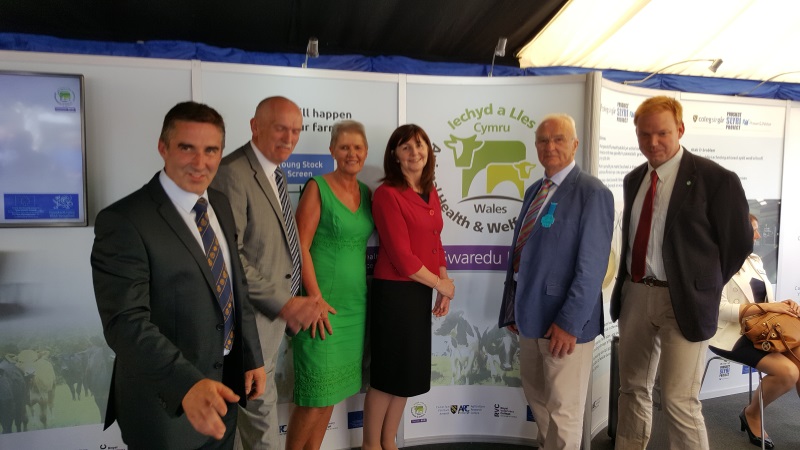 On Farm Activity
The programme started on farm on the 1st of September with vets starting the surveillance of farms during Tb testing.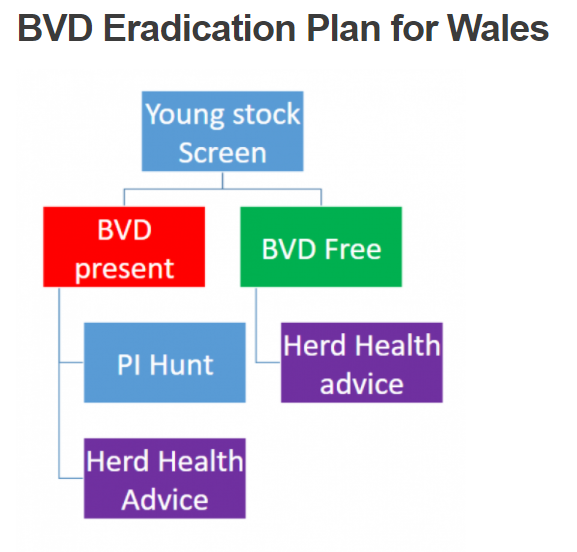 How the Programme Works
In designing the programme there were a number of important concepts considered.
The design had to remove barriers to testing for the farmer as much as possible.
The regime had to be simple and as universally acceptable as possible so that most farms could be captured
The added value of vets to farms should be recognised and capitalised on as much as possible.
Recognising that the farm is a busy working environment the annual TB test in Wales was identified as an opportunity on all farms where cattle could be tested. Unlike in England all farms in Wales will be tested for TB and Vets will be present on the farm to carry out this work. In the past vets would carry out whole herd brucellosis tests so a small young stock bleed was considered trivial to deal with.
In order to make it simple to explain, allow consistent data collection and be as applicable to all farms a single testing methodology was chosen. All farms in Wales are eligible for a blood sample of 5 young stock per management group. This will be tested for antibodies to determine if the farm was exposed to BVD. In recognition of the veterinary expertise in Wales vets were offered training to allow flexibility around the choice of animal so that in the absence of the specified class of animal the vet could still answer the question – does this farm have BVD?
Eradication of BVD on Farm
Farms that have evidence of BVD on farm will be eligible for financial support to identify persistently infected animals on farm.
The farm's own vet will be able to apply directly to the project for up to £500 in order to support time and testing on farm.
Progress to Date
From 1st September 2017 to 1st March 2018, 3100 farms of the 11 600 farms that have cattle in Wales have been tested under the programme. Of these 27% have evidence of BVD infection and some 40 have started to Pi hunt in their farms.
Contact
Useful Links
https://www.vettimes.co.uk/news/welsh-farmers-receive-million-pound-boost-to-fight-bvd/
http://www.fwi.co.uk/livestock/welsh-farmers-responding-positively-bvd-eradication-scheme.htm
http://www.fwi.co.uk/livestock/wales-launches-9m-bvd-eradication-scheme.htm
http://veterinaryrecord.bmj.com/content/181/10/252