This is an RVC study to investigate the epidemiology of asymptomatic feline hypertrophic cardiomyopathy (HCM). We hope to gain information on the prevalence of HCM in a non-referral setting, as well as identifying risk factors that indicate which cats will develop heart failure or thromboembolism, and which cats will remain asymptomatic. As such, there are 2 aspects to the study:
Cross-sectional study
Cats in rehoming centres are screened using auscultation and echocardiography. Other causes of left ventricular hypertrophy will be ruled out. This will provide insight into the prevalence of HCM (and heart disease in general) in the general cat population. We hope to screen more than 1000 cats.
Longitudinal study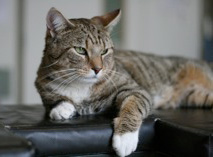 We also want to gain further information on the natural history of HCM. To this end, we are offering free re-echo scans to any cats screened as part of the cross-sectional study, including cats with both previously normal and abnormal scans. This means we will need to work closely with local vets involved in the future care of these cats, and we will be happy to provide support and advice on future management. Reports will be provided each time a repeat echo is performed and any further information on follow-up will be invaluable in finding out more about this common but potentially devastating disease.
If you have any questions about a particular cat or the study in general, please don't hesitate to contact us.