RVC pharmacologist's Biophysical Society role
A Royal Veterinary College (RVC) pharmacologist has been elected to a role at the Biophysical Society, an international organisation with more than 9,000 members.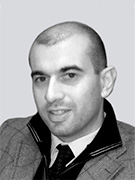 Miche Campanella was elected, unanimously, to be part of the council of the Bioenergetics subgroup of the Society. The decision was made at the 60th Biophysical Society annual meeting, which was held in Los Angeles between February 27 and March 2.
Dr Campanella is Reader in Pharmacology and Head of the RVC's Mitochondrial Cell Biology and Pharmacology Research Unit. In the recent years his research activity has been dedicated to the investigation of fundamental concepts associated with the biology and pharmacology of mitochondria lying at the basis of the whole cellular health. He is also an Affiliated Group Leader of the Consortium for Mitochondrial Research at University College London.
The Biophysical Society was founded to encourage development and dissemination of knowledge in biophysics. It does so through its many programs, including its meetings, publications, and committee outreach activities. The Society's members work in academia, industry and in government agencies. The Society's annual meeting brings together more than 6,000 research scientists in the multidisciplinary fields representing biophysics.
The Bioenergetics Subgroup is concerned with cellular and molecular processes associated with mitochondria, chloroplasts, and bacteria linked to metabolic energy transduction. Systems as varied as whole cells, intact organelles, membrane channels, carriers, and redox complexes might be used. Dr Campanella will serve under Professor Elizabeth Jonas of Yale University, who is chair of the subgroup.