New research reveals potential for earlier detection of cartilage degeneration in osteoarthritis
Research, led by the RVC, marks an important milestone in detection of molecular changes that mark early osteoarthritis.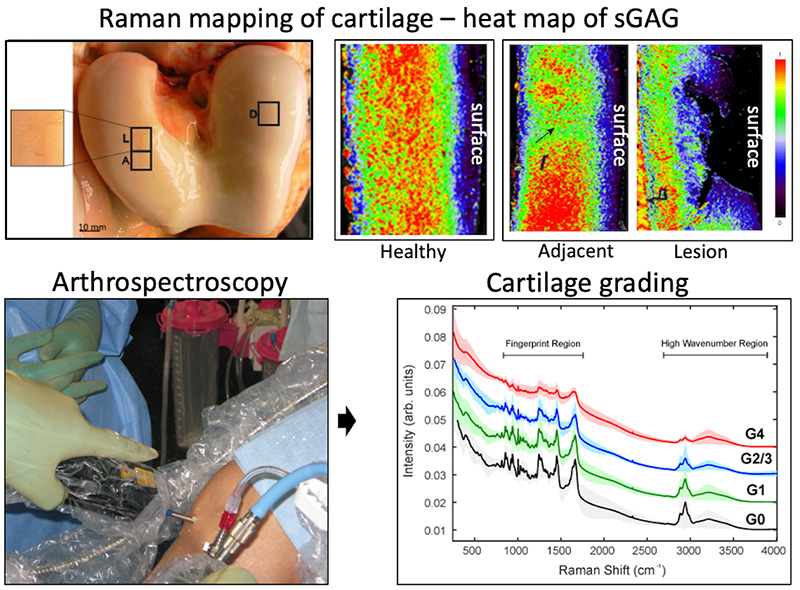 New research, led by the Royal Veterinary College (RVC), has found how Raman spectroscopy, a spectroscopy technique that allows non-destructive analysis of the chemical structure of molecules, can be utilised to support identification of changes that occur in the cartilage of articular joints. This is an important finding in disease detection with some of the changes resembling early osteoarthritis where the cartilage progressively erodes with advancing stages of the disease.
Osteoarthritis, a condition that causes joints to become painful and stiff, is the leading cause of chronic disability in the elderly. It is estimated that more than 22% of adults over the age of 40 years have osteoarthritis of the knee, with women affected about 1.5 times more than men. The findings of this research significantly advance the identification of changes that mark early phases of the disease, which could potentially improve research on disease modifying treatment options.
Rapid minimally invasive Raman spectroscopy can detect molecular changes in cartilage components. Using this technique, the team of researchers, led by Dr Jayesh Dudhia, Senior Lecturer in the department of Clinical Science and Services at the RVC, and comprised of researchers and clinicians from University College London and Imperial College, demonstrated how this technique can be used to also determine the degree of cartilage damage associated with and overall condition of a person's osteoarthritis.
Conducting in vitro analysis of cartilage samples with a range of osteoarthritis-like degeneration, the researchers used both single spectra and spatial maps to identify features of the spectra that could be related to changes of cartilage degeneration. They initially analysed a small region of the Raman spectra to target sulphated glycosaminoglycan (sGAG), which is an abundant proteoglycan (protein) found in cartilage and keeps the cartilage highly hydrated for proper function but is lost with progression of degeneration. The assessment of the progression of cartilage degradation found that Raman spectroscopy was able to identify sGAG as an indicator of early-stage cartilage damage, also prior to visible cartilage erosions.
The researchers also analysed the full Raman spectra to collectively analyse multiple components of cartilage to reduce potential bias from the analysis of a single component. This analysis found that spectra in the region called the 'high wavenumber region' could more easily discriminate early disease.
Using these findings to determine key indicators of disease, the reseachers then switched to a Raman mapping study which enabled the analysis of a large area of the cartilage. This mapping approach revealed significant differences between healthy cartilage and cartilage from a lesioned joint but which otherwise appeared normal (has no degenerating lesions). This is a significant finding as it demonstrated that cartilage might appear healthy because it has no erosions but at the molecular level it is altered from normal and might indicate an early phase that could lead to overt disease.
The researchers also applied a custom-built optical Raman probe to, for the first time, explore the feasibility for in vivo in-clinic Raman analysis during knee joint arthroscopy. Acquiring single point spectra from visually normal and lesioned cartilage within the same joint, interpretable spectra could be acquired with minimal burden on the arthroscopy procedure. This work demonstrated that Raman spectra could be acquired in vivo. However, it showed that analysis of single Raman peaks is likely insufficient for predictive classification and full spectral modelling and mapping analysis is necessary.
Dr Jayesh Dudhia, Senior Lecturer in Clinical Science and Services at the RVC, said:
"The research is a first demonstration of the feasibility of mapping cartilage by Raman spectroscopy. It reveals spatial molecular signatures with similarities to early disease, but further development of the technology is required."
---
Notes to Editors
Reference: Riana Gaifulina, Abigail D.G. Nunn, Edward R.C. Draper, Robin K. Strachan, Nathan Blake, Steven Firth, Geraint M.H. Thomas, Paul F. McMillan, Jayesh Dudhia, Intra-operative Raman spectroscopy and ex vivo Raman mapping for assessment of cartilage degradation, Clinical Spectroscopy, Volume 3, 2021, 100012.
The full paper is available from Clinical Spectroscopy and can be accessed here: https://doi.org/10.1016/j.clispe.2021.100012
Image caption: Raman spectroscopy of cartilage. Raman mapping (top panels) enables spatial localisation and relative abundance of the cartilage components through its depth (surface to the bone underneath), shown here as a heat map for sGAGs. The sGAGs have a uniform and abundant spatial distribution in healthy cartilage but is diminished within small superficial erosions (marked as L and lesion). More significantly, the maps show that cartilage adjacent to a lesion but with a healthy-looking surface has a heterogeneous distribution which demonstrates that subtle alterations extend from the eroding cartilage into adjacent regions. Raman spectroscopy can be applied in the knee joint (bottom panels) to retrieve spectra from which it is possible assess the grade of disease. Credit: Dr Jayesh Dudhia
For more information please contact:
Press Line: 0800 368 9520
About the RVC
The Royal Veterinary College (RVC) is the UK's largest and longest established independent veterinary school and is a Member Institution of the University of London. It was the first in the world to hold full accreditation from AVMA, EAEVE, RCVS and AVBC.
The RVC is ranked as the top veterinary school in the world in line with the QS World University Rankings by subject, 2021.
The RVC offers undergraduate and postgraduate programmes in veterinary medicine, veterinary nursing and biological sciences.
In 2017, the RVC received a Gold award from the Teaching Excellence Framework (TEF) – the highest rating a university can receive.
A research led institution with 79% of its research rated as internationally excellent or world class in the Research Excellence Framework 2014.
The RVC provides animal owners and the veterinary profession with access to expert veterinary care and advice through its teaching hospitals and first opinion practices in London and Hertfordshire.