Several studies have highlighted that lameness is the most common presenting clinical complaint in equine practice, the most common cause for retirement and loss of use in horses across all disciplines.
The Royal Veterinary College is uniquely positioned to address orthopaedic health problems in a multidisciplinary effort, combining the expertise of equine veterinary specialists with biomechanics researchers from the College's Structure and Motion Laboratory.
Our strategic goal is to optimise diagnosis and treatment in horses suffering from musculoskeletal problems by better understanding locomotion and performance in horses, in both health and disease. Ultimately we aim to prevent orthopaedic disease by minimising the risk of injury, while optimising performance.
A key component of a successful implementation of this strategy is a focus on applied research with practically relevant outcomes based on non-invasive methods that can be implemented 'in the field'.
Expertise and technology
Early detection of lameness requires accurate knowledge about how horses move 'normally'. In addition to the veterinarian's trained eye, we have a variety of tools available providing objective, quantitative measurements of locomotion as well as conformation of individual horses.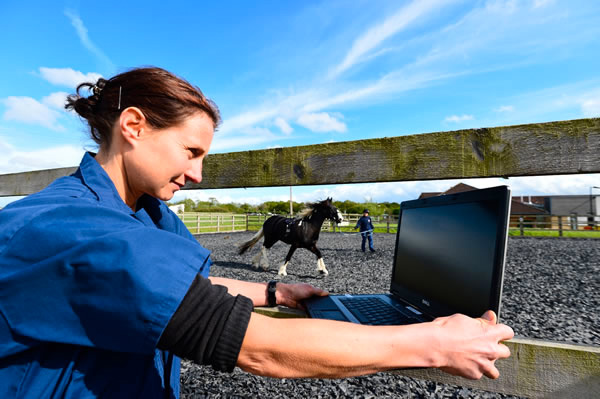 The RVC uses inertial sensors to quantify symmetry of movement of head and hind quarters and back movement with and without riders, and during different exercises and on different surfaces. We can visualise and record foot placement and conformation using high-speed video cameras and pressure mats depending on the application.
Traditional gait analysis techniques based on cameras and force platforms cannot easily be moved between different locations, and hence are often limited to assess straight-line movement in-hand or on the treadmill. Our state-of-the-art gait analysis devices allow measurements to be undertaken wherever the horse performs going beyond straight-line movement.
Foot care and gait
Foot care is essential in keeping horses sound and we have conducted a series of projects in collaboration with our residential farriers (the RVC is lucky enough to have the only farriery in the UK with a PhD), but also working with other farriers in the UK and internationally.
We have assessed the effect of trimming on shoeing on horse movement (a)symmetry and, in a recent project published in Equine Veterinary Journal and presented at BEVA congress, we have made use of our high accuracy wireless inertial sensor gait analysis system, high speed video and digital photography to study the inter-relationship between movement symmetry, foot placement and hoof conformation.

While this study confirmed that horses in both walk and trot tend to land with the outside or the outside heel first, we found a lot of variation from stride to stride - highlighting the need in both clinical practice and research to assess more than just a few strides before drawing a conclusion. In particular in trot, foot placement is impossible to assess by eye due to the fast movements observed just before the foot contacts the ground.
In this population of 'well-functioning' horses (no performance issues identified by their owners/trainers), when measured with our gait analysis tools, increasing levels of movement asymmetry (i.e. lameness) were found to be correlated with smaller hooves, providing evidence for the anecdotal relationship between 'contracted feet' and lameness.
Studies
Other studies in this area extend this research into establishing the effects of locomotion on road surfaces. In collaboration with the BHS Hertfordshire branch, we are planning to investigate how gait parameters, such as foot placement, slip and grip and impact vibrations, are modulated by different road surfaces.
A number of projects have recently concentrated on the effect of lunging. A study published in the Veterinary Journal and presented at the International Conference on Equine Exercise Physiology has highlighted that, across gaits, horses are not perfectly symmetrical between reins, leaning more into the circle in one direction than the other. It is now essential to establish to what degree this is related to underlying sub-clinical pathology or to preferential training or handling regimens - or even to asymmetry of the rider.
In a move towards prevention of musculoskeletal injury, the RVC is conducting a large-scale study in thoroughbred racehorses in training. Over an 18-month period, we are monitoring gait parameters with our sensor gait analysis system at regular intervals and correlating these to the clinical diagnosis of any injuries.
This study, conducted in collaboration with the Singapore Turf Club, will provide insight into the predictive values of long-term monitoring of all performance horses, regardless of discipline.
With our combination of clinical veterinary expertise, in-depth biomechanical knowledge and our unequalled expertise in assessment of equine locomotion, the RVC is uniquely positioned to drive forward applied research that directly benefits horses of all breeds, disciplines and performance levels.