RVC maintains its position as the leading HEFCE funded veterinary focused research institution
The results of the REF2014 (Research Excellence Framework), published on 18 December 2014, confirms RVC's unique status in veterinary research. The proportion of the RVC's research rated as internationally world leading (4*) or excellent (3*) increased to 79% in the REF2014 from 55% six years ago (RAE 2008).
In maintaining a large critical mass and inclusive approach to supporting both clinical and veterinary research, the College has sustained its position as third for its Unit of Assessment in the power weighting (out of 29 institutions). It is this weighting (quality multiplied by volume) that determines future research funding.
The REF2014 marked the first time that long-term impact of research was judged alongside academic excellence. Over 63% of RVC's impact return was scored as 4* which suggests that 5 of the 11 case studies submitted were gauged to have "outstanding reach and significance"[1] more than any other HEFCE funded vet school.
All impact case studies submitted by the RVC generated impacts that have supported the advancement of veterinary science. The studies covered the broad range of research conducted at the RVC demonstrating impacts spanning commercial and economic value; health and welfare advances with both veterinary and medical applications; social impact through public engagement; and developments in government policies and professional clinical practices of both national and international significance.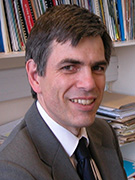 Professor Jonathan Elliott, Vice-Principal (Research & Innovation) said of the results: "We are delighted with the progress of research at the RVC over the last six years - the high quality profile we have achieved shows our recruitment and development strategies have been very effective, with 82% of our REF eligible staff being included in our return. Fifty seven of the 112 academics (51%) in our return hold a veterinary qualification ensuring veterinary knowledge and skills are informing our research and our veterinary students have excellent role models to inspire them to consider research as a career."
Principal Professor Stuart Reid added: "We stated in our submission that 'the RVC is a small, specialist institution with a critical mass of high-quality, forward-thinking scientists working in some of the most significant areas of our discipline. By focusing on these strengths coupled with our enthusiasm to work collaboratively with researchers locally, nationally and internationally we have put our research mission in a strong and sustainable position.' Our results clearly bear this out."
See REF2014 Impact Case Studies for details of the 11 studies submitted by the RVC.
[1] The 'Impact' score is judged on the submission of impact case studies (making up 75% of the impact score) and an impact template providing an overall perspective of the institution's research impact (accounting for 25% of the impact score).
Notes to Editors
The Royal Veterinary College (RVC) is the UK's largest and longest established veterinary school and is a constituent College of the University of London. The RVC offers undergraduate, postgraduate and CPD programmes in veterinary medicine and veterinary nursing and is ranked in the top 10 universities nationally offering Biosciences degrees. It is the only veterinary school in the world to hold full accreditation from AVMA, EAEVE, RCVS and AVBC.
The four UK higher education funding bodies (the Higher Education Funding Council for England, Scottish Funding Council, Higher Education Funding Council for Wales, and Department for Education, Northern Ireland) allocate about £2 billion per year of research funding to UK universities, based on the quality and volume of each university's research. They aim to support a dynamic and internationally competitive UK research sector that makes a major contribution to economic prosperity, national wellbeing and the expansion and dissemination of knowledge.
Aims of the Research Excellence Framework
To distribute funds selectively on the basis of quality, the funding bodies assess universities' research through a periodic exercise. This was previously known as the Research Assessment Exercise (RAE), and was last conducted in 2008.
The 2014 Research Excellence Framework (REF) replaced the RAE. It assessed the quality and impact of research submitted by UK universities across all disciplines. The results will be published in December 2014 and will be used by the funding bodies to allocate block-grant research funding to universities from 2015-16. As well as informing funding allocations, the REF provides accountability for public investment in research, demonstrates its benefits, and provides important reputational yardsticks and benchmarking information about the research performance of UK universities.
REF2014 key facts
154 UK universities took part. They made 1,911 submissions for:

52,077 academic staff

191,232 research outputs

6,975 impact case studies

36 expert sub-panels reviewed the submissions, overseen by four main panels

around £2 billion per year of research funding will be allocated on the basis of the results.