24 hour contact: 020 7387 8134
RVC blood donor dog awarded Service Animal Award by RSPCA
Romeo, a Staffordshire bull terrier, has been recognised with the Service Animal Award by the RSPCA in its 2019 Honours List.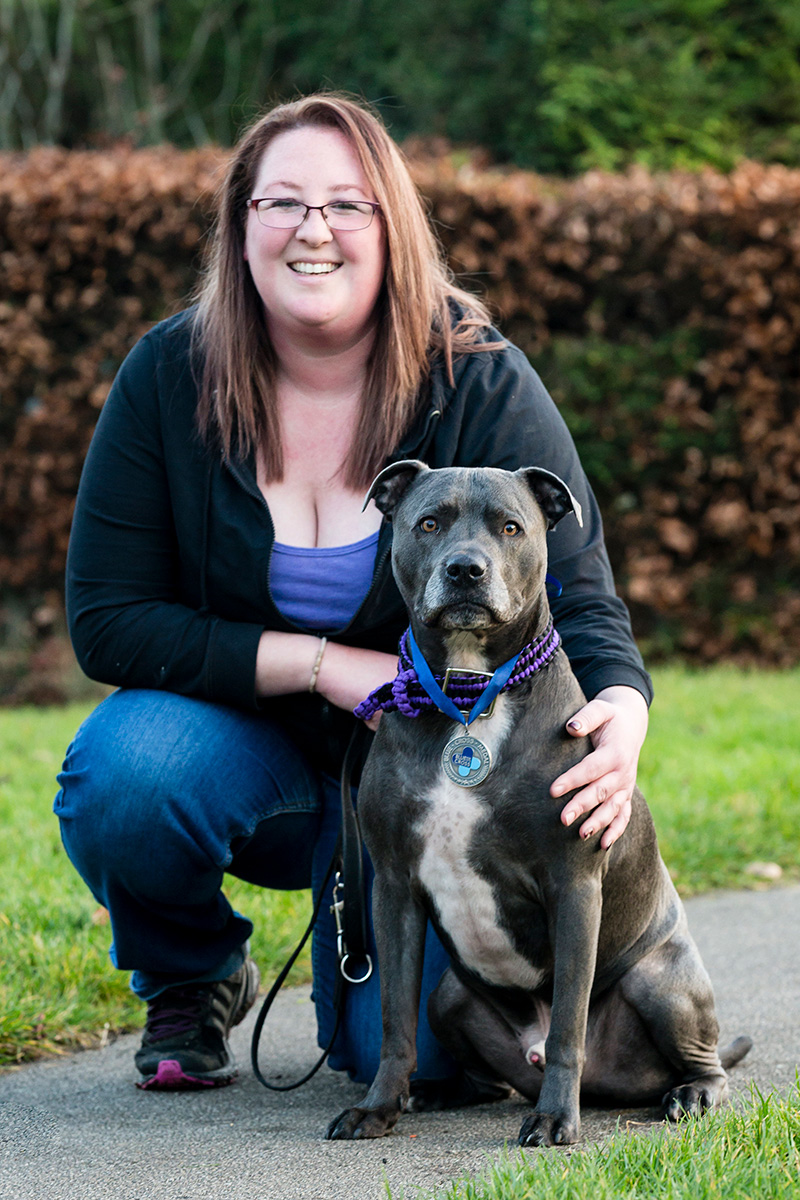 He was awarded for his valued donations to the Royal Veterinary College's (RVC) Blood Donor Programme. His individual contributions have helped save the lives of over 32 dogs during the five years he has been donating.
Romeo's service was also noted for more than his blood contributions. He is enlisted as a qualified pet therapy dog and regularly visits hospitals, as well as dementia care homes, to improve the lives of patients in need. He is known within the wards for bringing joy to the lives of many who are recovering from serious conditions or who are terminally ill.
The RVC's Blood Donor Programme, which is the busiest in Europe, was set up in 2005 at its small animal referral hospital, the Queen Mother Hospital for Animals (QHMA). The programme supports the delivery of complex treatments such as such as open-heart surgery, spinal surgery, and cancer treatment. Thanks to the vital contributions of many dogs like Romeo, numerous lives have been saved.
Romeo's owner, Steph Hartley, said: "Romeo is one of the best things we've ever had. We are so incredibly proud of him for helping to transform the lives of so many pets, as well as touching the lives of so many people".
The RVC would encourage owners in Hertfordshire or nearby who are considering enlisting their dogs or cats into the Blood Donor Programme to follow in Romeo's footsteps and sign up. If you are interested, please contact blooddonor@rvc.ac.uk, or if you would like more details see Blood Donor Programme.
---
Notes to Editors
For more information please contact:
About the RVC
The Royal Veterinary College (RVC) is the UK's largest and longest established independent veterinary school and is a constituent College of the University of London.
The RVC is ranked as the world's number one veterinary school in the QS World University Rankings 2019.
The College offers undergraduate, postgraduate and CPD programmes in veterinary medicine, veterinary nursing and biological sciences.
The RVC was the first veterinary school in the world to hold full accreditation from AVMA, EAEVE, RCVS and AVBC, and currently holds full accreditation from RCVS, AVBC and AVMA and conditional from EAEVE.
In 2017, the RVC received a Gold award from the Teaching Excellence Framework (TEF) – the highest rating a university can receive.
A research-led institution, the RVC maintained its position as the top veterinary institution in the Research Excellence Framework (2014), with 79% of its submission being rated as world-class or internationally excellent.
The College also provides animal owners and the veterinary profession with access to expert veterinary care and advice through its teaching hospitals: the Beaumont Sainsbury Animal Hospital, in central London, and the Queen Mother Hospital for Animals (Europe's largest small animal referral centre) and Equine Referral Hospital, both located at the Hertfordshire campus.