Saturday 5th October
from 9:30am

Hatfield House
Great North Rd, Hatfield, AL9 5HX
---
Online tickets are no longer available, but you can still buy your tickets on the day - please go to the New Registrations stall when you arrive.
Tickets are £20 each. Children under 12 and dogs are free!
Join our family fun run (or walk!) in the beautiful grounds of Hatfield House and raise money for the Animal Care Trust to support our animal hospitals that care and treat over 25,000 pets every year, develop research, and assist our vets, nurses and scientists of the future.
You can run or walk around the two-mile course in this magnificent park, which takes you into nature and through some optional obstacles. The obstacles are for fun, but make sure you are up to the challenge before taking them on. Friends and family are welcome to watch, and you and your pups can visit our stalls where there will be plenty of food and drink to get your energy back!
The Fun Run
09:30
Registration
10:00
Loosen up and stretch out at the group warm-up session
10:30
Ready, steady, GO!
You can take on the fun run as a dog and human team, a dog and family team, or on your own/in a group without a dog. After finishing, you will be awarded with a Mucky Pup Fun Run medal which you can wear with pride!
| | |
| --- | --- |
| Sponsored by: | Supported by: |
---
Note: We will have a vet available during the fun run to help any dogs that are having trouble. We are expecting a large number of dogs to attend the fun run, and some dogs are friendlier than others - we cannot take responsibility for any accidents that may occur, such as nips and bites. We strongly recommend that all dogs are kept on their leads at all times.
Runners and supporters information
Conditions
It may be muddy due to the nature of the venue but we will not be adding any extra mud! The event will still go ahead if it's raining.
Facilities
There are toilet facilities in the Stable Yard area, but not on the route, so please make sure you use these before you head out on the course. We will not be providing anywhere to clean yourselves after the race so we recommend you bring towels, bin bags and a change of clothes just in case. Refreshments, games and stalls will be located close to the Stable Yard area.
Water
Water will be provided for dogs, but in a bid to help save the environment we will not be providing plastic bottles of water for participants. Please bring your own water in a reusable bottle, which can be refilled on site if needed.
First Aid
First aiders will be on site and situated in the event field all day.
Fundraising
Every penny you raise helps sick and injured animals treated at the RVC. So get your fundraising pages or sponsorship forms in front of everyone's noses during this final week and help us raise as much as you can!
Publicity
We will be filming and photographing the event in order to promote future events on our website, social media and any other materials to help us raise money for the Animal Care Trust. Please let us know when registering on the day if you do not wish to be photographed.
Of course it goes without saying - please pick up after your dog!
Travelling to Hatfield House by car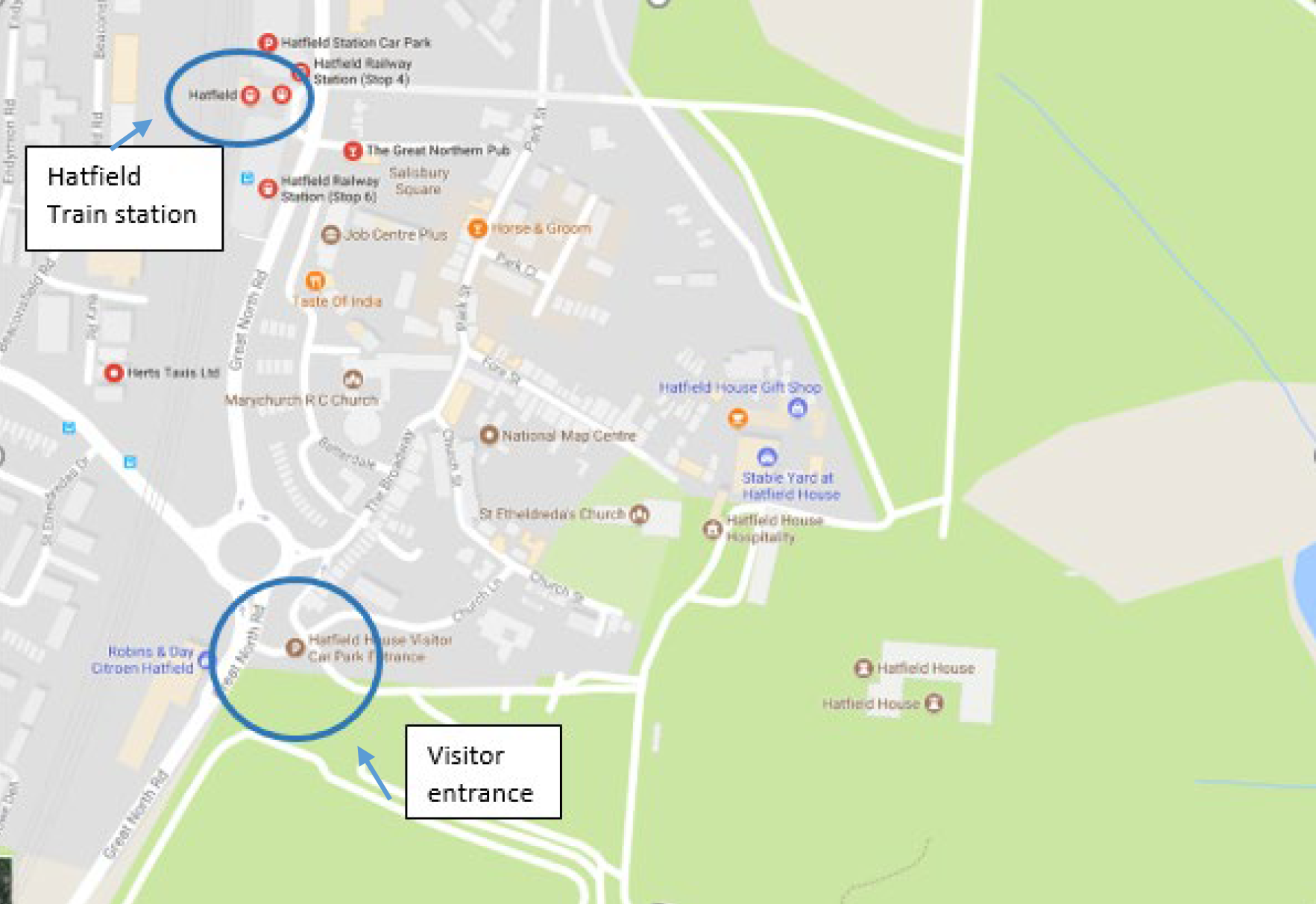 Please make your way to the Hatfield House visitor's entrance (opposite the Citroen car dealership on the A1000). Postcode for Sat Nav: AL9 5HX.
Once parked please follow signs to The Stable Yard - this is where registration will take place.
---
Travelling to Hatfield House by foot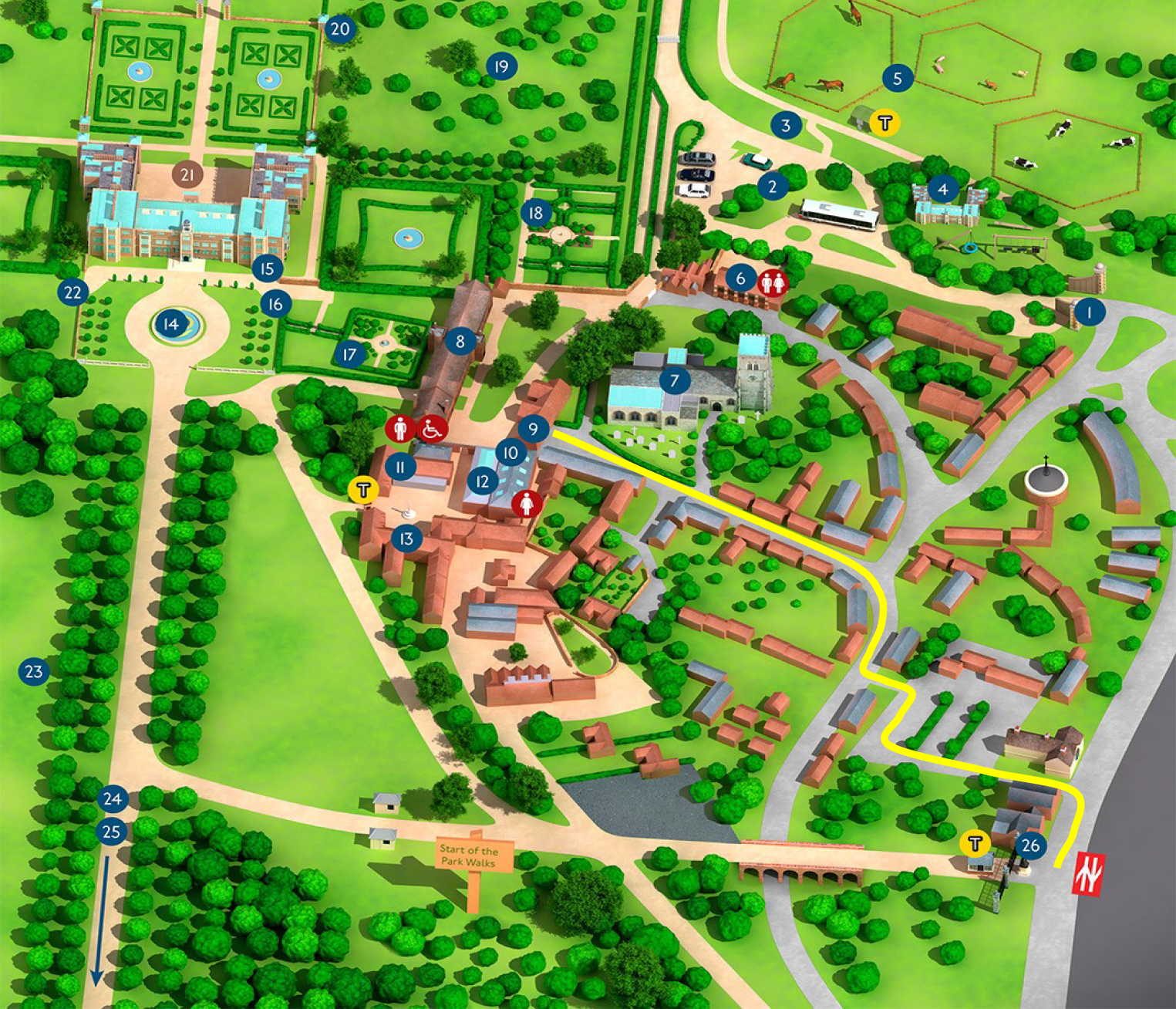 Following the yellow route turn right at the Station Lodge gates (26) The Great Northern pub is on the corner, turn left onto Arm and Sword Lane. There are two car parks on the right, walk down towards the bottom one and you will see an alleyway in front of you, proceed through here onto Park Street.
On Park Street, turn right and follow the road until you see the Eight Bells pub on your left. Turn left on to Fore Street and walk up this hill to the top where you will find Fore Street Lodge Gates (9).
Once through Fore Street Gates you are on the Estate. The Old Palace (8) is in front of you. If you turn left you will find the Stable Yard Area for the restaurant (11) and the ticket entrance to the Park or if you turn right you will find the main visitors Car Park (2) and Hatfield Park Farm (5).
The fun run is open to all, whether you are in top physical shape or just want to have a fun day out. You can try to complete the course in record time, or take it at your own pace – there will be support along the way. The obstacles on the course are optional, so should only be taken on if you are confident in your ability and your dog's ability to complete them.
Dog check-up – before training with your dog, you should have a check-up with your vet to make sure they are capable. You can receive recommendations on your dog's fitness level, and the best way to increase their exercise so that they are prepared. This is especially important if your dog is older or overweight.
Slow and steady – if you normally walk your dog for less than two miles, it is best to build your dog up to this distance by increasing the length and duration of walks and runs over time.
Dog knows best – if your dog is showing signs of tiredness or overheating, make sure you tend to them. Bring water with you, take plenty of breaks, and avoid surfaces that could hurt their paws!
On the lead – our fun run is completed with dogs on their leads. Make sure you get plenty of practise running or walking alongside your dog so that you are both comfortable. We also recommend that you use a harness to avoid any sharp lead movements causing harm to your dog's neck.
The Mucky Pup Fun Run is being held at Hatfield House. The country house, built in 1611, sits inside a sprawling, 42-acre woodland estate. The two-mile course for the fun run will take you from our start line situated near the House, and into the estate, passing the lake and traversing the nature trails in a loop, leading back to the finish line.
Can we take part in the fun run even if I don't have a dog?
Absolutely. Anyone can join the fun run.
Will the fun run still go ahead if it's raining?
Yes, as long as you and your dog don't mind getting a little wet and muddy.
If we get muddy can we hose down somewhere afterwards?
We will set up a cleaning area for you and your dog after the fun run.
Will water be provided?
Yes, water will be provided for you and your dogs.
Can young children take part in the fun run?
Yes, the obstacles will be easy and are completely optional, so if you do not think you can complete it, you can skip past it.
Can I bring a buggy to the event?
Parts of the fun run may not be suitable, and we do not recommend trying to take on any obstacles with a buggy. The main field is fully accessible, so you can bring a buggy to the stalls where other activities and refreshments will be.
If you have questions about the fun run, or would like tips for raising money, please email us at act@rvc.ac.uk and we will be happy to help.