Christmas Cat Ward appeal
Thank you to everyone who donated to our Christmas Cat Ward appeal - an incredible £23,500 has been raised so far which will fund an enormous amount of the equipment needed in the expanded and improved ward. You can still donate to the appeal below to help us reach the full £25,000 needed to make the new space the best it can possibly be.
The RVC's Queen Mother Hospital for Animals sees some of the sickest cats, who come to the RVC for expert treatment only available here, like brain and heart surgery, specialist diabetes clinics, severe kidney disease and radioactive iodine therapy. These procedures usually need highly-specialised aftercare and a lengthy stay on the Cat Ward.
We go to extreme lengths to ensure the Cat Ward is the optimal recovery space for cats who require a prolonged stay in our care. However, the number of cats requiring hospitalisation on the Cat Ward is increasing year on year and the ward is often pushed to its limits.
We have plans in place to give sick and injured cats an even better experience at the RVC by expanding the dedicated Cat Ward space and improving existing facilities. The plans for the extended Cat Ward are driven by cats' unique needs. Any cat lovers will know that cats are highly sensitive to new sights, sounds and smells and most cats prefer quiet and solitude. So, our Christmas wish list for cats includes:
Cat igloos to give the cats somewhere to shelter and hide away if they wish - a small thing which will make a big difference to our patients' wellbeing = £7.50 x 30
Cat beds to keep cats comfortable and relaxed in the updated kennels = £10 x 30
Cat toys to keep cats stimulated once they're feeling up to playing = £75
Cat scales for our nursing staff to assess cats' physical wellbeing = £99 x 2
Privacy screens to reduce stress and startling when undergoing procedures on the ward = £215 x 2
Fluid pumps and syringe drivers to enable fluids and medication to be delivered from outside the kennels, reducing cats' stress at being handled and disturbed while resting and recovering: Pumps = £1,000 x 10 Drivers = £800 x 8 Pump rail = £125 x 5
Exam Tables = £1,162 x 2
Perspex doors and soft close latches for a quiet and warm environment = £4,023
Total = £25,000
Now we need your help.
As the RVC's veterinary hospitals only generate enough income to cover their basic running costs, we need the support of animal lovers like you to improve our facilities and ensure our ever-increasing numbers of feline patients are in the best possible environment.
Help us provide a purpose-designed environment for cats so that they can have the personalised care cats need to be happy and healthy.
Ozzy's owners heard a scuffle outside and found Ozzy with a bite on his tail. Poor Ozzy's bite went from a cut to critical when the bite got infected and his surrounding skin started dying. Ozzy's entire back end was red and raw with large open wounds and he was in agonising pain. The infection urgently needed treating to relieve Ozzy's distress and stop it spreading over yet more of his young body, but with such a severe infection and large area affected, there was not going to be a quick and easy solution to repairing his skin.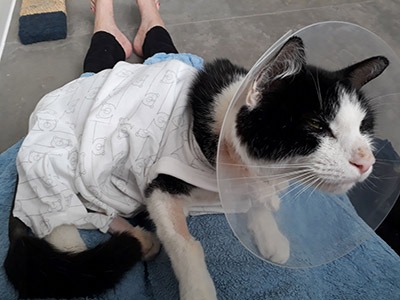 Ozzy received dedicated care from our fantastic vets who repeatedly flushed his wounds before performing a complicated skin graft using skin from his belly to cover the large wound area, affectionately referred to as Ozzy's tummy tuck by his owners! Each wound flush and re-bandaging of the infected area required a general anaesthetic so that Ozzy was not in any further pain.
Ozzy's care did not stop in the operating theatre. Our dedicated nursing team provided Ozzy with high-level support while he stayed in the Cat Ward and our Intensive Care Unit. They placed a urinary catheter to prevent any infection of the dressings, administered high-dose pain relief medication to keep him comfortable and tried to ensure Ozzy had a calm space in which to recover.
Thankfully over time the graft took, Ozzy's skin started to heal and he was able to return home to his much-missed family and home environment.