Hospital Clients & Visitors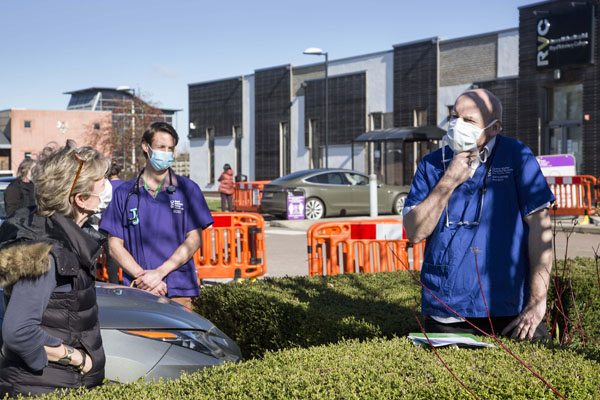 The Queen Mother Hospital for Animals, The Beaumont Sainsbury Hospital and RVC Equine are open for clients and student placements with a range of local safety measures in place.
---
Return to main Coronavirus COVID-19 page
In line with government guidelines, we kindly request that our clients:
please do not come to the RVC animal hospitals if you are showing any signs of COVID-19 infection
please inform our staff (ideally by phone prior to your arrival) if the pet/animal is from a household with people self-isolating
adhere to the government guidelines on social distancing (eg: no handshaking) and the need for good hand hygiene
please ensure you wear a face covering
Please help us to help and protect you and your pets
Visiting your pet during their stay at our hospitals/practices
To help prevent the spread of COVID-19, we have taken the decision to suspend the facility whereby clients can visit hospitalised patients until further notice. Thank you for your understanding during this sensitive time.
Please refer to our individual hospital pages, below, for information on how we are working to minimise the impact of COVID-19 and reduce the possibility of exposure in appropriate ways within our hospitals.
Camden Hobday reception is open, however Hawkshead reception will operate remotely for the time being. Visitors must be booked in on VisitorNet as usual and must be met by their host.
Duties of Visitors:
Adhere to current government social distancing measures at all times.
All visitors must adhere to the current face mask / coverings and PPE policy at the College.
Wash hands on arrival at site and frequently wash or sanitise hands while on campus.
Minimise movements around campus as much as possible.
Make specific arrangements with your host. Ask for your hosts contact details to ensure you can reach them in case of a delay.
If a visitor develops any COVID-19 symptom they should not come to site. If they develop any COVID-19 symptom while on campus, they should inform their host and leave campus as soon as possible.
Duties of the Visitor host:
Ensure that visitors have been booked in through VisitorNet
Ensure that security is aware of the visitor arriving. Send an email to either hhsecurity@rvc.ac.uk or cmsecurity@rvc.ac.uk stating the day and time (if known) of arrival. Security should be informed who the visitor host is and how to contact them.
Ensure that the visitor is aware of the requirements for face masks and PPE.
Meet your visitor at the campus entrance at a pre-arranged time
Ensure that your visitor completes any local sign-in in line with current RVC procedure
Ensure that your visitor is accompanied by an RVC staff member at all times
A link to the guidance and self declaration are found on the H&S A to Z.