Graduate Diploma in Veterinary Nursing
What is the Graduate Diploma in Professional and Clinical Veterinary Nursing?
The Graduate Diploma in Professional and Clinical Veterinary Nursing is a unique distance-learning advanced veterinary nursing diploma for practising registered veterinary nurses.
If you are currently employed in practice and looking to study from home, the Diploma will help you to develop valuable knowledge and skills to take you to the next level of your career.
The Diploma is managed and taught by leading veterinary professionals who are recognised by employers both within the UK and internationally. We focus on developing critical thinking, using both theory and its practical application, enabling you to become better equipped to care for your patients.
Our learners come from a wide range of veterinary practices around the world. Whether you work in a first-opinion practice, a charity clinic or a large specialist referral practice, you will all share an ambition to excel in the veterinary field and a desire to improve animal health and welfare.
We welcome applications from individuals with the dedication to commit to the course and progress the professional role of the vet nurse in the veterinary profession. You will need a high level of motivation and, in return, we promise a rich and rewarding experience during your time with us.
Application
Admissions are now closed for this year but the form for 2017 entry will be available here from early February 2017.
What will I learn?
During the programme you will:
Benefit from exposure to some of the best clinical specialists in the UK
Join a network of like-minded individuals all striving to enhance the professional status of the veterinary nurse
Become better equipped to influence the health of animal patients within your care
Learn to apply new solutions and approaches to often complex problems at work
Have the potential to publish work developed as part of your course studies (see Published papers of previous students)
Develop an appetite for lifelong learning.
In addition, your practice will benefit from your motivation and ability to make an enhanced contribution to the workplace.
Programme delivery
The Graduate Diploma is delivered through flexible online learning via the RVC's Virtual Learning Environment (VLE) – 'Learn'. This means you can work towards the qualification at your own pace and can schedule your study around other aspects of your personal and professional life.
Each module has a subject specialist assigned as module leader. They act as your personal tutor, helping you navigate through the module and setting a series of collaborative tasks, assignments and online discussion activities. All of these will contribute to your specialist knowledge and learning.
The deadline for applications is March each year and the Diploma begins in May. It will take you 29 months to complete the Diploma, and as a guide we advise that you will need to commit approximately 15 hours a week to study.
Click here for further details of course dates and an outline of how the modules are arranged.
Orientation Week
Whether you have recently qualified as a veterinary nurse, or have been out of the learning environment for some time, we do all we can to help you adapt to online learning.
Our introductory Orientation Week (compulsory attendance days, usually in early June) will help ensure that you are confident in using modern learning technologies throughout the programme, and is an essential part of the first pre-requisite bridging short-course, Contemporary Study Skills.
You will have the opportunity to meet and work with fellow learners and participate in activities designed to build a strong sense of student community. You will also meet all of the Graduate Diploma module leaders and obtain essential information required for your successful online studies.
While the Graduate Diploma in Professional and Clinical Veterinary Nursing is predominately an online diploma programme, it is compulsory for learners to attend all days of the Orientation Week, and no exemptions will be granted.
Course content and structure
The Graduate Diploma comprises a pre-requisite bridging short-course, three core professional modules and three elective clinical modules.
Click here for further details of the course timelines and a full list of modules.
We ask that our learners:
Hold a Veterinary Nursing Certificate awarded by the RCVS and be on the current RCVS Register of Veterinary Nurses (or hold a recognised accredited overseas equivalent professional qualification/status*)
Normally have a minimum of one year post-qualification clinical experience,
Be employed in, or have agreed access to placement in a suitable** veterinary clinical environment,
Have the support of their employing/supervising veterinary practice, who will be required to allow time and access for training and assessment activities.
Learners will require a computer with broadband internet access.
Successful completion of Contemporary Study Skills bridging short-course (assessment includes attendance of Orientation Week and completion of all assignments and assessments),
English language requirements
A good working knowledge of scientific English is essential in order to follow the course, which includes a significant proportion of written instruction and written assessments. Applicants whose first language is not English must have an acceptable English Language qualification:
IELTS (Academic) score of 7.0 or above with minimum 6.5 in each component
For those without IELTS, please see our English Language Requirements page for a full list of qualifications we will accept as alternatives.

*Overseas students can contact the RCVS direct for further details on recognised accredited overseas equivalent professional qualification/status) and can apply for UK registration www.rcvs.org.uk.
**As a guide, suitable clinical environments are veterinary practices which can demonstrate a minimum of General Practice standards for small animal from RCVS Practice Standards Scheme. It is advised that students spend minimum 15 days per 20 credit elective module working in a directly in a suitable clinical environment (e.g. critical care if the Emergency and Critical Care Nursing module is taken).
Pre-requisite bridging short-course
To be eligible to qualify for the Graduate Diploma, you will be required to complete and pass the pre-requisite bridging short-course, Contemporary Study Skills, including attendance at the compulsory Orientation Week at our Hawkshead campus in Hertfordshire.
This short-course has been designed to prepare all potential learners for study at higher education level using the contemporary technologies employed throughout the rest of the programme. You will develop the study and learning strategies you need which form the foundation of all subsequent modules and which are transferable to other aspects of your professional, educational and personal life.
What will I be able to do with my qualification?
As a graduate of the course you will receive a University of London qualification and will be able to use the letters GradDipVN after your name.
Our graduates tell us that this qualification has opened many doors for them and has led to more recognition and responsibility at work.
GradDipVNs have used their qualification to further their careers and have gained the confidence in their abilities to enable them to:
Become better equipped to care for patients
Enhance input into clinical teams
Develop critical skills through knowledge and practical application
Undertake further study at university
Publish journal articles
Take on specialist nursing roles
Move into teaching and training roles.
RVC INSIDERS:
"I would definitely recommend the RVC GradDip Veterinary Nursing course to others. All of the RVC team were passionate about the course and really supportive!"
--Debbie Nelson, GradDip Veterinary Nursing student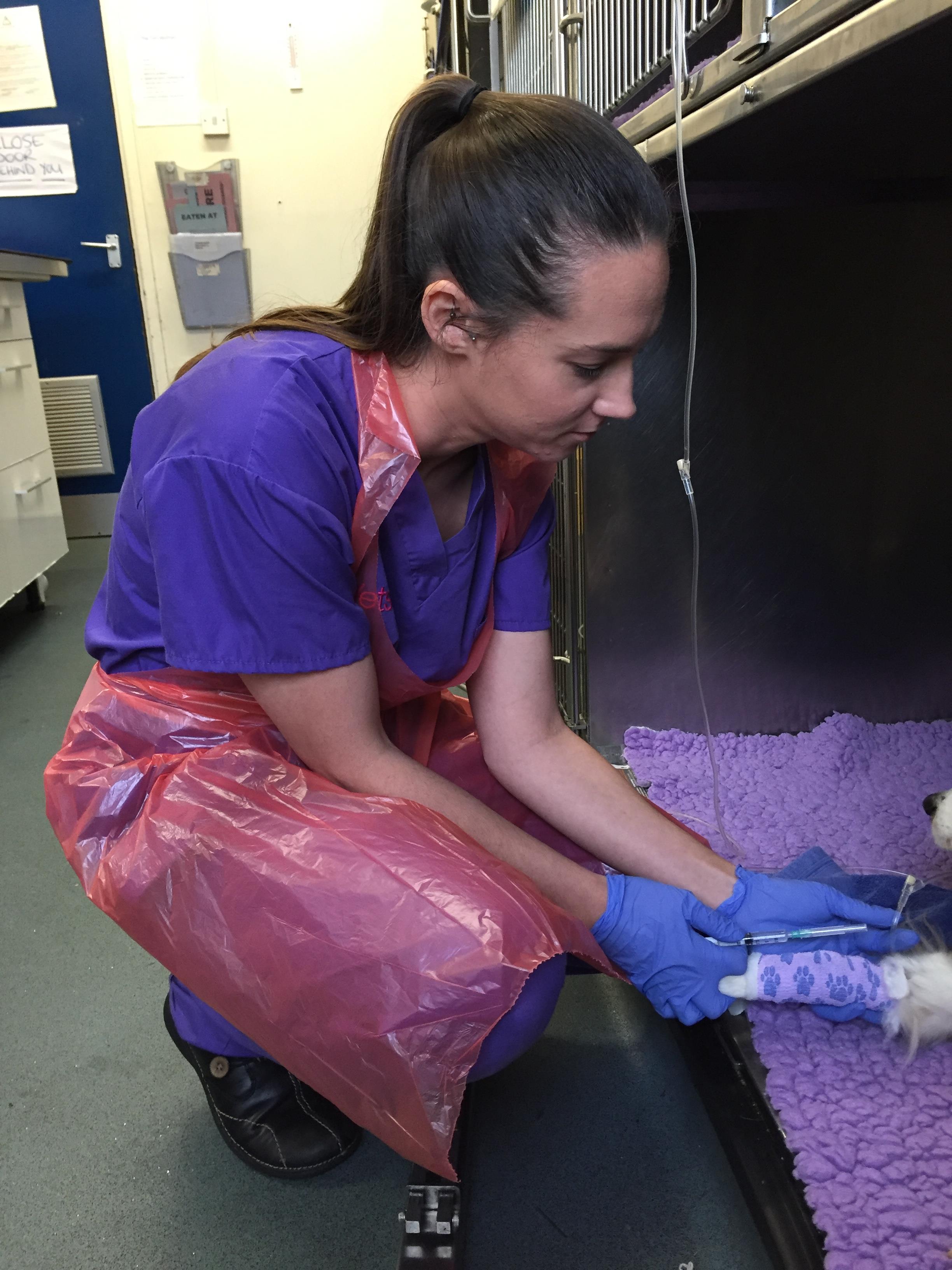 "I really enjoyed the anaesthesia module. I found the information on advanced anaesthesia techniques particularly useful.
Applying some of the practical techniques learnt on the course in my practice was very rewarding and has proved to be directly beneficial to the patients.
I have already been using lots of the skills learnt throughout the Grad Dip course during my day to day work and have provided training to others in my practice. We have updated many protocols and seen some great results in nursing techniques, especially in regards to in-patient care with critical patients and formulation of surgical safety checklists.
The majority of the course was delivered online with some practical sessions. The online element suited me very well and I was able to engage in the weekly forums to assist me in developing my submissions for the formative and summative assessments. The feedback was always useful, constructive and timely. The practical sessions were really useful before the OSCE exams and helped me to feel confident in demonstrating my abilities.
I feel that I have really pushed my original RVN qualification to the next level. The course has inspired me to continue studying and pursue my goal of continuing to write and hopefully see some of my work published in the future."
--Alison Devonshire, GradDip Veterinary Nursing student
Perdi Welsh BSc (Hons), DipAVN (Surg), CertEd, RVN
Post:

Lecturer in Veterinary Nursing & Course Director for Graduate Diploma in Professional and Clinical Veterinary Nursing

Module Leader:

Evidence-Based Veterinary Nursing

Deputy Module Leader:

Professional Studies & Problem-Solving Veterinary Physiology
Hayley Carne BSc (Hons) GradDipVN, PGCertVetEd, FHEA, RVN
Post:

Lecturer in Veterinary Nursing & Deputy Course Director

Deputy Module Leader:

Evidence-Based Veterinary Nursing & Anaesthesia
Dr Rachel Davis BSc PhD
Post:

Learning Development Manager

Module Leader:

Contemporary Study Skills
Martin Whiting BSc (Hons) BVetMed MA BVetMed DipECAWBM (AWSEL) MRCVS FRSA FHEA
Post:

Lecturer in Veterinary Ethics and Law

Module Leader:

Professional Studies
Dr Barbara Glanemann Dipl ECVIM-CA, PGCertVetEd FHEA, MRCVS
Post:

Lecturer in Small Animal Medicine

Module Leader:

Problem-Solving Veterinary Physiology & Medical Nursing
Dr Stijn Niessen DVM PhD DipECVIM-CA MRCVS
Post:

Senior Lecturer in Internal Medicine

Deputy Module Leader:

Medical Nursing
Karen Humm MA VetMB CertVA DipACVECC DipECVECC FHEA MRCVS
Post:

Lecturer in Emergency and Critical Care

Module Leader:

Emergency and Critical Care
Belinda Andrews-Jones VTS (ECC) DipAVN (Surg) PGDipVetEd RVN FHEA
Post:

Senior ECC Veterinary Nurse & VN Clinical Educator

Deputy Module Leader:

Emergency and Critical Care
Elvin Kulendra BVetMed MVetMed CertVDI DipECVS PGCertVetEd, FHEA, MRCVS
Post:

Lecturer in Small Animal Surgery

Module Leader:

Surgical Nursing
Ignacio (Nacho) Calvo Ldo Vet, CertSAS, Dipl ECVS, FHEA, MRCVS
Post:

Senior Lecturer in Small Animal Orthopaedics

Deputy Module Leader:

Surgical Nursing
Jaime Viscasillas DVM MRCVS
Post:

Staff Clinician in Veterinary Anaesthesia

Module Leader:

Anaesthesia
Dr Panagiotis Mantis DVM DipECVDI FHEA MRCVS
Post:

Senior Lecturer in Radiology

Module Leader:

Diagnostic Imaging
Dr Marianna Biggi Dip ECVDI
Post:

Assistant Lecturer in Equine Diagnostic Imaging

Deputy Module Leader:

Diagnostic Imaging
How much time do I need to spend studying?

This is a part-time programme. Like many university courses, the modules of our Graduate Diploma are split up into credit rated units and these credit units relate to an average number of notional learning hours (NLHs) that learners can expect to spend on each module. Therefore, for each 10 credits, you will have spent, on average, 100 notional learning hours (NLHs). These NLHs include time spent on reading the weekly course materials, additional reading, partaking in discussion forum activities and preparing for all of your assessment activities. This means you will need to commit

approximately 12-15 hours a week

to your studies.
What title can I use once I successfully graduate?

The qualific ation our learners receive at the end of successful completion of this course is a

Graduate Diploma

awarded by the University of London and the Royal Veterinary College. Graduates are able to use the post nominals

GradDipVN

after their name.
Can I take breaks in-between modules?

Most of our learners complete the Graduate Diploma in a fixed time-frame of 28 months – starting their next module as soon as one has finished. However, there is the option to formally request to defer your studies and take a break if you need to. You just need to remember that modules only run once a year and so if you take a break, it may be another 12 months before you can re-join the course to start a particular module. Overall, you have 5 years in which to complete the course. Deferral will be subject to compliance with the RVC College Regulations and Procedures and you can arrange to discuss your options with the Course Director.
Is there a maximum time by which I must complete my studies?

The course is designed so that you undertake and complete each module as they are timetabled. All core modules must be taken and completed in the order they appear in the timetable. Elective modules can be taken in any order however, depending on when they run, this may affect the time it takes you to complete your Graduate Diploma studies. As mentioned above, you may also wish to defer your studies for some reason but you must complete your studies within

five years

of enrolling onto the course.
Is it ok to be working part-time?

It is fine to be working part-time while completing the course although there maybe occasions throughout the course when you find you will need to spend a little more time in certain areas of the clinic. As a guide, we advise that learners spend a minimum 14 days per module working directly in a suitable clinical environment (e.g. being involved with surgical patients if the Surgical Nursing and Wound Management module is taken).
Do I have to pay for the entire course at the start?

No, in fact, the usual way to pay for your studies on this course is on a module-by-module basis just before each module starts.
Are there any other costs to the course?

The course fees advertised on our website are the main costs you will incur during your studies although if you require transport to and accommodation for the compulsory Orientation Week and annual exam days, you will need to arrange and pay for this on top. We have a list of on-campus accommodation and local hotels if needed. There are also some optional attendance days throughout the course, which there are no additional charges for, but again, you might need to pay for transport and/or accommodation for these if you don't live locally.
How many times do I need to come to the College?

This is predominately an online distance-learning course and we aim to keep attendance days to a minimum because we appreciate the challenges of taking time off work. There are some compulsory days during the course:

Year one:

Orientation Week (normally in June), one exam day at the end of two of the core modules (normally in April).

Year two:

two exam days at the end of your studies (normally in early September). There are also some optional days throughout the course where you may book into the RVC's small animal teaching hospital for clinical enhancement days and two optional exam practice days towards the end of your second year studies (usually in July). As a student of the RVC, you are also very welcome to come any time you wish to spend time in the library or clinical skills centre.
Does this course lead to an RCVS DipAVN?

No, this qualification is not the same as the RCVS DipAVN. On successful completion of our course, you will receive a Graduate Diploma in Veterinary Nursing awarded by the Royal Veterinary College and University of London. This is recognised by many employers in the UK and internationally as a higher level professional qualification and in addition, this qualification is recognised by universities in the UK which gives you scope should you wish to go on to further study at a university at a later stage. For example, some of our students have used their Grad Dip VN qualification to gain places at universities to study BSc and MScs. On successful completion of the course, graduates are able to use the post nominals GradDipVN after your name and are presented with the RVC Graduate Diploma in Professional and Clinical Veterinary Nursing badge to wear on your uniform.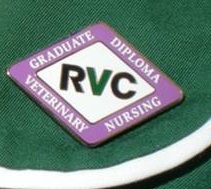 Is this a qualification that is recognised by the veterinary profession and/or internationally?

The Royal Veterinary College (RVC) is the UK's largest and longest established independent veterinary school and is part of the University of London. The RVC offers undergraduate, postgraduate and CPD programmes in veterinary medicine, veterinary nursing and biological sciences, being ranked in the top 10 universities nationally for biosciences degrees. It is currently the only veterinary school in the world to hold full accreditation from AVMA, EAEVE, RCVS and AVBC. We are a leading provider of higher education programmes in veterinary nursing. These range from a Foundation degree which is accredited by the RCVS, to a Bachelor's degree and this Graduate Diploma which is for qualified veterinary nursing practitioners. Our Graduate Diploma students come from a wide range of clinical practices, from first opinion practices, charity clinics to large specialist referral hospitals and institutions both in the UK and overseas. A number of veterinary practices regularly sponsor their RVNs to undertake our Graduate Diploma indicating that they find the course meets their clinical and business requirements. Our Graduates are becoming increasingly recognised in the UK and overseas via their published work and many have taken on more supervisory roles or been promoted in their existing clinical environments as a result of their qualification whilst others have used their Grad Dip qualification to gain places on MSc or BSc courses at other universities.
What level of qualification is this?

This is a Level 6 university qualification (as described in the Framework for Higher Education Qualifications) http://www.qaa.ac.uk/Publications/InformationAndGuidance/Documents/FHEQ08.pdf.
I already hold a degree in veterinary nursing, is there any point in doing this qualification?

Absolutely! If you've completed a bachelor's degree, this Graduate Diploma can really enhance your existing qualification and knowledge base to take you to the next level of your career. Graduate Diplomas are level 6 qualifications and are designed to provide professional development in a specific area. They can open doors for you in the job market and help prepare you for employment in more specialist areas of clinical practice. If you wish to develop greater professional knowledge and skills with particular focus on clinical patient care and subject area specialism (e.g. medical nursing, surgical nursing, anaesthesia etc), then this is the course for you.
I have not studied for some years; will I be supported in returning to study?

Yes, definitely. The course team fully appreciate some of the challenges that part-time distance learners, who may be new to study at university or who haven't studied for a while, face. We provide lots of support for our learners throughout the programme but particularly early on at the start of the course. Our pre-requisite bridging short-course, Contemporary Study Skills, runs for 7 weeks and is not only designed to help those learners who are new to study at university, but more importantly, to prepare learners for study using contemporary technologies whilst balancing part-time study with full-time work. As an online course, this mode of study is very different to traditional face-to-face courses and for this reason, we have made this compulsory for all learners wishing to undertake the Graduate Diploma. The RVC's Learning Development Team are also here to help you achieve your academic goals effectively, efficiently and with maximum enjoyment. The team provide support in time management, communication skills, team working, creative thinking and learning, research skills, reading skills, academic writing, numeracy, revision and exam technique (amongst others). Telephone and/or Skype tutorials and learning support sessions can be arranged to suit your needs. The RVC's Learning Development Team are also experienced in working with students with English as a second language and those with specific learning differences (SpLD) such as dyslexia and dyspraxia. We can also help you access specialist dyslexia advisors and tutors if needed.
What does my practice need to do?

Studying part-time whilst working is a big commitment and we hope that your practice will be understanding and supportive of you during your studies. Ultimately the course is aimed to enhance and develop your existing knowledge and skills and enable you, the RVN to reflect on your practice. This skill enhancement and development will benefit the practice in the long-term and we've seen that learners who receive help and support from their employers are more likely to be successful. In practical terms, this may mean that on occasions, you may seek support and guidance from members of your veterinary team at work. We encourage you to select someone from work who can act as a mentor for you during your studies on the Graduate Diploma and you find it helpful to set aside a few designate times for you to meet up and discuss your progress on the course. If this is not possible, even arranging times to discuss and review practice workload to best accommodate your studies at certain times of year might be useful.
How will I be assessed?

Throughout the course a range of assessment activities is used. All assessment activities have been selected to promote deep and effective learning, leading directly to your improved understanding of the subject and application of your learning. Assessment tasks include a combination of:
Written assignments throughout and at the end of each module ·

Participation in online discussion

Unseen examinations & OSPVEs (Objectively Structured Practical Veterinary Examinations)

Formative assessment

is a type of assessment to help you with your studies and learning. The formative assessment activities in this course have been designed to enable you to assess your progress and help you identify and plan your further learning needs. Dialogue between you, your tutor and your peers via on-line formative assessment and discussion, provides you with individualised feedback, to help reinforce good practice and importantly, help show where and how your work can be improved.

Summative assessment

is the type of assessment used for certificate purpose usually at the end of a period of instruction. The summative assessments are used at the end of each module and at the end of the programme to ensure that you are able to demonstrate the baseline competencies required from the range of knowledge, skills and attitudes necessary for the veterinary nurse practitioner at Graduate Diploma level.
I am a UK Resident, but live and work abroad at the moment. Can I study for this course and will I be charged the overseas rate? You can see a brief run-down of how fee status is determined here, or in more detail on the UKCISA website. If, after applying, we require more information in order to determine your fee status, you will be sent a fee status questionnaire. It would be useful, when you return this, to include copies of documents such as temporary visas, fixed term contracts, or anything which shows continuing ties to the UK.
How much does it cost?
Our course fees are highly competitive. Over half of our learners are sponsored by their employer, while the remainder fund their own studies.
The programme comprises the pre-requisite bridging short-course followed by eight modules. Learners need to complete the three core modules and choose three elective modules. Module costs stated below are for 2017 entry and are subject to annual increases in-line with inflation.
Modules are paid for on a module-by-module basis.
Module

Credits

Core/ elective

Cost UK

Cost International

and

Channel Islands & Isle of Man

Contemporary Study Skills (pre-requisite bridging short-course)

15

Core

£510

£620

Evidence-Based Veterinary Nursing (core module)

15

Core

£935

£1,190

Problem Solving in Veterinary Physiology (core module)

15

Core

£935

£1,190

Professional Studies (core module)

15

Core

£510

£620

Anaesthesia incorporating Analgesia (elective module)

15

Elective

£935

£1,190

Emergency and Critical Care Nursing incorporating Fluid Therapy (elective module)

15

Elective

£935

£1,190

Surgical Nursing incorporating Wound Management (elective module)

15

Elective

£935

£1,190

Diagnostic Imaging (elective module)

15

Elective

£935

£1,190

Medical Nursing (elective module)

15

Elective

£935

£1,190

Total (four core plus three elective modules)

£5,695
£7,190
The BVNA work alongside some companies and institutions to award a number of bursaries each year with the aim of assisting students or qualified Veterinary Nurses. A number of Grad Dip students in the past have successfully applied for and gained BVNA bursaries.
Helena Kennedy Foundation
The Foundation exists to overcome social injustice by providing financial bursaries, mentoring and support to disadvantaged students from the further and adult education sectors, enabling them to complete their studies in higher education and move on successfully into employment or further studies.
Professional and Career Development Loans
We are a Professional and Career Development Loans registered Learning Provider, registration number PCDL02902.
A Professional and Career Development Loan is a commercial bank loan that you can use to help pay for work-related learning.